11 best bits of MediaTek Dimensity 1000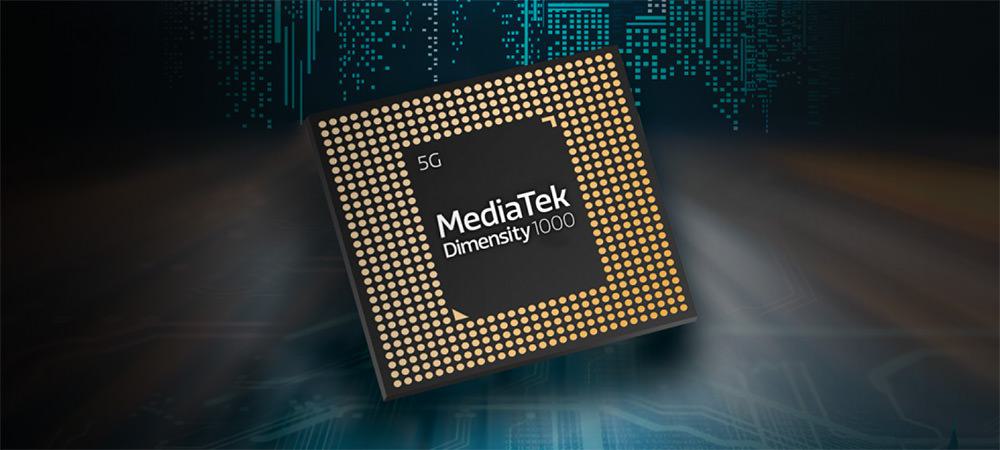 Here's the quick shortcut to the best bits of the Dimensity 1000 - MediaTek's premium 5G that is redefining the flagship smartphone.
1) An integrated 5G SoC packed full of industry 'firsts' & 'bests':

Fastest Sub-6GHz 5G SoC - peak performance is 4.7Gbps download and 2.3Gbps upload!
First 5G SoC with Sub-6GHz 2CC CA - currently the only SoC integrated 5G modem with 5G carrier aggregation. Here's why 5G CA is so important.
First Dual 5G SIM - continuing our dual SIM leadership that started in 2008, we're first to dual 5G SIM (DSDS) that gives you full 5G connectivity benefits from both SIM sockets.
Most Power Efficient 5G Modem - thanks to being fully SoC integrated, not a 2-chip solution, and built using the latest ultra-efficient 7nm production process.
But wait.. there's much more 5G modem tech! See our extended information page detailing the full breadth of the Dimensity 1000's capabilities.

2) Expect Incredible Performance & Experiences
4 Big Core: Arm Cortex-A77 CPUs operating up to 2.6GHz
4 Efficiency Cores: Arm Cortex-A55 CPUs
9 Powerful Cores: Arm Mali-G77 GPU
Lightning Fast 4-channel LPDDR4X
3) Built for getting the best from the biggest mega-pixels

Unique 5-core "HDR-ISP" design that'll support a wide array of cameras and unique capture modes. Great for brands looking to differentiate
80MP camera options for next-gen super-sized shots
Up to 32MP + 16MP dual sensors and support for 3, 4 or more cameras.
4) AI-Camera

As you'd expect, our AI-camera tech keeps getting better. This time we've made a whole range of actions more precise and faster: AI-Shutter, AI-AE, AI-AF, AI-AWB, AI-NR HDR, AI-HDR, and AI facial detection.
5) Hexa-Core AI Processor

MediaTek APU 3.0 fuses 2 big cores, 3 small cores and 1 tiny core in a heterogeneous mix that offers superb performance : power efficiency. With over 2.5X performance than our previous generation APU it offers ludicrous levels of speed for any AI application or enhancement.

6) First Multi-Exposure HDR Video
The Dimensity 1000 is the only smartphone SoC that can record 4K HDR video by capturing every three frames at different exposures and intelligently fuses them into a single video stream, all in real-time.
7) First SoC with Integrated Wi-Fi 6
Another first: Wi-Fi 6 (802.11ax) and Bluetooth 5.1+ provide the fastest and most efficient local wireless connectivity. With twin antennas active the Dimensity 1000 can provide up to a Gigabit of data-transfer speeds via Wi-Fi 6 (providing your home router is also capable).

8) Most Accurate Positioning Engine
Support for global GNSS constellations with 25 more L5 bands than any other smartphone chip. When GNSS is unavailable, an intelligent fusion of smartphone sensors provides the longest dead-reckoning performance so you continue to get accurate location readings wherever you go.
9) Blur-busting displays
Brands can tap FullHD+ displays up to 120Hz, and 2K+ up to 90Hz so you get supreme-sensation scrolling experiences and liquid-smooth game visuals.

10) First mobile SoC with AV1 decoding

Hardware video encoding and decoding at 4K 60FPS plus new AV1 format support; embracing the latest video streaming standard from major global technology and content makers.
11) MediaTek HyperEngine 2.0

Enhance the whole smartphone experience through networking enhancements that predict network traffic to dramatically reduce the latency between Wi-Fi and cellular connections, rapid responsiveness that shaves milliseconds off touchscreen input to display and audio actions, and picture quality enhancements that auto-optimize settings.
Sign up for our monthly newsletter
EXECUTIVE INSIGHTS | LATEST NEWS & EVENTS | PRODUCTS & TECHNOLOGIES