14 Best Features of the Dimensity 1200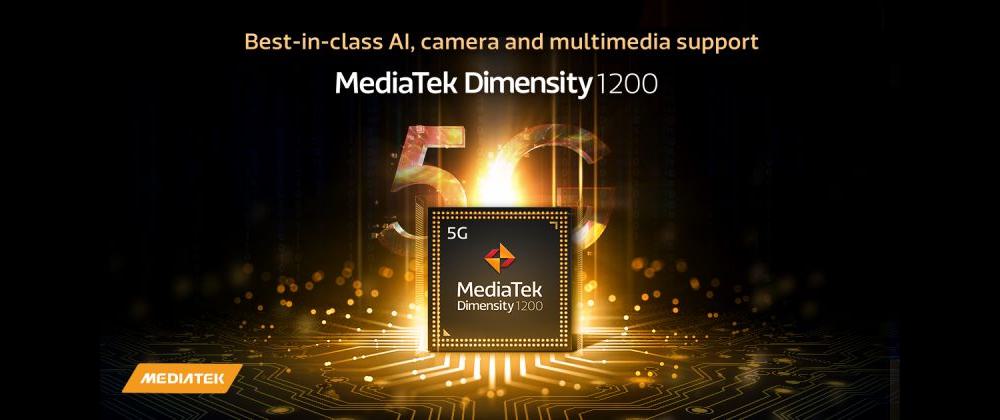 1. 3GHz 'Ultra Core' CPU
The Dimensity 1200 incorporates an octa-core CPU that uses four of the latest Arm Cortex-A78 'big' cores, plus four, efficiency-focused Arm Cortex-A55 cores. One of the four Cortex-A78 is a specially designed 3GHz 'ultra-core' – our fastest ever smartphone chip – with twice the L2 cache size, really boosting performance
2. From 7nm to 6nm
Current Dimensity 5G integrated chips – 1000, 800 and 700 series' – are made using the advanced TSMC 7nm production process, however the Dimensity 1200 (and 1100) now uses the latest TSMC 6nm production technology.
Combined with the improved octa-core processor design, MediaTek is able to increase performance by up to 22% over the previous generation Dimensity flagship series, while also being up to 25% more power efficient, extending battery life even further.
3. 5G that's made for everywhere
Building on the foundations laid by last year's Dimensity series – such as power savings with MediaTek 5G UltraSave and 5G-CA Mixed Duplex across TDD/FDD that gives greater coverage and faster average speeds – the new Dimensity 1200 adds new, specialist enhancements called '5G Elevator Mode' & '5G HSR Mode'. These, respectively, ensure a seamless connected experience with immediate recovery time when emerging from cellular dead zones (elevator mode) and reliably better connected performance when traveling fast (HSR mode).
4. True, dual 5G SIM
The Dimensity 1200 is the first 5G chip to provide True Dual 5G SIM (DSDS) that can connect to 5G standalone + 5G standalone networks. True Dual 5G SIM provides future-proof 5G connectivity from both SIM slots for a more consistent 5G user experience with the best quality voice and video call services (VoNR) via both cellular connections.
5. Faster low-light snaps and new capture modes to experience
The Dimensity 1200 has upgraded its low-light performance with 20% faster captures, plus new capabilities in AI Panorama Night Shot and simultaneous AINR (AI noise reduction) + HDR capabilities. This has been achieved through further work bringing together the benefits of the powerful, multi-core AI processor, industry-leading 5-core ISP, and dedicated camera hardware accelerators that all act seamlessly together behind the scenes.
6. 200MP camera support
Smartphone brands can add primary cameras up to 200MP, creating exciting smartphones that defy expectations with ultra-high resolution snaps and never before experienced detail.
7. 4K HDR Video Capture with 40% Greater Dynamic Range
A new 'Staggered' 4K HDR video recording mode performs real-time, 3-exposure image fusion to give 40% greater dynamic range in video capture, for the most incredible visual results.
8. AV1 video decoding hardware built in
AV1 is the latest and most advanced video compression technology, which is now supported by major global technology companies, content makers and streaming services, enabling media with new levels of visual detail, crisper sound, and higher resolutions.

Efficient and effective AV1 hardware decoding is, therefore, quickly becoming an essential smartphone feature, granting access to the latest streaming video services. Dimensity 1200 incorporates a hardware-based AV1 video decoding engine, ensuring media playback is extremely powerful efficient.
9. Turn SDR TV shows and movies into HDR experiences
New 'AI SDR-to-HDR' does what it says on the tin: it upgrades SDR content to HDR in real-time, with the help of the Dimensity 1200s powerful AI hardware and software that performs scene detection and contrast control. The dynamic effect acts with per-frame picture quality tuning to ensure every scene is consistent and as close to native HDR content as you can get.
10. AI that upgrades low-bitrate video conferencing
As we're currently often working and educating from home, we frequently have to engage in video conferencing and meetings. However, not everyone's home or shared connection has enough bandwidth for HD streams. AI-ClearStreaming is designed to reduce pixilation and restore image quality in low bit-rate live-streaming video, such as video conferencing, improving the experience by restoring detail where possible.
11. Our 3rd generation gaming enhancement technologies
MediaTek HyperEngine 3.0 enhances the whole smartphone gaming experience with its third generation of finely tuned connectivity reliability features; new wireless audio and Ray Traced graphics capabilities; and improvements to power efficiency with even greater savings in key areas.
12. Extremely fast 168Hz displays
Whereas the Dimensity 1000 series introduced ultra-fast 144Hz refresh rate displays, the Dimensity 1200 again turns up the speed dial with support for the latest generation of even faster 168Hz refresh rates. These provide ultra-sharp, zero-lag visuals for competitive gamers.

Even non-gamers will note how the faster refresh is beneficial to the everyday experience with notably smoother scrolling of webpages, social streams, and animations in apps.
13. New True Wireless Stereo audio
The Dimensity 1200 incorporates Bluetooth 5.2 with 'LE Isochronous Channels', plus new LC3 encoding, enabling Bluetooth LE Audio ready technology with Dual-Link True Wireless Stereo Audio. The latter Dual-Link technology addresses each TWS headphone directly, reducing latency by up to 20%.
The new LC3 encoding standard betters sound quality in media playback versus older SBC encoding, even at a lower data rate. Compared to existing standards or alternative closed platforms the technology is more power efficient enabling longer headphone battery life.
14. Comprehensive global location
Dimensity 1200 supports dual-band (L1+L5) GNSS, which provides the most comprehensive global constellation coverage so you can find your place anywhere in the world. MediaTek Dimensity 5G family – including the Dimensity 1200 – supports Google 3D Mapping Aided Corrections to enhance GNSS positioning accuracy in urban environments. Learn More >
When GNSS is unavailable, MediaTek's unique sensor fusion technology provides extended dead reckoning location performance to give you an highly accurate estimation of where you are, until a GNSS connection is recovered.
Sign up for our monthly newsletter
EXECUTIVE INSIGHTS | LATEST NEWS & EVENTS | PRODUCTS & TECHNOLOGIES