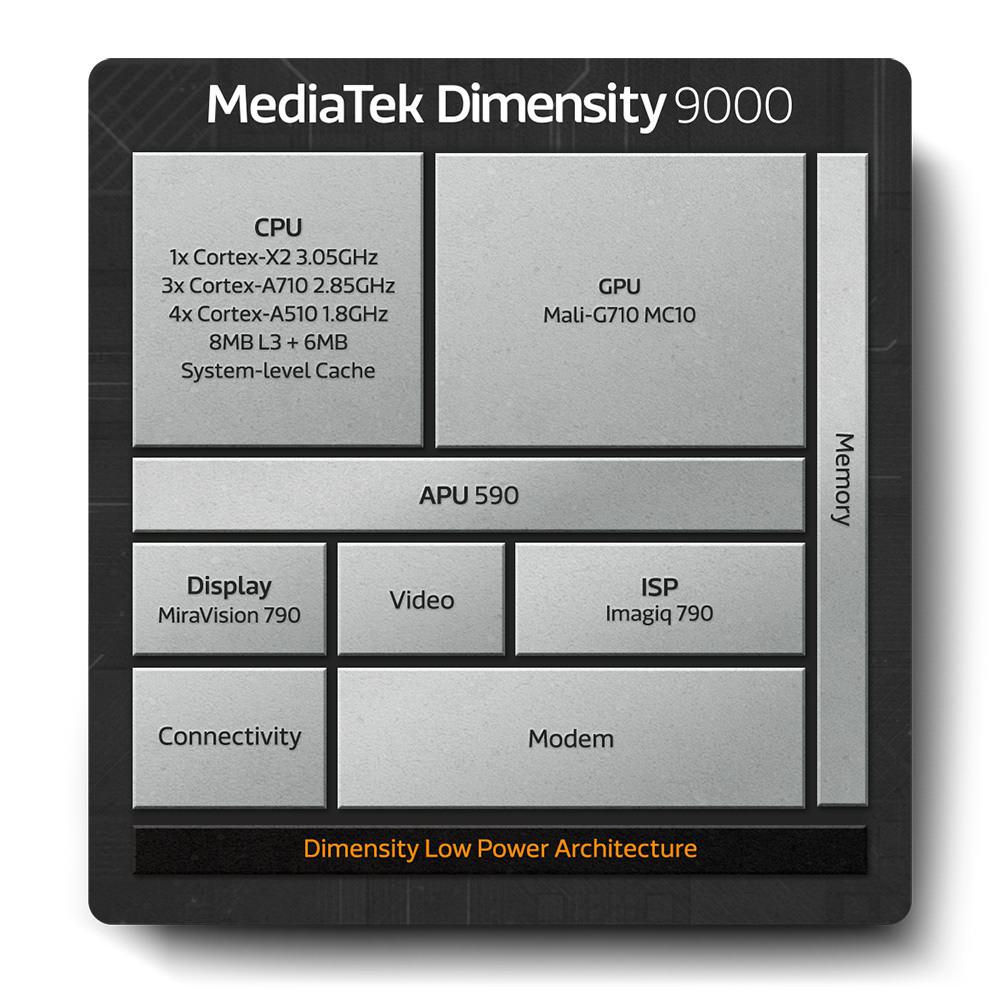 19 Best Features of the Dimensity 9000
Here's the top reasons why you'll want a MediaTek Dimensity 9000 inside your new smartphone in 2022:
1. The World's 1st TSMC 4nm-class Smartphone Chip
The MediaTek Dimensity 9000 leads the industry by embracing leading-edge TSMC N4 (4nm-class) production, which is the most advanced and power efficient chip-making process ever.
2. Cortex-X2 CPU clocked over 3GHz
Using the latest Armv9 architecture CPUs delivers unparalleled performance. The chip includes the most powerful Arm CPU designed yet, a Cortex-X2, which will hit a best-in-class frequency of 3.05GHz.
3. Big Caches
Built into the silicon are several in-chip caches that store critical data as close to the processing components - CPU, GPU, APU - as possible, improving performance and power efficiency. The Dimensity 9000 has 8MB of CPU L3 cache - the biggest in its class - that all 8 CPUs can use; a GPU cache assisting the Mali-G710 MC10 graphics engine; an APU cache built-into our latest 5th generation AI processor design and a 6MB - again biggest among flagship Android smartphone chips - system level cache (SLC) that allows all the in-chip processors to use. Unique to the Dimensity 9000, the SLC can be partitioned according to each processing unit's momentary needs, allowing more than one processing unit to take advantage of it at once.
4. LPDDR5X up to 7500Mbps
In the same way MediaTek was first to market embracing LPDDR4X in the Helio 4G era, we are also the first chip-designer to use the latest LPDDR5X standard that provides faster speeds (7500Mbps LPDDR5X vs 6400Mbps LPDDR5) and up to 20% more power savings than LPDDR5. MediaTek worked with Micron - a world leading memory maker - to validate the Dimensity 9000 with its new LPDDR5X.
5. 3x camera simultaneous video recording
The new 18-bit HDR-ISP design gives users the first opportunity to capture HDR video on three cameras simultaneously. The Dimensity 9000 features an incredibly powerful 9Gpixel/s ISP that allows it to record with three exposures captured and merged into every frame of video to ensure accurate HDR. The ISPs capture 18-bits of data per pixel, matching professional-grade raw details.
6. World's 1st 320MP camera support for smartphones
The Imagiq 790 supports the largest possible camera sensors... when they're invented! The Dimensity 9000 is a chip that is ready for the future, allowing device makers can partner it with up to 320MP sized sensors when they arrive, enabling a series of differentiated smartphone designs and ever more impressive photos.
7. MediaTek APU 590
Our 5th generation AI processor has received an end-to-end upgrade that maximizes efficiency at every pipeline step. It's specifically designed to achieve maximum effective performance in AI-multimedia, -gaming, -camera, and social video experiences and yields up to 4X power efficiency gains versus our last generation AI processor. Our expertise in video, visuals and imaging (media- it's in the name!) allows us to make the best use of partnerships between the AI processor and other processing units, in an increasing array of camera actions, and also now 3D graphics, too.
8. MediaTek HyperEngine 5.0
Now in its 5th generation, our HyperEngine technologies have received upgrades throughout the resource management, networking, picture quality and rapid response engines. Notable additions this generation are the first AI-enhanced variable rate shading technology (AI-VRS) technology that brings performance and efficiency enhancements, and the industry's first raytracing SDK using Vulkan for Android.
9. World's 1st Arm Mali-G710 MC10 graphics processor
The Dimensity 9000 is the first smartphone chip to use the Mali-G710 graphics engine - the latest and most powerful Arm GPU design.
10. 144Hz WQHD+ or 180Hz FullHD+ display
As the chip provides our best-ever graphics performance for gaming, smartphone designers can partner it with the fastest FullHD+ displays available for the most immersive and responsive experience. Alternatively, device makers opt for a still incredibly fast 144Hz refresh rate while turning the resolution dial up a notch to WHQD+.
11. MediaTek Intelligent Display Sync 2.0
Smartphones with extreme refresh rate displays are great to give that flagship-grade feeling under your fingertips, but they can also be a battery drain. That's why our latest Intelligent Display Sync 2.0 is designed to maximize power efficiency with smarter use of higher refresh rates only when required, ensuring you get a smooth viewing experience in the most intense action or in need of the most responsive scenarios, rather than when you're watching a cut-scene, selecting a loadout or changing map in game.
Intelligent Display Sync 2.0 optimizes the frame timing, giving the most immediate GPU-to-display pipeline ever, virtually eliminate inter-frame latency as the refresh rate changes; ensuring an edge on the competition where millisecond reaction times make the difference.
12. Wi-Fi Display up to 4K60 HDR10+
What happens when you have the latest movies, your favorite shows or streams on your smartphone, but you want to experience or share them on a big screen? Normally it's a hassle of cables, fiddling with set-top boxes or getting app logins sorted, or, if you do get it working directly, it only streams at low resolutions and colors. The Dimensity 9000 is upgrading the experience by streaming 4K60 HDR10+ content over Wi-Fi direct to compatible SmartTVs.
13. 3GPP Release-16 5G Smartphone Modem
MediaTek is the first chip designer to launch a 3GPP Release-16 standard 5G modem, starting with the Dimensity 9000. Release-16 is the latest standard governing global cellular connectivity; giving the Dimensity 9000 and our future smartphone chips the most future-proof 5G modem capabilities on the market.
14. Maximizing sub-6GHz performance
With a massive 7Gbps of downlink performance on tap, the Dimensity 9000 provides incredible peak performance potential exclusively from 'everywhere available' sub-6GHz connectivity. This is achieved thanks to an upgraded 3CC Carrier Aggregation (300MHz) capable 5G modem. Apart from peak performance, 3CC is also great for increasing average performance everywhere from inner city to suburbs, particularly in cellular markets where 5G bands are non-contiguous or offer smaller bandwidth slices.
15. Multimode Dual SIM Dual Active

Continuing our leadership in dual SIM technology since 2008, MediaTek is again the first with the latest Dual SIM technology called Multimode Dual SIM Dual Active. It means that both SIM connections - whether 5G or 4G - can be connected and active at the same time, upgrading your smartphone to truly become a multitasking and productivity friend.
16. World's 1st R16 UL Enhancement
The Dimensity 9000 is the first smartphone chip to support the latest 3GPP Release-16 uplink enhancement, by providing both 'Super Upload' (SUL) and 5G-NR uplinks with carrier aggregation (CA), improving upload performance opportunity.
17. Wi-Fi 6E 2x2 (BW160)
With support for the latest 6GHz band and 160MHz of bandwidth, the Dimensity 9000 provides our best ever Wi-Fi throughput performance and performance-efficiency in a smartphone chip.
18. World's 1st Bluetooth 5.3 support in smartphones
The Dimensity 9000 is the first to support the latest Bluetooth 5.3 specification. Among new security and connectivity features, it allows lower latency connections, which is particularly useful for compatible wireless headsets.
19 New Beidou III-B1C GNSS support
The Dimensity 9000 supports the latest Beidou GNSS system, giving Chinese users the next-generation of satellite navigation accuracy.
Sign up for our monthly newsletter
EXECUTIVE INSIGHTS | LATEST NEWS & EVENTS | PRODUCTS & TECHNOLOGIES