6 best features of the MediaTek Helio G96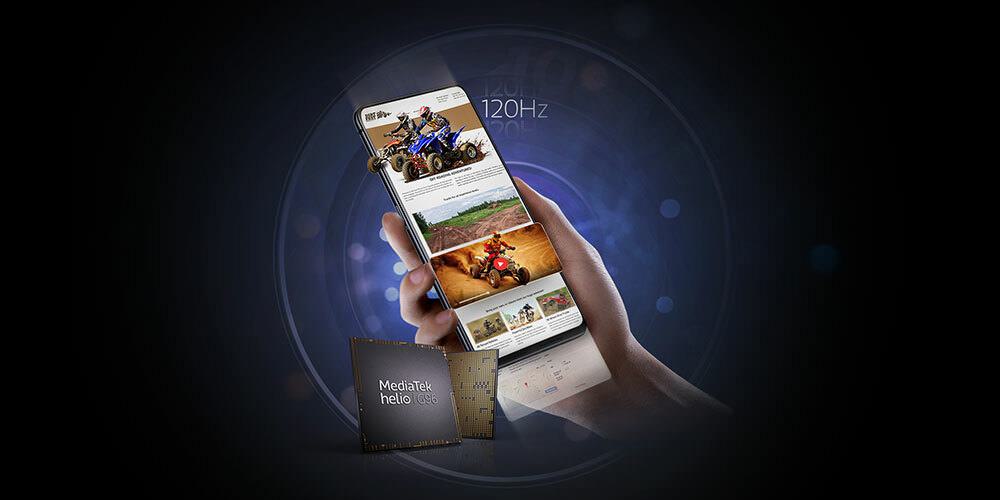 The new MediaTek Helio G96 is designed for high-end 4G gaming smartphones. With smartphones sporting impressive new displays and cameras at your fingertips, here's the best-of list if you're looking for an upgrade.
1. Incredible 120Hz FullHD+ Displays
Whether LCD or AMOLED, faster displays improve so much about the everyday smartphone experience, with notably smoother scrolling of webpages, smoother animations in apps and games. The G96 brings faster 120Hz displays – twice as fast as traditional 60Hz displays – to the MediaTek Helio G range.
2. Immense 108MP Main Camera
High-end 4G smartphones can now feature an immense 108MP camera that can capture immensely detailed images. These mega megapixel cameras are the latest feature for high-end smartphones this year.
However, taking good pictures doesn't just stop at the sensor. The G96 features premium, hardware-based noise reduction techniques - 3D noise reduction and multi-frame noise reduction – to provide enhanced ultra-low light capture, often dubbed as 'night-shot', but the key thing is it works automatically, anytime, whether indoors or after dark.
3. Reliably fast 4G LTE

While 5G phones are all the rage, 4G users still dominate globally, and we've optimized the G96 for a great 4G experience. Starting with a modem that's built directly into the chip for lowest power use, this fast Cat-13 4G LTE modem offers key connectivity features such as 4x4 MIMO and 256QAM, eMBMS and HPUE that ensure higher average speeds and more reliable connections even in areas of high network traffic.
4. Dual 4G SIM
Essential dual 4G SIM is ever present in Helio G chips, providing fast data services from either connection for a seamless user experience. If you can get VoLTE and ViLTE services from your carrier, either SIM can provide excellent call and live video experiences with faster call setup and noticeably better sound quality.
5. MediaTek HyperEngine 2.0 generation gaming technologies
The G96 includes both an Intelligent Resource Management Engine and Networking Engine to improve gaming performance in each area.

The Intelligent Resource Management Engine optimizes CPU, GPU and memory to ensure the gameplay is always smooth and doesn't jitter, even as everything naturally heats up during extended game sessions. It also works to maximize the battery life with power-saving enhancements.

Meanwhile, the Networking Engine prioritizes the gameplay traffic to ensure the lowest pings, and monitors available Wi-Fi and 4G connections to ensure you'll always remain connected to the game server.
6. High-End 4G Smartphone Performance
The MediaTek Helio G96 features two powerful Arm Cortex-A76 processors cores clocked up to a speedy 2.05GHz in its octa-core CPU, while the Arm Mali-G57 GPU is a newer generation core upgrade over the previous MediaTek Helio G95.

This CPU and GPU mix needs to be paired with equally fast memory and storage to feed it sufficient data. It's appropriate then that the G96 is designed to be partnered with superfast 2133MHz LPDDR4X memory and turbocharged UFS 2.2 storage, giving those hungry processors plenty of data bandwidth.
Sign up for our monthly newsletter
EXECUTIVE INSIGHTS | LATEST NEWS & EVENTS | PRODUCTS & TECHNOLOGIES