7 best features of the MediaTek Dimensity 720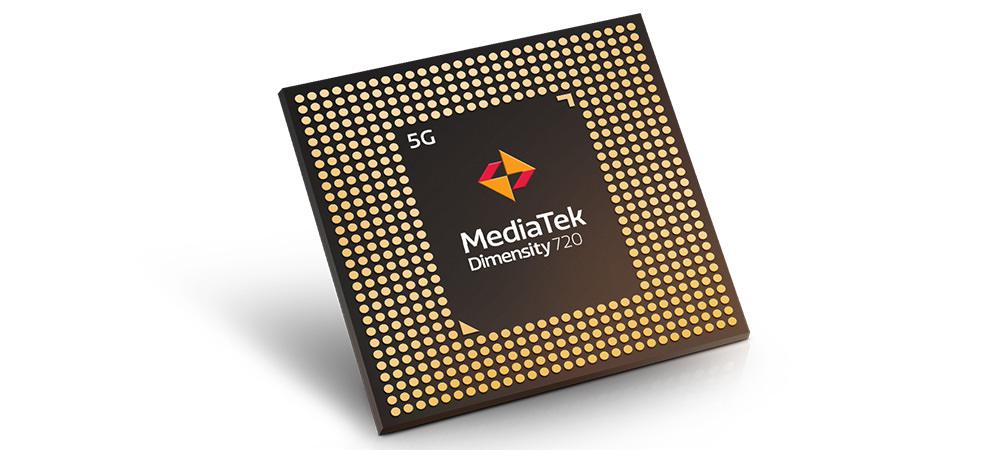 With innate energy-efficient innovations in an ultra-small 7nm SoC, the MediaTek Dimensity 720 is the most efficient 5G chip in its class. Here's the top 7 reasons why you'll want one in your next smartphone:
1) 5G modem fully integrated into the chip
What a "5G integrated SoC" means is that the 5G modem is integrated into the single chip with all the other processing components like CPU, GPU, camera ISPs and AI processor, rather than putting the modem in a separate chip all by itself. All MediaTek Dimensity smartphone chip designs feature a fully-integrated 5G modem, making them more power efficient than other 2-chip platforms. The secondary benefit is a smaller smartphone PCB that allows brands to have more space for things like more cameras, bigger batteries, or other novel features.

MediaTek's 5G modem technologies are comprehensive, with the Dimensity 720 capable of essential Carrier Aggregation, and 5G Standalone (SA) network support that allows it to make high quality VoNR calls. It also offers the latest tech like Dynamic Spectrum Sharing, both FDD/TDD modes, and includes full 2G-5G connectivity coverage for any situation.

Read more about these 5G modem technologies, and how MediaTek is working with global operators to validate these new technologies.
2) MediaTek 5G UltraSave for best-in-class power efficiency

One particular feature-set within the integrated 5G modem is MediaTek's 5G UltraSave. When using your smartphone, sometimes you need to download a little – like a picture, sometimes a lot – like a video. What MediaTek engineers have done is make the modem component reactive to the data demand so it's only working to meet needs of the moment, minimizing power use. This extensive power optimization comes through these technologies:

MediaTek 5G UltraSave Network Environment Detection
MediaTek 5G UltraSave OTA Content Awareness
Dynamic BWP
C-DRX (Connected Mode DRX)
Read more about what they do here >

MiraVision is an exclusive display enhancing technology that intelligently adjusts a wide range display and video stream factors, including color, brightness, contrast, sharpness, and dynamic range, based on what's being watched; or surrounding environmental factors, like viewing in bright daylight. The Dimensity 720 offers these technologies below that enhance streaming or local video playback.
HDR10+ Enhanced with 'Local Tone Mapping'
Real-time HDR10+ -like quality upgrade
Dynamic display assessment and remapping
4) Up to 64MP cameras
The Dimensity 720 can support up to 64MP cameras, empowering mid-range 5G smartphones with super-size sensors for supreme captures. Dual cameras up to 20+16MP are supported for large, clear Portrait pictures, and a framework for multiple cameras such as macro, ultra-wide or telescopic is also provided for brands to build enticing smartphones that can capture any moment.
5) Fast 90Hz Displays
Upgrading the user experience, brands can embrace faster 90Hz displays instead of the usual 60Hz. This 50% speed boost showcases notably smoother text and webpage scrolling, as well as fluid movements in app UIs and game animations.
6) Integral, Multiple Voice Assistants
A variety of virtual assistants support our daily lives in different ways. The Dimensity 720 can listen for multiple trigger words to wake up virtual assistants such as Google Assistant, Amazon Alexa or other localized services.
Fully integrated into its design, brands get a power and size optimized system with integral noise suppression that's easy to use and offers the greater consumer choice.

7) 7nm chip
Leading features need to be made using the latest production techniques to be effective, and the Dimensity 720 is built using the latest 7nm production process from TSMC. By creating a chip using the leading-edge fabrication technology gives the best integration of components and exceptional power efficiency.

Sign up for our monthly newsletter
EXECUTIVE INSIGHTS | LATEST NEWS & EVENTS | PRODUCTS & TECHNOLOGIES