7 Best Features of the MediaTek Helio G95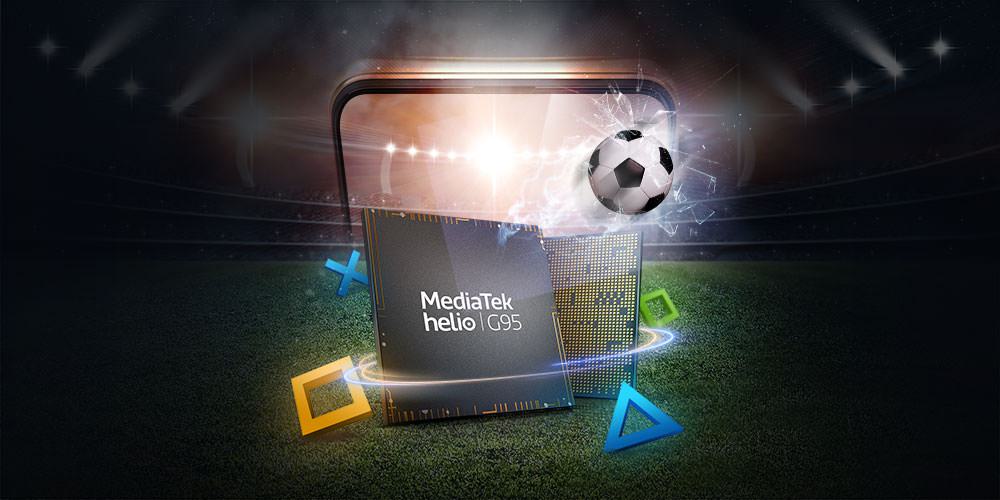 The new MediaTek Helio G95 is designed for premium 4G gaming smartphones. With a tweaked feature-set at your fingertips the G95 delivers on all fronts. Here's the best-of list if you're looking for an upgrade.

1. Maximize Your Gaming
The MediaTek Helio G95 features two premium 'big' Arm Cortex-A76 cores in its octa-core CPU with clockspeeds that peak over 2GHz. In addition, its quad-core Arm Mali-G76 graphics can also boost to 900MHz max. This represents a 5% boost in Antutu CPU benchmark scores and up to 8% in Manhattan 3.0 GPU benchmark versus the last generation G series. Beyond the chip, MediaTek HyperEngine gaming technology optimizes the whole smartphone using four "engines" that cover networking, rapid response of display and touchscreen, resource management and picture quality.

Combined with ultra-fast UFS storage and 2133MHz (4266MT/s effective) LPDDR4X memory, G95-powered smartphones are always responsive - even beyond gaming - whether you're streaming video, chatting with friends, working on the go, or snapping pics.

2. AI Super Resolution for Video Streams & Tele-Conferencing
This is a new feature launching with the MediaTek Helio G95. App designers can tap the power of the integrated MediaTek AI Processing Unit (APU) to leverage AI Super Resolution technology for streaming video and tele-conferencing.

This allows users to stream video at just 360p resolution, saving considerable cellular data bandwidth. Using the APU, the video is then intelligently upscaled to HD resolution (720p) in real-time without any perceptible difference in quality. This can stretch the monthly bandwidth budget, helping users who are working or schooling from home and with daily video calls.
3. Enhancing the Display & Video Playback
MediaTek MiraVision intelligently adjusts a wide range display factors based on what's being watched to bring a cinema-grade visual experiences to the small screen. For HDR video content encoded with HDR10 and HDR10+, MediaTek MiraVision offers two technologies:
HDR10 content uses 'static' metadata. MediaTek MiraVision analyses the video stream and converts this to dynamic metadata in real-time, upgrading the quality to approach HDR10+ native.
MediaTek MiraVision can even upgrade the latest HDR10+ content. It performs real-time sub-frame 'local tone mapping', which goes even further to retain more detail and contrast in each scene, improving image quality.

4. Dual 'Wake-up Word' Support
As a variety of virtual assistants - like Google Assistant and Amazon Alexa - support our daily lives in different ways, the G95 can listen for independent trigger words to wake each of them. This is done using specially designed in-chip hardware, which benefits by saving power and extending battery-life.

5. Reliably Fast 4G LTE connections

Cat-12 4G LTE can give impressive download speeds of up to 600Mbit/s, but it's also the advanced connectivity features such as 3x CA, 4x4 MIMO antenna, 256QAM, global eMBMS and HPUE that provide faster effective performance and more reliable connections. MediaTek adds its own TAS 2.0 antenna switching technology into the mix, which automatically monitors and adjusts the antennas used around the phone to maintain the best connection with lowest power use, extending battery life.
6. Dual 4G SIM

Dual 4G SIM is an essential feature in many markets. It provides VoLTE and 4G data services from either connection, offering a streamlined user experience regardless of the SIM you're using. VoLTE and ViLTE services are preferred over traditional calls because they provide excellent call quality and live video experiences, with faster call setup time and noticeably better sound quality.
7. Up to 64MP AI-Camera
G95-powered smartphones can adopt a variety of multi-camera designs using various lens and sensor options, including up to large 64MP cameras, so you can capture incredibly detailed photos, or use quad-pixel technology with advanced features like multi-frame noise reduction (MFNR) to take night-shots with incredible low-light quality.
An integrated hardware depth engine provides smooth, real-time bokeh previews for the highest quality Portraits. Video can be captured using high efficiency HEVC and the G95 even supports high frame-rate recording up to an ultra-fast 240 FPS.

Sign up for our monthly newsletter
EXECUTIVE INSIGHTS | LATEST NEWS & EVENTS | PRODUCTS & TECHNOLOGIES