7 best features of the MediaTek Kompanio 520 & 528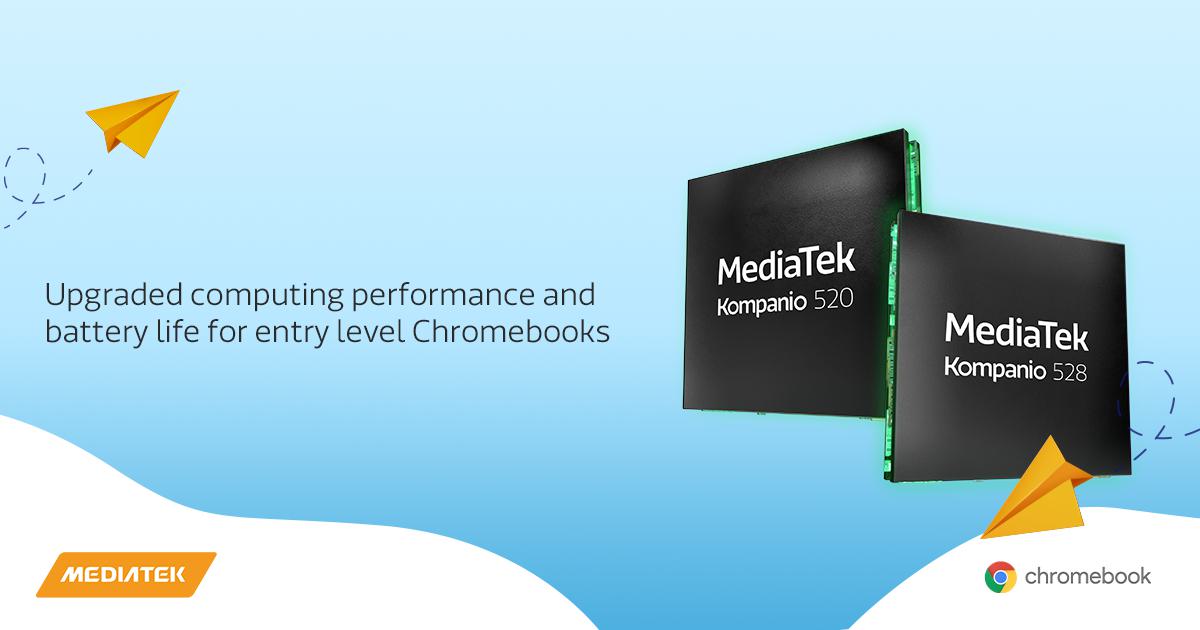 1. Elevating affordable performance
The MediaTek Kompanio 520 & Kompanio 528 upgrades a new generation of entry Chromebooks with over 100% faster single-core CPU performance! Storage performance is also twice as fast to ensure these powerful CPUs always receive enough data. For gamers and 3D modelling, the GPU is also 20% faster for smooth 3D design in education, and more FPS in games.
The Kompanio 528 provides a further 200MHz to its two 'big core' Cortex-A76 processors, compared to the Kompanio 520.
By elevating entry performance, it means everyday activities like web browsing, watching streaming videos, casual gaming, educational activities, and the breadth of Google Play apps run smoother than ever, improving the Chromebook experience for many.
2. Far beyond your basic webcam
In an age where remote video interactions are the norm for work, education and keeping in touch with friends and family, and where smartphones that have raised the bar of expectations, having a high-quality webcam is a must-have in laptops. The Kompanio 520 & 528 can support bigger, brighter cameras, and is capable of encoding video capture streams in Full HD at 60fps – 2x smoother than previous the generation – giving smartphone-like camera experiences users will love.
3. Multiple cameras can offer new experiences
Device makers can even create designs that support multiple cameras with different sensors. For example, the second camera and its powerful CPU can perform depth sensing for Portrait bokeh, or giving the option of a wide lens in addition to a standard camera, so a whole team or class can interact together from a single Chromebook.
4. More visual real-estate
This generation, the Kompaio 520 & 528 can support an external display up to Full HD resolution. This provides a notable boost in visual real-estate for productivity, and is more suited to matching the resolution of modern projectors and smart TVs when giving presentations in work and classrooms. At home, it's great for connecting to smart TVs to watch movies, shows and online streams.
5. Great for streaming video
An upgraded multimedia engine now includes hardware-based VP9 decoding that's ideal for watching YouTube and web video.
6. Virtual assistant-ready platform
A new, super-efficient microphone audio processing engine can be configured to listen for trigger words to activate virtual assistants, or it can be used by in voice and video call software to better call quality and power efficiency, extending battery life.
7. Fast, Secure & Reliable Wi-Fi 6
Because being mobile is no good without fast and reliable wireless internet, we've again upgraded entry Chromebook experiences by making MediaTek Filogic Wi-Fi 6 options available, allowing device makers to elevate connected experiences with multi-gigabit wireless networking performance, plus modern reliability, and security features.
Sign up for our monthly newsletter
EXECUTIVE INSIGHTS | LATEST NEWS & EVENTS | PRODUCTS & TECHNOLOGIES