7 reasons you need the MediaTek Helio P22 in your next smartphone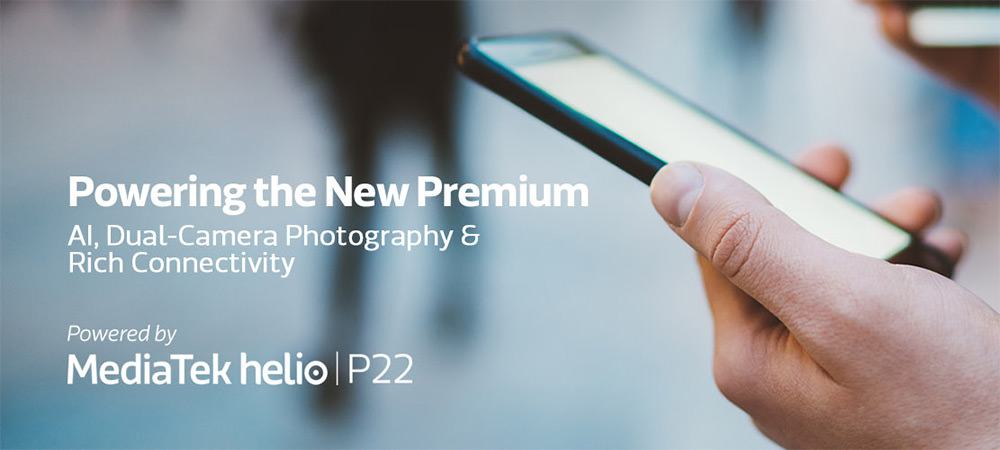 The MediaTek Helio P series focuses on providing the best-in-class camera hardware, and the P22 is no exception. Large, dual-camera arrays of up to 13+8MP are supported, or alternatively, a super-sized single camera up to 21MP could be chosen instead; both of which support bokeh (depth of field) photography to give stunning, professional-styled photographs.
However, it's the essential hardware behind the camera that makes the difference. Automatic enhancements minimize aliasing, grain, and provide defect/distortion correction techniques, while its camera control unit provides super-fast auto-exposure. In addition, MediaTek's Electronic Image Stabilization (EIS) and new Rolling Shutter Compensation (RSC) engine are combined to cleverly mitigate warped ('jello effect') video when capturing fast action or panning.
Reason 2: Edge-AI & MediaTek NeuroPilot

The AI revolution is in full stride, and here the MediaTek Helio P22 supports intuitive light AI-enhancements such as Face ID (taking a selfie to unlock your smartphone), Smart Photo Album, simulated depth of field, and much more thanks to the creativity of your favorite phone brands.
For these smartphone brands and app developers, MediaTek NeuroPilot provides the best possible ecosystem for adding AI-enhancements to OS and Apps by supporting common AI frameworks and providing compliance with Android Neural Networks API (Android NNAPI).

Reason 3: Fast & Efficient
Eight Arm Cortex-A53 cores are clocked up to 2GHz. Paired with the latest IMG PowerVR GE8320 GPU and a fast LPDDR4x memory controller they provide a powerful combination of high-performance hardware in a single chip. The entire SoC is then built on a 12nm process: one of the most advanced and low-power available. The thickness of a human hair is a 7,000nm so just imagine how small 12nm is! This innovative manufacturing process delivers up to 9 percent lower power use than previous generation of 16nm products, and up to 15 percent lower power than equivalent 14nm products.
Reason 4: CorePilot 4.0
The MediaTek CorePilot 4.0 is another breakthrough of performance and power management that's now in its fourth generation. You can expect to reach unprecedented performance horizons affordably while also enjoying an unrivaled user experience on your smartphone. CorePilot is a whole suite of advances — including UX monitoring, task scheduling, and power-performance optimization. Together, they deliver capabilities that exceed expectations, however you use your versatile phone — from simplified, convenient browsing to intensely competitive mobile gaming sessions.

Reason 5: Carrier Flexibility from dual 4G SIM (Dual VoLTE)
Having both SIM cards 4G capable is a significant upgrade in many ways you may not be aware of. Firstly, dual 4G SIM gives you flexibility to choose which carrier you want to use for calls or data. With limited data packages, sometimes having a backup is essential to avoid running out when you need it most. As some operators are 4G-only, it's a future-proof investment to maximize choice. Secondly, the call quality of VoLTE (voice over LTE) and ViLTE (face-to-face video over LTE) are significantly better, and call setup time is noticeably faster. Finally, 4G LTE enables faster connectivity, more reliable coverage, and lower power consumption.
Reason 6: The latest cellular technologies
MediaTek is one of the world's largest providers of cellular modems. There's a keen eye on consumer needs and maximizing the experience, where peak speeds offer less user experience benefit versus a focus on connection reliability, power efficiency and support for the latest industry specifications and features from global cellular operators.
MediaTek's latest generation 4G LTE WorldMode modem merges the performance and reliability you need for your business or personal time with the latest cellular standards. This includes awesome voice and video capabilities like IMS (VoLTE\ViLTE\VoWi-Fi) — now supported by over 100 cellular operators worldwide; and LTE broadcast with global eMBMS; breakthrough High-Performance User Equipment (HPUE); and 600MHz (Band 71) frequency support. All these improve the user experience, with greater connection reliability no matter where you travel, and power-efficiency for better battery life.
Reason 7: Smart Antenna technology (TAS 2.0)
MediaTek's second-generation smart antenna technology (TAS 2.0) automatically detects and chooses the ideal best antenna to use no matter how or where you hold it, or which direction you face. TAS 2.0 optimizes the signal for quality and connection reliability. With less signal boosting required, you reduce power usage, conserving power and bettering battery life.
Sign up for our monthly newsletter
EXECUTIVE INSIGHTS | LATEST NEWS & EVENTS | PRODUCTS & TECHNOLOGIES