8 Best Features of the MediaTek Dimensity 1000C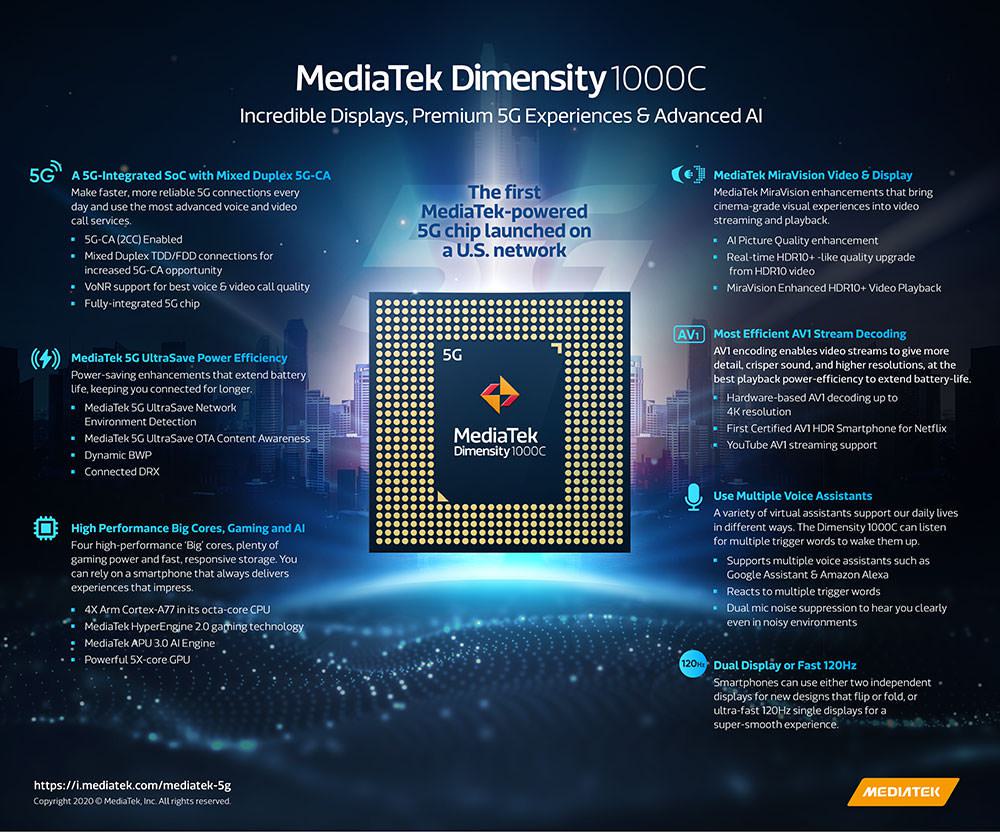 Ready to give U.S. customers more choice of premium 5G smartphones, the MediaTek Dimensity 1000C provides great performance, advanced AI capabilities, enhanced display features and ultra-fast 5G connectivity; all from a single, 7nm chip. Partnering with T-Mobile and LG smartphones for its recent launch, here's its best features:

1) More Reliable 5G Connections
5G-CA (Carrier Aggregation) enables higher average speeds and a seamless handover between two 5G connection areas across a coverage layer, where users receive over 30% greater throughput layer coverage than without CA.

The Dimensity 1000C supports mixed duplex 5G-CA, which means TDD+FDD, TDD+TDD and FDD+FDD duplex modes can be mixed together across available bands to provide better 5G coverage and speed.
2) The Most Power-Efficient 5G Modem Design

The Dimensity 1000C has its 5G modem integrated into the single chip. This is inherently more power efficient than other 2-chip designs. In addition, MediaTek 5G UltraSave provides a suite of power-saving technologies that use up to 45% less power versus competitor flagship platforms:
MediaTek 5G UltraSave Network Environment Detection
MediaTek 5G UltraSave OTA Content Awareness
Dynamic BWP
C-DRX (Connected Mode DRX)
3) Dual Display Capable
The Dimensity 1000C is MediaTek's first smartphone chip to support dual displays, enabling brands to embrace exciting smartphone designs that flip or fold for new user experiences.

Alternatively single displays up to 120Hz with FHD+ resolution can be used. This gives more responsive experiences in gaming, webpage scrolling and animations in apps.
4) First Certified AV1 HDR 5G Chip for Netflix
The Dimensity 1000C features hardware AV1 decoding built-in. It's the first, certified 5G smartphone chip by Neflix for its HDR streams, it also supports AV1 video streaming on YouTube, and MediaTek is also working with Twitch, the world's leading live streaming channel, to bring AV1 video streaming to mobile.
The latest generation of streaming media is rapidly migrating to AV1 encoding. AV1 is a much more efficient video compression codec. It unlocks new levels of visual detail, crisper sound, and higher resolutions.
5) Always Get an Incredibly Accurate Location
The latest dual-band (L1+L5) GNSS means that no matter where you need to go, the Dimensity 1000C can show you where you are.

However, even when GNSS is unavailable - such as underground, tunnels or the occasional blank spot - the MediaTek-designed location engine uses a unique sensor fusion technology that continues to be extremely accurate, providing the longest dead reckoning location performance compared to any other smartphone.
6) Have Both Amazon Alexa & Google Assistant On-hand
Virtual assistants support our daily lives in different ways, across a number of devices like smart speakers, smart displays, smart TVs, in the car, and much more. The Dimensity 1000C can listen for multiple trigger words to wake up either Amazon Alexa or Google Assistant, for example, so you always have both services on-hand.
7) High Performance CPU, Graphics and AI
4X High Performance Big Cores: Arm Cortex-A77 CPU
4X High Efficiency Cores: Arm Cortex-A55 CPU
4X Heterogeneous Core MediaTek APU 3.0
5X Powerful Gaming Cores: Arm Mali-G57 GPU
At its core, the Dimensity 1000C offers performance beyond other premium 5G smartphones. It features four Arm-Cortex-A77 CPU cores and four power-efficient Arm Cortex-A55 cores operating up to 2GHz, with a large, low-latency communal cache that improves performance and power-efficiency even further.

Five Arm Mali-G57 GPU cores mean avid gamers have powerful graphics at their fingertips, and the MediaTek APU 3.0 combines three different types of AI processors to create a versatile design that meets the needs of the latest AI-camera, AI-assistant, in-app and OS-enhancements.

Altogether the chip is made to partner with ultra-fast LPDDR4X and the latest UFS 2.2 storage that features a new TurboWrite function.

8) MediaTek MiraVision Video & Display

MiraVision is an exclusive technology that enhances the display and video playback in real-time to bring a cinema-grade visual experience to the small screen.
For SDR video content - which makes up much of streamed or viewed media - MediaTek MiraVision can upgrade it to HDR quality on the fly. MediaTek MiraVision can also use the immense APU 3.0 processing power to analyze the type of content being watched in real-time, and dynamically upgrade the picture quality of the detail and contrast in each scene.

Sign up for our monthly newsletter
EXECUTIVE INSIGHTS | LATEST NEWS & EVENTS | PRODUCTS & TECHNOLOGIES