8 Best Features of the MediaTek Dimensity 800U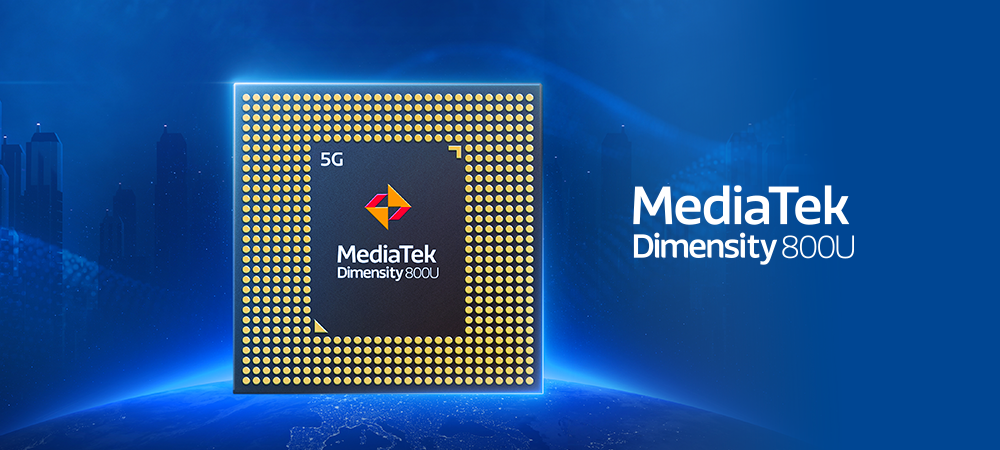 The MediaTek Dimensity 800U focuses on bringing the most comprehensive 5G features to the widest audience - hence 'ultra-connected' - while also not skimping on the performance of your everyday apps and experiences. Here are the best features of the latest Dimensity chip:
1) Dual 5G SIM
Dual 5G SIM gives you 5G that's always on. In some markets, dual SIM is a necessity for consumer choice. Dual 5G with dual standby (DSDS) means you get the full 5G speeds, premium voice call (VoNR) and video call (ViNR) services from either SIM slot. Less fuss, more convenience.

Building on our history of being the first-to-market with dual SIM since 2008, we're first again with dual 5G SIM since the Dimensity 1000 launched last year. The Dimensity 800U now brings this essential feature to the biggest potential user-base yet.

2) 5G-CA (Carrier Aggregation)

Carrier Aggregation enables higher average speeds, improves 5G coverage and provides a seamless handover between two 5G connection areas across a coverage layer. Users now receive over 30% greater layer coverage throughout. As 5G services continue to grow, opportunities for CA only increase, meaning you wouldn't want to buy a smartphone without it.

Some 5G smartphones today don't provide CA capabilities, but Dimensity does. Grab a Dimensity 800U and you know you will have this great feature.

3) The World's Most Power Efficient Smartphone 5G Modem Design
All Dimensity chips, like the 800U, are made using the latest, ultra-low power TSMC 7nm production process. MediaTek 5G UltraSave goes beyond just the manufacturing advantage and enhances the 5G modem with even more power-saving technologies:
MediaTek 5G UltraSave Network Environment Detection
MediaTek 5G UltraSave OTA Content Awareness
Dynamic BWP
C-DRX (Connected Mode DRX)
4) Faster Big Cores

The Dimensity 800U features two Arm Cortex-A76 'Big' cores operating up to a speedy 2.4GHz in its octa-core CPU. This ultra-fast peak clock speed benefits apps and games that need the fastest throughput, giving you ultra-responsive action in everything you do.
In top game titles, launch times are up to 1.4s faster than Dimensity 700 series, while benchmark scores are up to 11% faster in CPU and 28% faster in GPU performance.
Fast CPUs alone don't mean a fast smartphone. Inside the Dimensity 800U there is a high performance Arm Mali G57-class GPU, support for extreme clocked LPDDR4X memory up to 2,133MHz and the latest UFS 2.2 storage with boosted write speeds to give the best all-round smartphone experience.
5) Blur-busting 120Hz Displays
120Hz displays are a recent upgrade that provides an immediately obvious user experience improvement. Upgrading from a standard 60Hz smartphone to one with a premium 120Hz display cuts blur, improves response times and shows notably smoother scrolling of webpages and animations in apps.

The Dimensity 800U provides brands with the opportunity to make smartphones with displays that are crisp FullHD+ resolution and an ultra-fast 120Hz.
6) MiraVision Enhanced HDR Video Playback
Building on its expertise in Smart TVs, whether you're streaming video or watching from in-phone storage, MediaTek MiraVision can enhance the content in real-time to bring cinema-style experiences to the small screen. Since all smartphone displays are different, MiraVision is intelligent and flexible, assessing the display capabilities of each device and optimizing accordingly via a unique re-mapping technology.
For HDR10 content, MiraVision can upgrade it to approach HDR10+ quality in real-time by creating dynamic metadata on-the-fly to enable per-frame luminance optimization without overexposure.
MediaTek MiraVision can even enhance HDR10+ content using 'local tone mapping' technologies that retain more detail and contrast, even in regions of extreme of brightness and darkness.
Learn More about MiraVision for Smartphones >
7) Biggest in class camera sensors and a powerful AI processor

People love having several cameras on their phone to choose from, because you might need a big sensor for incredible detail, a wide camera to catch all the scenery, a macro lens for interesting close ups, or dedicated depth sensor for capturing perfect bokeh-style soft backgrounds in portrait pics.

The Dimensity 800U supports cameras up to 64MP - the biggest in its class - and when combined with its in-built AI processor (APU 3.0) it can even capture the brilliant night/low-light shots. Dual cameras up to 32+16MP are supported, for ultra-high detail portrait pictures or videos.

In-built imaging accelerators, such as a high-performance hardware depth engine for accurate bokeh in real-time previews and pictures, anti-distortion-warping, noise reduction and facial detection work together to enhance the photography and video capture results.

8) Multiple Voice Assistant Support
A variety of virtual assistants are available globally and support our daily lives in different ways. The Dimensity 800U can listen for multiple trigger words to wake up virtual assistants, offering great consumer choice.
Sign up for our monthly newsletter
EXECUTIVE INSIGHTS | LATEST NEWS & EVENTS | PRODUCTS & TECHNOLOGIES