8 Best Features of the MediaTek Pentonic 2000 for 8KTVs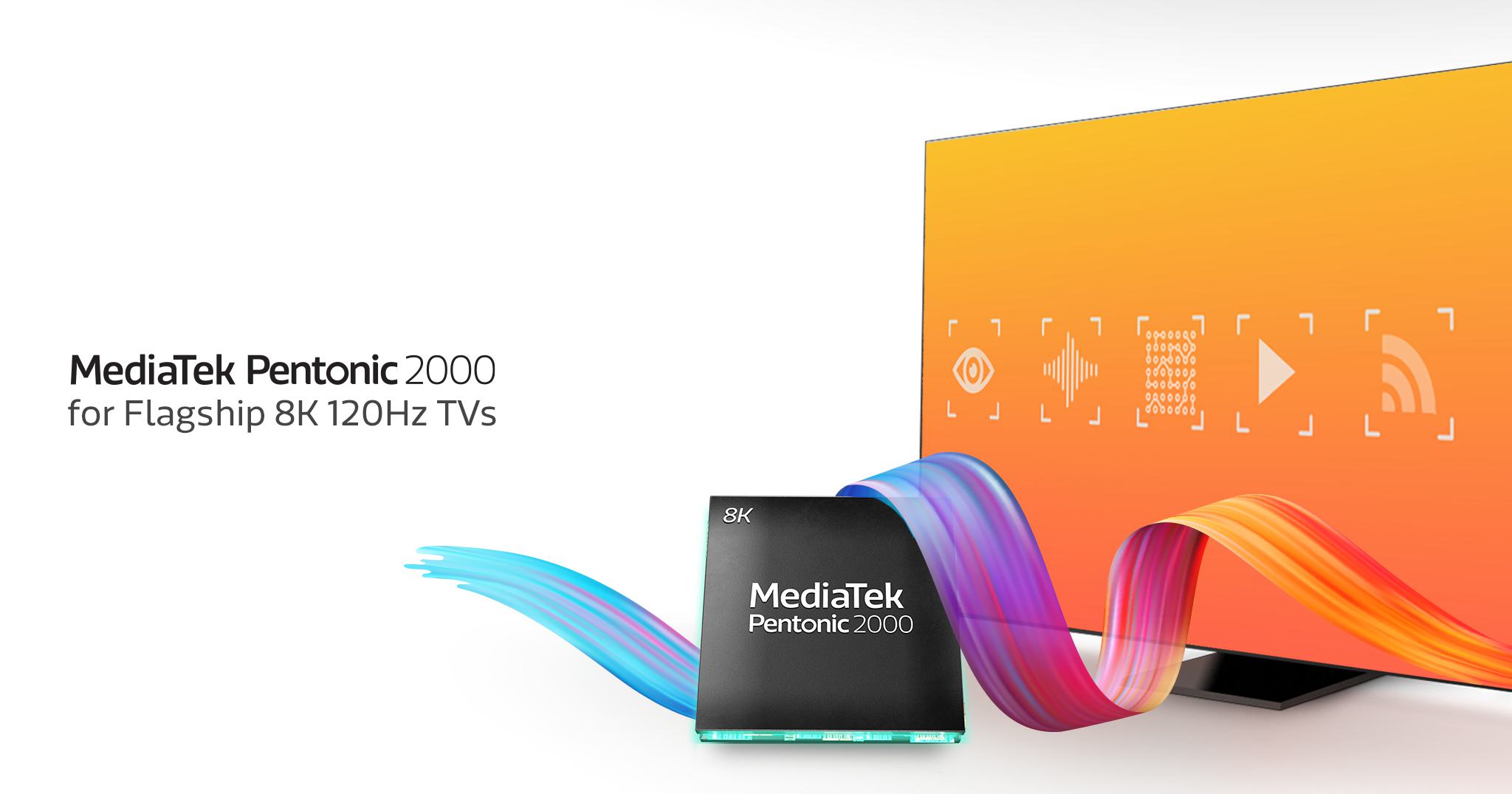 Upgrade to a bigger 8K resolution and still enjoy super-fast 120Hz displays, with next-gen TVs powered by the industry's most powerful Smart TV chip. The new Pentonic 2000 empowers flagship 8KTVs with incredible features and innovative technologies in display, audio, AI, broadcasting and connectivity; it's no wonder that MediaTek already powers more than 2 billion TVs in the global market today.

Here's the top reasons why you'll want a MediaTek Pentonic 2000 inside your new 8KTV in 2022:
1) An all-in-one chip for 8K 120Hz displays
This all-in-one chip supports 8K 120Hz displays and even features an integrated 8K 120Hz MEMC engine. Faster displays are great for a smoother UI and app experience, and are also ideal for gamers with their low-latency response.
2) 8K AI-Super Resolution
The in-chip, high performance, MediaTek-designed multi-core APU (AI processor) powers MediaTek's AI-Picture Quality engine with 2nd generation scene recognition and 3rd generation object recognition technologies. With most content streamed at sub-8K resolutions, it also powers essential 8K AI-Super Resolution technology that intelligently upscales content to the display's native resolution, while also performing real-time image quality enhancements.
3) TV industry's most powerful Smart TV chip
Inside the chip is the TV industry's fastest CPU and GPU combinations, which are fueled by generous memory bandwidth and ultra-fast UFS 3.1 storage to ensure zero-lag experiences using the TV UI and any apps.
4) World's First 7nm 8K Smart TV chip
Pentonic 2000 is the world's first commercial TV chip manufactured using TSMC's N7 (7nm-class) process, delivering unparalleled performance and power-efficiency.
5) First commercial 8K TV chip with Versatile Video Coding (VVC) H.266 media support
Pentonic 2000 is the first commercial 8K TV chip with Versatile Video Coding (VVC) H.266 media support, which offers improved compression efficiency for next-generation streaming and broadcast media. The Pentonic 2000 also supports the latest Dolby Vision and Dolby Atmos technologies to provide the best cinematic experiences.
Commonly used HEVC, VP9, AVS3 and more recent AV1 hardware decoding engines are also provided, covering the full range of media formats.
6) Exclusive MediaTek Intelligent View technology

MediaTek's Intelligent View technology enables multiple picture-in-picture (PiP) or picture-by-picture (PbP) screens, allowing a large 8K resolution display to showcase a 'display wall' of content from different media sources. This means that consumers can have multiple apps open streaming from different sources, all at the same time. Moreover, MediaTek's Intelligent View not only ensures that the video in each window continues to display seamlessly – even when the window size or display layout changes – but also provides image post-processing to each window to ensure the best viewing experience.
7) Ultra-fast Wi-Fi 6E connectivity or even 5G cellular
With both USB and PCI-Express connectivity available from the Pentonic 2000, MediaTek Wi-Fi 6E solutions, such as the Filogic 320 or 330, or even MediaTek 5G cellular solutions can be added by smart TV brands to provide the fastest wireless internet connectivity needed for 8K streaming media or multiple PiP/PbP streamed media views.
8) Global TV broadcast standards including the latest ATSC 3.0
As usual MediaTek provides a global demod platform built-in, allowing device makers to design one device that is applicable for global markets, freeing them to focus on differentiating technologies. ATSC 3.0 - the next generation broadcast standard for the United States and South Korea - is also included. This market is growing fast: the US Consumer Technology Association (CTA) estimating that by the end of 2023 the shipments for NextGen-capable Smart TVs will hit 13.3M.


Sign up for our monthly newsletter
EXECUTIVE INSIGHTS | LATEST NEWS & EVENTS | PRODUCTS & TECHNOLOGIES