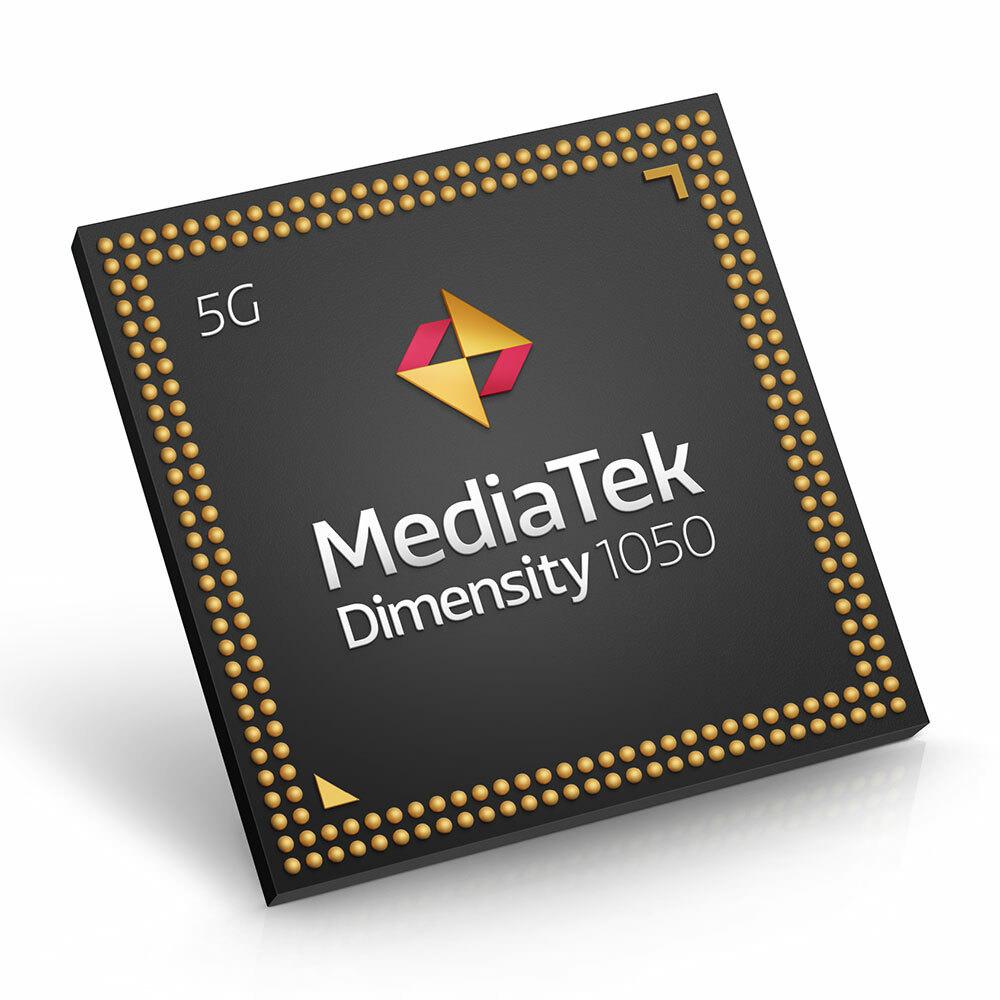 9 best features of the MediaTek Dimensity 1050
Seamlessly merging sub-6GHz and mmWave connectivity, the MediaTek Dimensity 1050 brings the fastest, low-latency connectivity to the widest audience ever. MediaTek's first 5G smartphone chip with mmWave connectivity does it better – here's how:
1) Seamless 5G sub-6GHz + mmWave
The Dimensity 1050 provides a seamless 5G experience that fluidly switches between long-reach sub-6GHz and superfast mmWave connections. By connecting to both simultaneously, the chip provides up to 53% faster speeds than other smartphone chips that can only connect to 4G LTE and mmWave at once.
2) Faster speeds and greater reach with new 3CC carrier aggregation
MediaTek collaborates with cellular equipment providers to ensure industry-leading 5G modems that are capable of the very latest 5G carrier aggregation technology. The Dimensity 1050 is ready for operators as they deploy 3CC-CA support during 2022 covering more mid (TDD) and low (FDD) bands, providing users more reliable 5G connectivity, greater 5G reach, faster average speeds and faster peak speeds versus smartphone chip alternatives (3CC/200MHz vs 2CC/120MHz).
3) Superfast, billion-color displays
The Dimensity 1050 allows device makers to create smartphones with superfast 144Hz Full HD+ displays that support 10-bit color natively. This gives users access to HDR media and games that show truer images with intense, vibrant colors.
MediaTek Intelligent Display Sync ensures optimum power efficiency of faster displays by dynamically adjusting the refresh rate to match the movement on screen: static content will lower the refresh rate to save power, while fast moving and dynamic images speed up to avoid the images blurring or stuttering.
4) New HDR10+ Adaptive media profile support
The HDR10 media profile was introduced in 2015. Next followed HDR10+ in 2017 that added dynamic metadata, and now there is HDR10+ Adaptive that dynamically optimizes the HDR10+ content to provide the best experience in relation to the observer's ambient lighting conditions. The Dimensity 1050 is the first mid-range chip to support the latest HDR10+ Adaptive media profile.

5) Dual HDR Video Capture Engine
With the Dimensity 1050 users can stream or record from two cameras in HDR simultaneously. This allows different lenses for alternative views, or front and rear cameras together, capturing the event and a personal reaction at the same time. As a hardware-based, HDR capture engine, it ensures exceptionally low power consumption and high quality results, every time.
6) Powerful Performance
Inside the Dimensity 1050's octa-core CPU are two premium Arm Cortex-A78 CPUs with peak speeds of 2.5GHz, accelerating apps, giving snappier social feeds and web browsing experiences. Combined with the latest Arm Mali-G610 graphics engine and fueled by super-fast LPDDR5 memory gamers can enjoy faster FPS in games.
7) Great for gaming
The Dimensity 1050 features the latest MediaTek HyperEngine 5.0 generation of gaming technologies. This suite includes our latest CPU & GPU gaming optimizations, AI-based Variable Rate Shading (AI-VRS) graphics, MediaTek Intelligent Display Sync with game-aware optimizations, plus Wi-Fi and 5G optimizations that ensure gaming packets are prioritized for lower-latency connections.
8) New tri-band Wi-Fi 6E
It's not just 5G with mmWave that's faster, the Dimensity 1050 also includes the latest Wi-Fi 6E connectivity, adding new tri-band connectivity (2.4GHz, 5GHz and 6GHz) that gives more performance, and lower latency internet connections, which the 2x2 MIMO antenna takes advantage of. Like the 5G modem, the Wi-Fi engine is built right into the chip for superior power-efficiency.

9) Exceptionally efficient 6nm-class chip
Built using TSMC's 6nm-class technology, this all-in-one chip is exceptionally power efficient, maximizing battery life and ensuring smartphones remain cool in the hand, even after long gaming sessions or days out capturing video streams, shorts and films.
Sign up for our monthly newsletter
EXECUTIVE INSIGHTS | LATEST NEWS & EVENTS | PRODUCTS & TECHNOLOGIES