AI comes into IC Design! Deep Learning Algorithm is showing its power.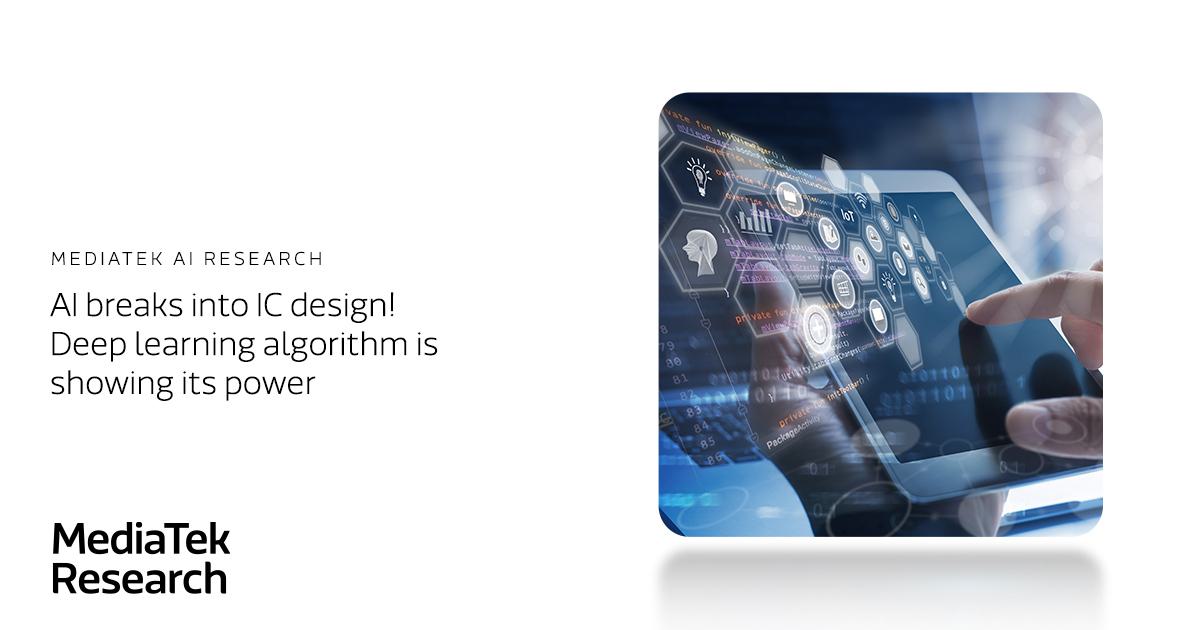 MediaTek is the first to introduce early circuit block layout to assist IC design optimization and comprehensively improve productivity.

MediaTek has been investing in forward-looking research for a long time, and recently released breakthrough results. By introducing machine learning into chip design, the chip development time is shorten with even more powerful performance. To be more specific, reinforcement learning predicts the location and shape of the optimal circuit block in the chip through continuous self-exploration and learning. This game-changing breakthrough will be published at the IEEE Asian Solid-State Circuits Conference (A-SSCC) in Taiwan in November. At the same time, MediaTek is going to apply for an international patent.
This advanced AI technology injects innovative algorithms to determine the best circuit configuration for extremely complex chip designs. Apart from deciding the best block position, it can adjust the best shape. Machine learning is applied to optimize designs, reduce errors, and explore unknowns, helping engineers produce better results in less time.
Cai Shouren, senior deputy general manager of MediaTek's chip design and R&D division, said: "Whether it is in the corporate world or academia, there have been few literature studies on early circuit block layouts in recent years. MediaTek's breakthrough combines AI and EDA. The optimized layout of circuit blocks can assist R&D personnel to perform optimization tasks efficiently and automatically. This technology is gradually integrated into MediaTek's full-line development process, including mobile phones, TVs, Netcom, etc. The chip will effectively enhance the research and development energy, shorten the research and development schedule, and help companies and customers seize market opportunities in time."
As chip complexity continues to rise, how to optimally position and function a large number of components is a serious challenge in chip layout planning. Traditionally, early circuit block layouts depended on manpower and practical project experience, and it often took several weeks to produce solutions for chip system developers to use. Through cross-departmental cooperation, MediaTek uses AI machine learning algorithms to shorten the time to a day or even a few hours to predict the optimal circuit block layout. Its benefits are not only far beyond manual methods, but also through GPU acceleration provides dozens of feasible development solutions, freeing up the time and energy of R&D manpower to focus on other more complex system architectures. In addition, MediaTek also uses the pre-training technology of the model to allow the machine to continue to evolve with the project, applying the spirit of "getting better and better" to MediaTek's chip development.
The Asian Solid-State Circuits Symposium (A-SSCC) and the International Solid-State Circuits Symposium (ISSCC) under the IEEE International Solid-State Circuits Society are both flagship seminars in the field of IC design. Since 2004, MediaTek has accumulatively collected 85 papers in ISSCC. It is the only company in Taiwan that has had its works selected for 19 consecutive years, reflecting the international recognition in advanced technology. As the influence of the semiconductor industry in the Asia-Pacific region has continued to increase in recent years, A-SSCC has also become one of the highest indicators of academic publications in the field of IC design. Over the years, it has been held in Taiwan, South Korea, Japan, Singapore and other regions, becoming the annual conference in the semiconductor field. This year, MediaTek's research paper is the only company in Taiwan's industry to be selected as A-SSCC, which is really the glory of the industry.
About MediaTek MediaTek Corporation (TWSE: 2454) is a global fabless semiconductor company with a leading position in the markets of smart handheld devices, smart-home applications, wireless connectivity technology and Internet of Things products. Annually, around 2 billion terminal products embedded with MediaTek's chip are circulated around the world. MediaTek strives for technological innovation, providing mobile computing technologies with high performance and low power consumption and advanced multimedia functions for products such as smartphones, tablets, smart TVs and set-top boxes, wearable devices and automotive electronics. MediaTek is committed to making technology products more popular, because we believe the technology can improve human life and connect with the world. We believe everyone has the potential to use technology to create infinite possibilities (Everyday Genius). For more information, please refer to the official website: www.mediatek.tw
Sign up for our monthly newsletter
EXECUTIVE INSIGHTS | LATEST NEWS & EVENTS | PRODUCTS & TECHNOLOGIES