Alcatel 7 powered by MediaTek Helio P23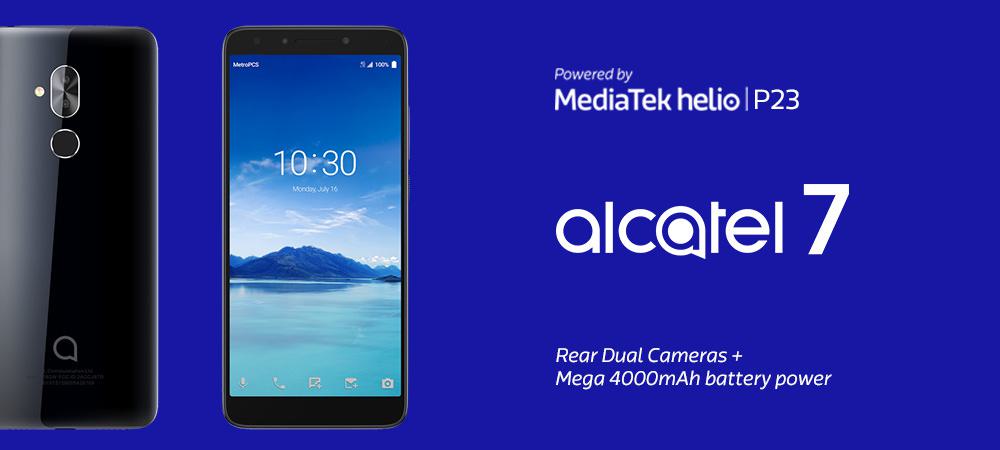 The Alcatel 7 is powered by the MediaTek Helio P23; an octa-core processor that can boost its speed up to 2.5GHz! Even with its highly affordable price the 7 features large 6-inch display, with modern 18:9 ratio and pin-sharp Full HD+ resolution. This means it gives an impressive performance and vibrant views for a great experience when using any apps, games or media. This includes Alcatel's bundled CloserTV app that brings online streaming and cable TV into one place for easier access.

Its front-facing 8MP selfie camera enables facial recognition unlocking technology, which Alcatel terms 'Face Key', while alternatively a fingerprint scanner is positioned at the back, just below the 12+2MP dual-camera array.

The MediaTek Helio P23 provides a wealth of camera-hardware in its Imagiq suite - including advanced 3A, instant auto-exposure (Instant AE) and a camera control unit (CCU) that delivers considerably faster focal correction and exposure adjustment when environmental lighting conditions change suddenly. The Imagiq suite includes technologies that minimize aliasing, grain, provides denoising, chromatic aberration correction and motion compensation techniques, across both normal and low-light conditions.

The Alcatel 7 is equipped with 2GB memory and 32GB storage, plus a microSD upgrade slot for up to 128GB more storage if required. Inside, a large 4,000 mAh keeps you powered for hours of talk time or video streaming on a single charge. The Alcatel 7 is an ideal phone for the 'New Premium' market: available from MetroPCs in the United States at just $179.99.

Sign up for our monthly newsletter
EXECUTIVE INSIGHTS | LATEST NEWS & EVENTS | PRODUCTS & TECHNOLOGIES