MediaTek and AMD announce co-engineered Wi-Fi 6E solutions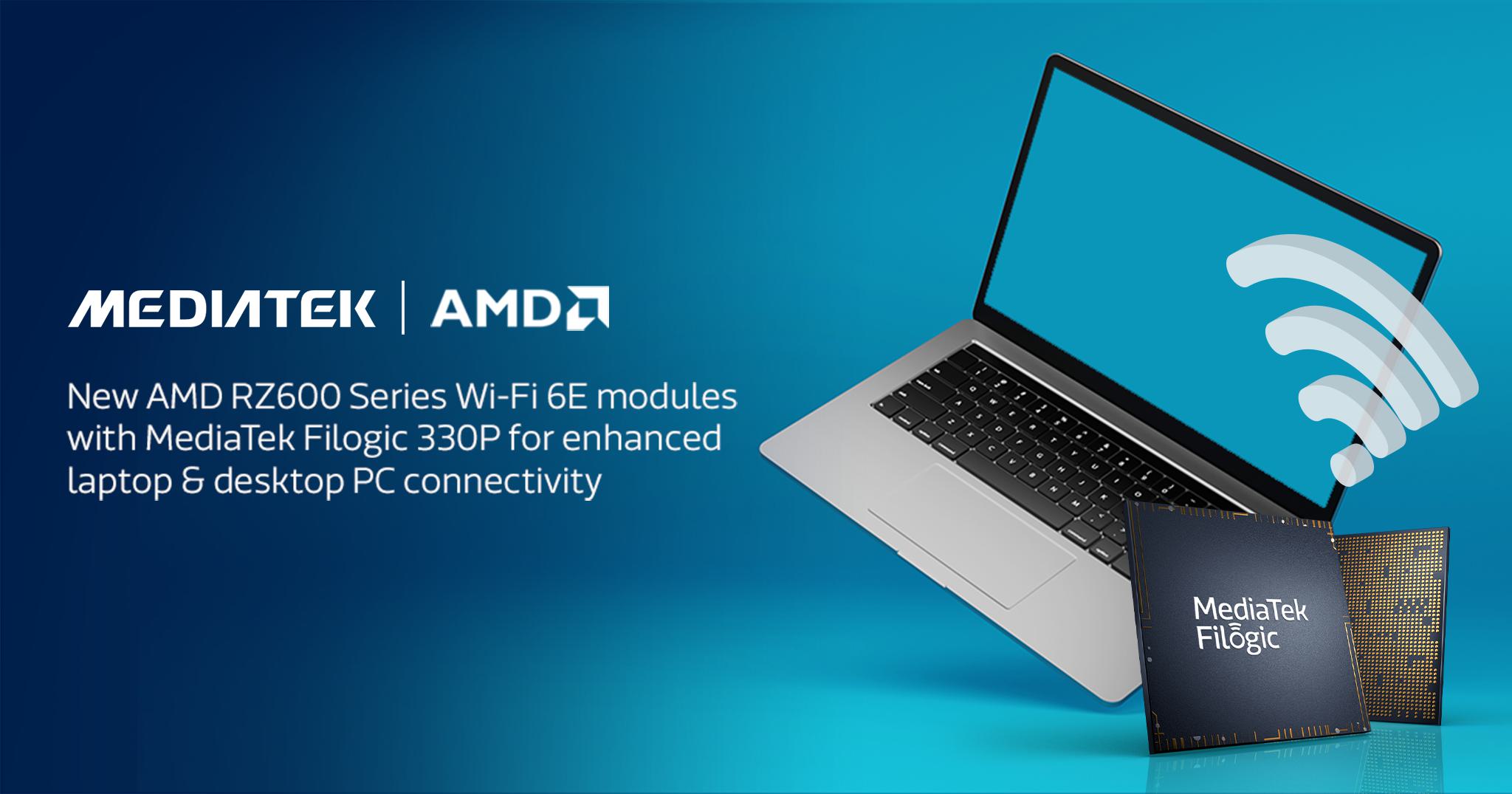 MediaTek and AMD have announced a partnership to co-engineer industry-leading Wi-Fi solutions, starting with the AMD RZ600 Series Wi-Fi 6E Modules containing the new MediaTek Filogic 330P chip. The AMD RZ600 Series is verified for next-generation AMD Ryzen-series laptops and desktop PCs in 2022 and beyond, delivering even faster Wi-Fi speeds with reduced latency and less interference from other signals.
To optimize the AMD RZ600 Series Wi-Fi 6E Modules with a focus on delivering seamless connectivity experiences for customers, AMD and MediaTek developed and certified PCIe and USB-connected platforms with modern sleep states and advanced power management, which are vital elements of modern customer experiences. Further, the optimization process included stress testing and ensuring compatibility standards, which ultimately reduces development time for OEM customers.
The MediaTek Filogic 330P supports the latest connectivity standards of 2x2 Wi-Fi 6 (2.4/5GHz) and 6E (6GHz band up to 7.125GHz) with 160MHz channel bandwidth (BW160), enabling an ultra-fast 2.4Gbps connectivity. It supports complete Wi-Fi 6 R2 features including UL-MUMIMO, TWT Info Frames, Broadcast TWT, Dynamic MU SMPS, UL Extended Range, DL Preamble Puncturing, and UL MU Data Disable.
The chipset also integrates MediaTek's power amplifier (PA) and low noise amplifier (LNA) technology to optimize power consumption and minimize platform size, which enables it to be embedded in devices of all sizes.

Bluetooth 5.2 (BT/BLE) is also built-in for direct peripheral connectivity, such as wireless mice, keyboards, smartphones, tablets, and smart home devices, while MediaTek's advanced Wi-Fi/Bluetooth co-existence technology enables both networking technologies to operate simultaneously while keeping connected reliably.
Sign up for our monthly newsletter
EXECUTIVE INSIGHTS | LATEST NEWS & EVENTS | PRODUCTS & TECHNOLOGIES