Are You Getting the Most Out of Your Smart TV?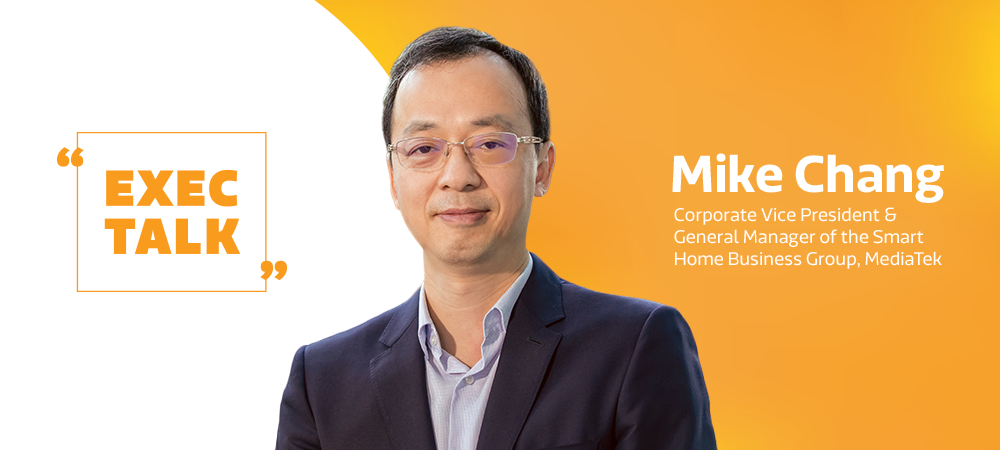 We've seen a lot of changes in the TV market as TVs have increasingly become the new hub of the smart home. In addition to being an entertainment center, smart TVs now give users an easy interface to control all their smart home gadgets – such as lights, security systems, voice assistants and more.

To get more insight into what the latest smart TVs can do, we spoke with Mike Chang, MediaTek Corporate Vice President and General Manager of the Smart Home Business Group. MediaTek is a true leader in this space as the No. 1 chipset provider for digital TVs globally, and work with nearly every TV brand you can think of. That is more than two billion TVs powered by MediaTek around the world!
MediaTek has been bringing consumers incredible entertainment experiences for more than 20 years. We have continued to develop new and exciting innovations for TVs, including support for 8K and 4K Ultra High Definition (UltraHD) visuals, artificial intelligence (AI) for object recognition, voice support and automatic picture quality enhancements. Learn more about TVs powered by MediaTek >

Q: What types of features should you consider in a smart TV?
Going beyond the standard features like resolution and color saturation, consumers should look for TVs with these cutting-edge features:
AI Capabilities: Some TVs come with built-in AI that improves image quality with facial and scene recognition, then automatically adjusts sharpness and fine-tunes picture quality settings. Additionally, AI-Super Resolution (AI-SR) enhances the clarity of imaging by resolving resolution mismatch between the broadcasting content and the TV panel, which enhances performance for 4K TV segments. This works much better than conventional resolution upscaling technologies which have a harder time matching the resolution of content and the TV screen which can cause thin lines or other types of picture distortion.
Advanced Wi-Fi Connectivity: To seamlessly stream your favorite content, it's important to have a fast and reliable Wi-Fi connection. The latest generation of TVs now integrates the new Wi-Fi 6 standard for even better connectivity.
Voice Interface Capabilities: Searching for your favorite movie or YouTube video is easier than ever thanks to voice assistant capabilities built into smart TV remotes. Now you can just tell your TV what you want to watch.
Q: What technology has MediaTek created to enhance the viewing experience?
MediaTek has a suite of TV technologies, including UltraCast, MiraVision Pro and our MDDi™ deinterlace solution, along with our AI Picture Quality (AI PQ) and AI-Super Resolution (AI-SR) technologies. With all these different solutions and tech talk, let me break it down into features that consumers use and how it benefits them to have a TV powered by MediaTek.
MediaTek's UltraCast lets users wirelessly stream 4K content to 4K-ready televisions. Consumers can view their own 4K content by easily casting from another device to their TV, without losing image quality or data. This makes it easier to share content whether it's a video of a family vacation or the latest must-see viral video.
MediaTek's MiraVision Pro is a suite of display enhancements. It intelligently adjusts picture quality for improved color saturation, brightness, sharpness, frame rate and more. To deliver an enhanced streaming experience, MiraVision Pro integrates MediaTek's ClearMotion technology that optimizes frame-rate conversion. At the same time, MiraVision Pro also reduces the power consumed by the display while fully preserving the picture quality. MediaTek's MDDi™ de-interlace solution helps increase the clarity of images for a smoother, vivid and more lifelike viewing experience. MediaTek has been at the forefront of display technology for decades, bringing our cutting-edge imaging technologies to all sorts of devices including smartphones, tablets, laptops, smart displays and, of course, TVs.
Another key technology is AI, which MediaTek is bringing everywhere across devices in the smart home, from smart speakers and smart microwaves to the latest generation of smart TVs. MediaTek's AI Picture Quality (PQ) technology delivers a noticeably better TV viewing experience. With these built-in AI enhancements, your smart TV can analyze the scenes and faces in different frames of whatever is being watched and then adjust the display settings automatically for the best picture. For example, your TV can identify a landscape scene to bump up the brightness, or it might fine-tune a person's skin tone appearance to prevent over-saturation, all in real-time.
MediaTek's built-in AI-SR technology helps in improving overall image clarity. Consider that in 2020 about 57% of TVs sold will be UltraHD, yet only about 17% of broadcasted content is UltraHD. Furthermore, many consumers around the world don't have an internet connection that is 25 Mbps or higher, which is recommended for streaming UltraHD content. MediaTek's AI-SR automatically adjusts TVs based on the resolution of broadcast content and individual internet speeds, delivering crisp, clear images for a more enjoyable entertainment experience.
All the technologies we are talking about are fully integrated into MediaTek's S900 chipset, a smart TV SoC that supports 8K resolution and high-speed edge-AI computation, and MediaTek's MT5670 chipset, which supports feature-rich 4K UltraHD resolution and true studio-quality imaging. Both chipsets support advanced voice capabilities so users have multiple ways to interact with their device. Additionally, developers can use MediaTek's NeuroPilot software development kit (SDK), which is fully compatible with the Android Neural Networks API, to build smart home devices that are connected and interoperable with each other. That means smart TVs can act as a hub to control all your smart devices, making it easy to dim the lights or turn off the thermostat right from the comfort of your couch.

Q: How will 8K TVs and Wi-Fi 6 make TVs even better?
8K TVs have an incredible resolution that is four times higher than 4K TVs, a significant upgrade for viewers. This ultra-high resolution produces a much sharper onscreen image, providing more texture and density and making every character look like they could walk right off the screen. MediaTek's chipsets power some of the newest 8K TVs on the market, including the Skyworth Q91 8KTV powered by MediaTek's S900 chipset and the Samsung 8K QLED Y20 powered a custom Wi-Fi 6 chipset.

Smart TVs with Wi-Fi 6 will bring consumers even better streaming and gaming experiences for a heightened level of entertainment. Wi-Fi 6 provides faster connectivity and will offer a more stable connection with better range, while also being able to support more devices at the same time. As TVs become the hub of the smart home, the fast and lag-free connection Wi-Fi 6 provides is essential.

Over the past few years, it's been wonderful to see how smart TVs have become more accessible to consumers everywhere, and how cutting-edge technologies like 8K have moved out of the realm of fantasy and into our living rooms. We look forward to continuing to drive the smart TV revolution so you can get the most of your TV.
Sign up for our monthly newsletter
EXECUTIVE INSIGHTS | LATEST NEWS & EVENTS | PRODUCTS & TECHNOLOGIES