Banana Pi BPI-R4 – Wi-Fi 7 OpenWRT development board powered by MediaTek Filogic 880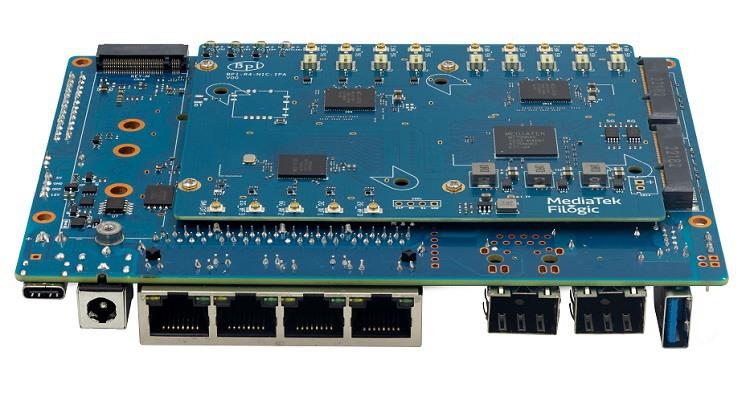 OpenWRT development board for routers and gateways is powered by MediaTek Filogic 880. MediaTek is collaborating with Banana Pi in the development of the upcoming device.
The Banana Pi BPI-R4 router board features the powerful MediaTek Filogic 880 SoC, plus 4 GB DDR4 RAM, 8 GB eMMC, 128 MB SPI-NAND flash, plus microSD card slot and 1x M.2 KEY-M (PCI-Express 3.0 x1) for NVMe SSDs. Network interfaces include 2x 10Gb SFP, 4x GbE, plus support for 4G/5G nano SIM cards with M.2 B-Key (USB 3.2) for a cellular adapter card and 26-pin GPIO for expansion and customization opportunities. An iPA NIC specifically developed by Banana Pi fits the 2x mini-PCI-E slots on the rear side of the board. It contains Filogic chips providing 2.4GHz (4T4R) 5GHz (4T4R) and 6GHz (4T5R), plus dedicated SM/DFS antenna.

MediaTek's unique 4T5R platform allows for improved Receive Diversity and supports MRC (Multiple Receive Combining). This boosts 6GHz band throughput in typical indoor scenarios and extends maximum range, assuring incredible performance as well as more reliable and effective mesh networking when 6GHz is used as backhaul.

Learn more from MediaTek Wi-Fi 7 whitepapers:
The MediaTek Filogic 880 stands out among peers with its unique single-chip MLO architecture that optimizes performance in Wi-Fi 7 networks. This technology lowers latency by up to 100x versus competing Wi-Fi 7 solutions. MLO aggregation integrated into a single chip and ensures the fastest, smoothest and most efficient band switching performance.
Sign up for our monthly newsletter
EXECUTIVE INSIGHTS | LATEST NEWS & EVENTS | PRODUCTS & TECHNOLOGIES