Top 8 Features of the MediaTek Dimensity 8200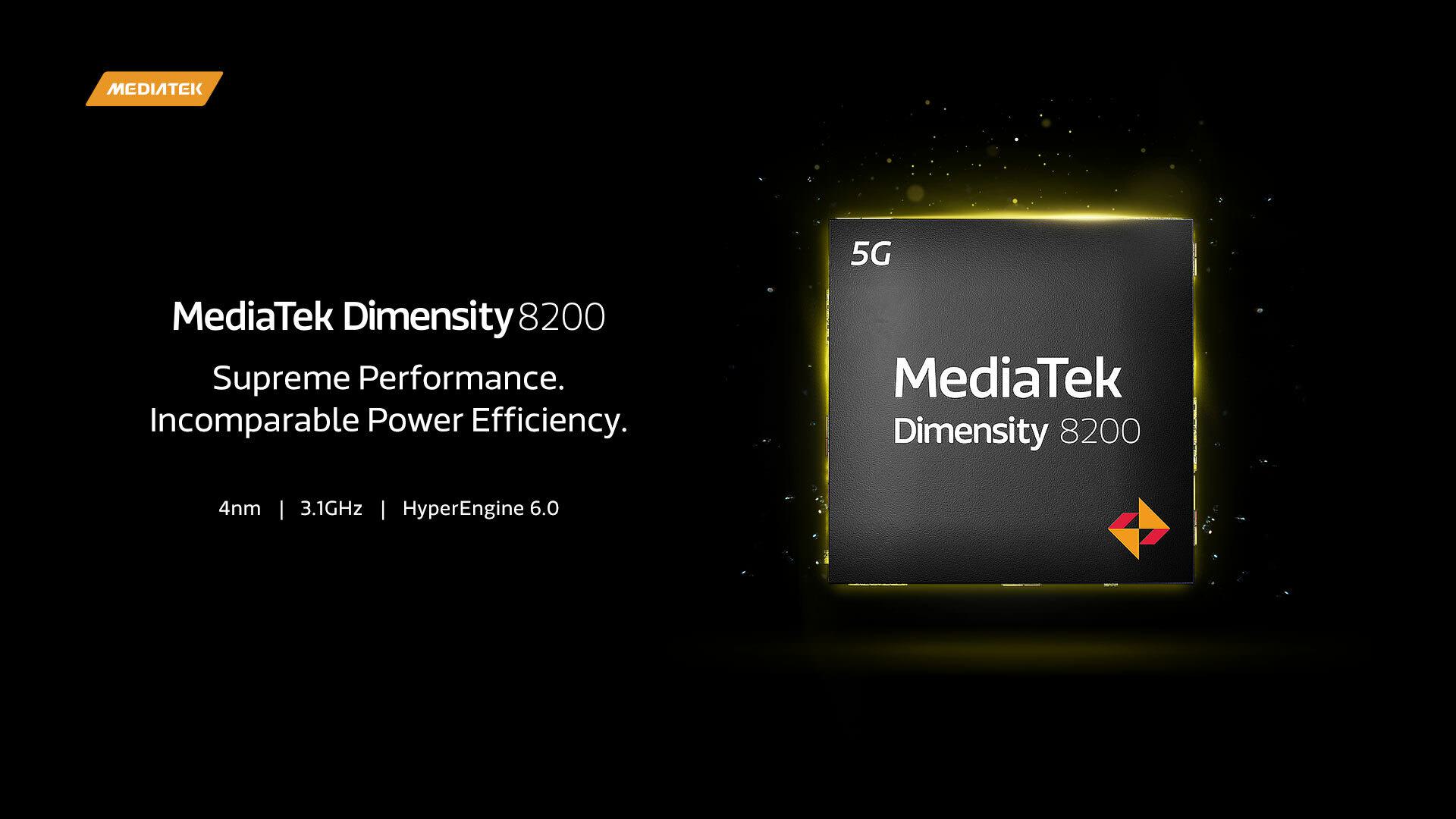 Arriving in a premium 5G smartphone near you, the MediaTek Dimensity 8200 will empower new experiences and longer battery life thanks to new technologies packed into a tiny 4nm-class chip. If you're ready for an upgrade but not sure what to put in your pocket, read on!
1) Latest 4nm Technology

We've used the latest 4nm-class chip making technologies, so the Dimensity 8200 uses less energy than ever, extending battery life for premium 5G smartphones even further. This ultra-efficient chip can run between charges for longer, and play games while staying cool in your hands.
2) High Frame Rate Gaming

With a maximum CPU speed of 3.1GHz, a powerful graphics engine and quad-channel LPDDR5, gamers have the performance to enjoy smooth, fast frame rates and impressive graphics.
3) MediaTek HyperEngine 6.0

MediaTek HyperEngine gaming technologies optimizes the whole smartphone because every millisecond matters. It means play without connection drops, FPS jitter, input delay or gameplay hiccups. The Dimensity 8200 includes our 6th generation technology suite, which includes Frame Rate Smoother 2.0 and Smart Resource Optimization for CPU threads; AI-enhanced Variable Rate Shading technology (AI-VRS) for graphics; MediaTek Intelligent Display Sync 2.0; and 5G Modem Express traffic optimization for gaming data.
4) Powerful AI processor
The MediaTek APU 580 is our powerful, multicore AI processor designed to maximize power efficiency while not skimping on performance: scoring the fastest ETHZ AI-benchmark performance in its class. Its unique design by MediaTek has created the ideal solution for AI-multimedia, AI-camera, AI-graphics, and social video experiences.
5) MediaTek Imagiq 785 Cameras
Smartphone makers can opt to use the latest, super-detailed 320MP sensors as their primary camera. The flagship-grade 14-bit HDR-ISP can also cowork with the powerful APU 580 to perform AI-noise reduction in photos with exceptional speed, allowing you to snap away freely in any lighting condition.
It can record video using up to three cameras simultaneously, or use a single camera that shoots cinematic video with real-time subject focus tracking, providing bokeh portrait background softening, even as the subject moves around the scene.
6) MediaTek MiraVision 785 Display

The Dimensity 8200 allows smartphone makers to employ superfast 180Hz displays at Full HD+ resolution, or opt for slightly larger WQHD+ at a smooth 120Hz. Meanwhile, MediaTek Intelligent Display Sync 2.0 ensures these have intelligent refresh rate adjustment where the fastest speeds are only used when required, maximizing power efficiency.
The premium MiraVision display engine supports Smart BluLight Defender, which limits blue-light production while minimizing color shifting. Video playback can cowork with the in-chip APU 580 to upgrade SDR video streams to HDR quality in real time, greatly improving the experience for a wide-range of media.

The Dimensity 8200 features hardware AV1 decoding for streaming 4K media, and even supports the latest HDR10+ Adaptive that takes HDR media to the next-level by automatically adjusting the display brightness in response to ambient lighting conditions.
7) Power efficient 5G with further reach, faster average performance
The Dimensity 8200 maximizes 5G power efficiency in two ways: by fully integrating its 5G modem into the 4nm chip, and using MediaTek 5G UltraSave 2.0 technology suite. This means you can leave 5G switched on and never worry about your battery life.

The advanced 5G modem technologies meet the latest 3GPP Release-16 standard, while 3CC carrier aggregation can combine more 5G connections at once, amplifying average sub-6GHz performance and reach.
8) Tri-band Wi-Fi 6E 2x2 with MediaTek Wi-Fi Fast Path technology
When you're at home or in the office, take advantage of the latest Wi-Fi 6E connectivity. This tri-band technology has added the 6GHz band for faster performance and lower latency. Connected to a Wi-Fi 6E router powered by MediaTek Filogic 830, MediaTek Wi-Fi Fast Path technology prioritizes gaming-related connections, lowering latency by 44% even in heavily congested networking environments.
Sign up for our monthly newsletter
EXECUTIVE INSIGHTS | LATEST NEWS & EVENTS | PRODUCTS & TECHNOLOGIES