Best 8 features of the MediaTek Filogic 830 - enabling powerful Wi-Fi 6/6E routers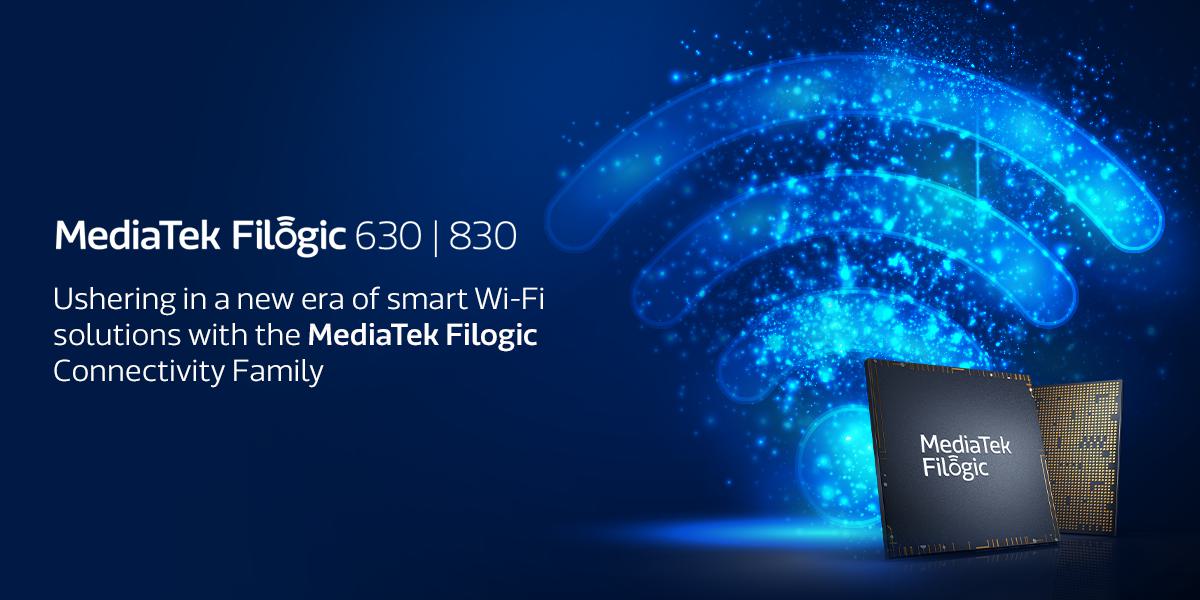 The MediaTek Filogic 830 packs a wide variety of features into a compact, ultra-low power 12nm SoC, allowing device makers to design differentiated solutions for routers, access points and mesh systems from a single platform. In January 2021, MediaTek was selected to be on the test bed for Wi-Fi 6E, the latest certification from Wi-Fi Alliance® for Wi-Fi CERTIFIED 6™ devices with 6GHz support, and MediaTek has worked closely with the Wi-Fi Alliance to ensure the Filogic 830 supports all Wi-Fi Alliance Wi-Fi 6 Release 2 features.
Here are its best 8 features:
1) Powerful quad-core Arm-Cortex A53 CPU up to 2GHz enables device makers to add differentiating software and services - like anti-virus or VPNs - to create premium devices.
2) By using a Wi-Fi Offload Engine, plus MAP-E & MAP-T IPv4/IPv6 accelerators, these alleviate the quad-core CPU from network-related processing, improving whole platform energy efficiency and performance. The Filogic 830 can support dozens of Wi-Fi users without even breaking a sweat.

3) It's not just a network processing SoC, the Filogic 830 features built-in dual-band Wi-Fi as well. The dual PHY+MAC supports 1024 QAM, OFDMA, BW160 and 4SS+4SS via 2.4GHz and 5/6GHz RFIC with iFEM. The SoC can also be extended via PCI-Express and USB2/3 connectivity because..
4) The MediaTek Filogic 830 is a highly versatile platform, allowing for very high-performance Wi-Fi 6/6E router, access point and mesh network design options from a single starting point. Two examples:
6Gbps single chip Wi-Fi 6 platform (2.4GHz + 5GHz 4x4 dual-band concurrent)
7.8Gbps Wi-Fi 6E platform: Filogic 830 (5GHz 4x4) plus Filogic 630 (2.4GHz 2x2 + 6GHz 2x2)
5) Two 2.5GbE connections enable device makers multi-gig wired networking - either twin 2.5GbE (in/out), 1x2.5GbE plus multiple GbE (most common), or several GbE (teams of wired systems among a mobile environment).
6) The Filogic 830 enables MediaTek FastPath™ technology to accelerate applications such as gaming and AR/VR with low latency connections when connected to compatible MediaTek Dimensity smartphone chips.
7) The SoC is manufactured using a highly efficient 12nm process, enabling high performance, always-on designs that only sip power.

8) Wi-Fi 6E offers a number of advantages over previous Wi-Fi generations, including lower latency and additional capacity and speed. Devices using Wi-Fi 6 connections in 6GHz are designed to make use of wide 160 MHz channels and uncongested bandwidth in 6GHz to deliver multi-gigabit, low latency Wi-Fi, providing reliable connectivity for applications like streaming, gaming, AR/VR and more.
Sign up for our monthly newsletter
EXECUTIVE INSIGHTS | LATEST NEWS & EVENTS | PRODUCTS & TECHNOLOGIES