Top 9 features of the Dimensity 700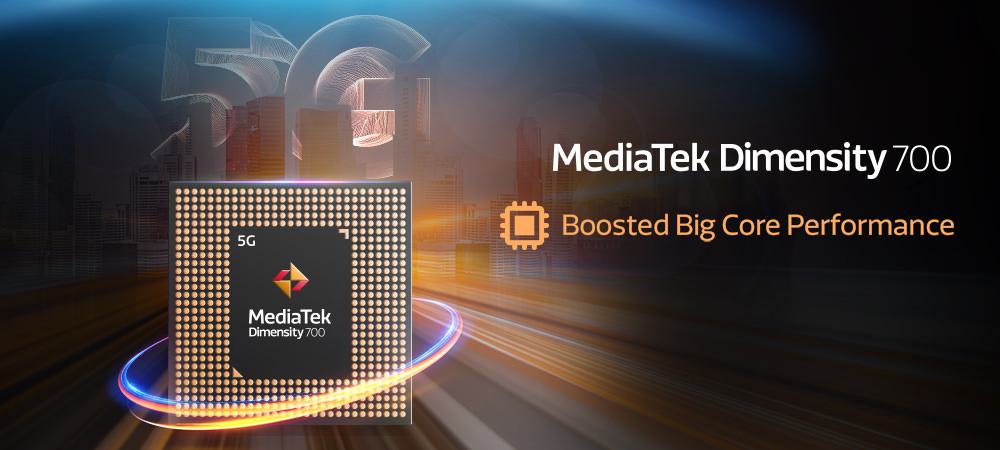 The MediaTek Dimensity 700 goes beyond competitors to enable comprehensive 5G features to mainstream smartphones. With innate energy-efficient innovations in an advanced 7nm SoC, the Dimensity 700 represents a new level of performance and 5G accessibility for everyone. Here's the top 9 reasons why you'll want one in your next smartphone:
1) 5G modem fully integrated into the chip
What is a "5G integrated SoC"? This means the 5G modem is integrated into the same chip as all the other processing components like CPU, GPU, camera imaging and AI processors, rather than putting the modem in a separate chip all by itself. The advantage of this design is that it uses significantly less power and has a smaller total footprint, which in turn allows brands to have more space for things like more cameras, bigger batteries, or other novel features.

All MediaTek Dimensity smartphone chips are a 5G integrated SoC, making them more power efficient than competitor platforms that use an external modem design.

2) Bringing comprehensive 5G features to the widest market ever

MediaTek's 5G modem technologies are comprehensive, giving users the best range of features whether you're buying the mainstream Dimensity 700 or flagship Dimensity 1000+. You get essential 5G Carrier Aggregation (5G-CA) for better coverage and improved average speeds, and 5G Standalone (SA) network support that allows it to make high quality VoNR calls. It also offers the latest tech like Dynamic Spectrum Sharing, both FDD/TDD modes, and includes full 2G-5G connectivity for any situation.
3) Dual 5G SIM

The Dimensity 700 brings dual 5G SIM to the widest audience ever, enabling better consumer choice and the best quality voice and video call (VoNR / ViN) services from either connection. In some global markets dual 5G SIM is an essential smartphone feature, and MediaTek is again leading the market in technology enablement for everyone.

Read more about our 5G modem technologies, and how MediaTek has been continually working with global operators to validate these new technologies.


4) MediaTek 5G UltraSave for best-in-class power efficiency

One particular feature-set within the integrated 5G modem is MediaTek 5G UltraSave. When using your smartphone, sometimes you need to download a little – like a picture or webpage, sometimes a lot – like a video. What MediaTek engineers have done is make the modem intelligent so it actively reacts to the data demand and only works to meet needs of each moment, minimizing power use. This extensive power optimization comes from these technologies:

MediaTek 5G UltraSave Network Environment Detection
MediaTek 5G UltraSave OTA Content Awareness
Dynamic BWP
C-DRX (Connected Mode DRX)
Read more about what they do here >

5) Up to 64MP Cameras & Night Shot Enhancements
Using the Dimensity 700 brands can add up to 64MP main cameras in their smartphones - that's a notably larger camera than competitive chips can support. It's not just one camera that makes a difference, however, and brands can mix this big camera among their multi-camera smartphone designs; along with AI-camera enhancements including AI-bokeh, -color and -beauty, that make great photo and video capture experiences.

In addition, hardware-based imaging accelerators are baked into the chip. In particular, low-light enhancements such as a multi-frame noise reduction (MFNR) ensures these low-light captures - like at night or indoors - are clear with low noise. Other capture engines include a hardware depth engine that ensures accurate, real-time bokeh in Portrait previews and pictures.
6) Smooth 90Hz Displays
Upgrading the user experience, brands can embrace faster 90Hz displays instead of the usual 60Hz in mainstream smartphones. This 50% speed boost showcases notably smoother text and webpage scrolling, as well as fluid movements in app UIs and game animations.
7) Mainstream 5G Smartphones with Highly Capable Performance
The Dimensity 700 mixes two highly capable Arm Cortex-A76 'Big' cores in its octa-core CPU operating up to a speedy 2.2GHz, speedy LPDDR4X memory up to 2,133MHz and fast UFS 2.2 2-lane storage enabling 1GB/s data streaming: 4X faster than typical mainstream smartphones with eMMC. This ensures a great all-round smartphone experience, whether you're streaming video, snapping pics, chatting with friends, or working on the go.


8) Integral, Multiple Voice Assistants
A variety of virtual assistants support our daily lives in different ways. The Dimensity 700 can listen for multiple trigger words to wake up virtual assistants from global brands such as Google, Amazon, Baidu, Tencent, Alibaba, or other localized services.

Fully integrated into the chip, brands get a power and size optimized system with integral noise suppression that's easy to use and offers the greater consumer choice.
9) Bringing '7nm' to mainstream smartphones

Leading features need to be made using the latest production techniques to be effective, and the Dimensity 700 is built using the latest 7nm production process from TSMC. Previously limited to only premium smartphone chips, this leading 7nm production process, which is up to 28% more power efficient than an equivalent 8nm process, allows the Dimensity 700 can use its high performance processors while only sipping power, extending battery life to keep you connected for longer.

Sign up for our monthly newsletter
EXECUTIVE INSIGHTS | LATEST NEWS & EVENTS | PRODUCTS & TECHNOLOGIES