Brand Finance Ranks MediaTek as the Third Strongest Semiconductor Brand in 2023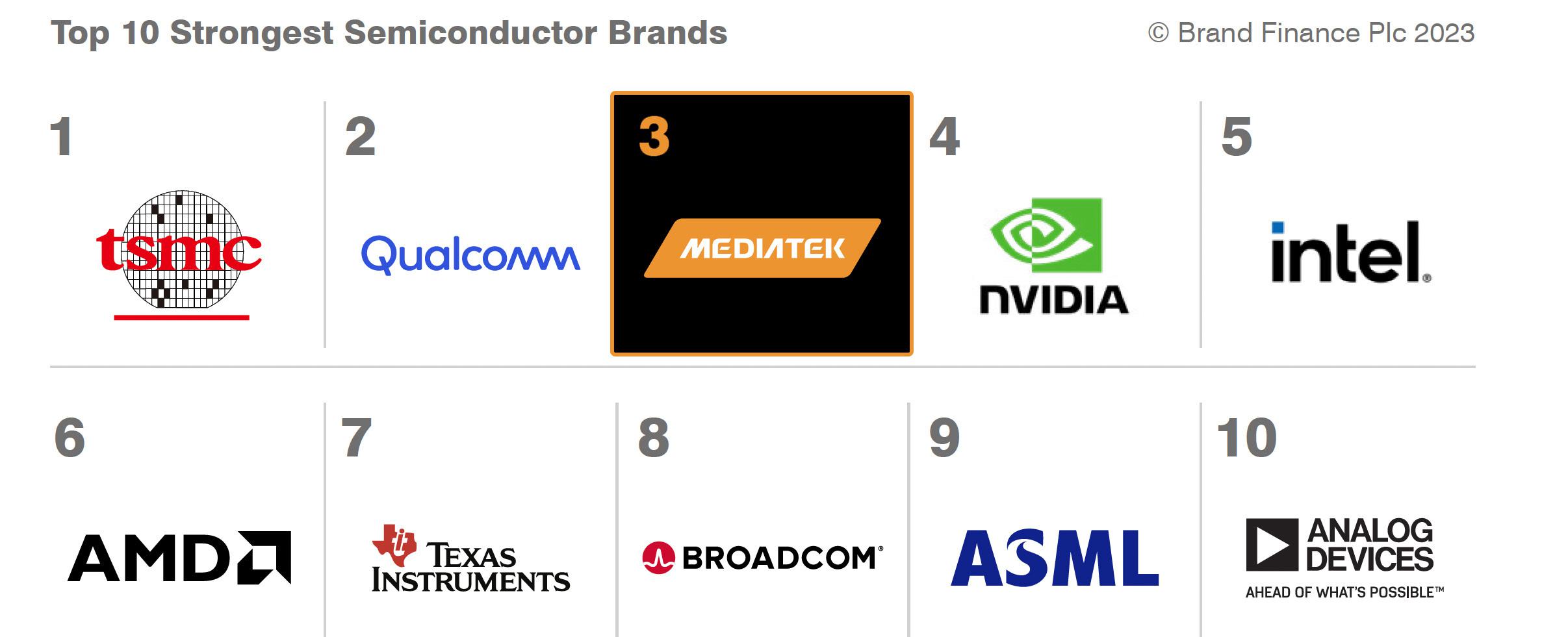 Every year, the consulting firm Brand Finance analyzes the top semiconductor companies to rank which ones lead the pack across several different categories. In its 2023 report, Brand Finance named MediaTek the third strongest semiconductor brand and one of the top 20 most valuable semiconductor brands. As the world's fourth largest global fabless semiconductor company that powers more than two billion devices a year, this recognition underscores MediaTek's efforts to make great technology accessible to everyone.
Brand Finance explains that having a strong brand is critical to helping a company differentiate itself from the competition and attract top talent. To evaluate companies, Brand Finance looks at three pillars: marketing investment, stakeholder equity, and business performance. MediaTek has achieved impressive results in these categories by continuing to diversify our portfolio and expand our footprint across the globe. As a result, MediaTek is now the No. 1 provider for smartphone SoCs and the leader for smart TVs, voice assistants, Arm-based Chromebooks, and Android tablets. In addition, MediaTek is the No. 1 Wi-Fi supplier across broadband, retail routers, consumer electronics devices, and gaming.
In 2022, Brand Finance also listed MediaTek as one of the most valuable semiconductor brands. This year, MediaTek earned the No. 11 spot, up from being ranked No. 12 last year. According to Brand Finance, "brand value refers to the present value of earnings specifically related to brand reputation." We believe that our strong brand reputation goes hand in hand with the incredible experiences that we're delivering with our technology, making it possible for users to do more with their devices than ever before.
We would like to thank our employees around the world for their hard work in driving MediaTek's success. MediaTek will continue to stay laser focused on innovating as we power the brands you love.
Sign up for our monthly newsletter
EXECUTIVE INSIGHTS | LATEST NEWS & EVENTS | PRODUCTS & TECHNOLOGIES