Choosing the Best Educational Chromebook
Benchmarking the MediaTek Kompanio 520

MediaTek is excited to launch its latest benchmarking video to show exactly how the MediaTek Kompanio 520 processor outperforms the competition in real-world educational use cases including video conferencing, STEM applications, video editing, and Android gaming.

The MediaTek Kompanio 520 is designed expressly for student Chromebooks. It's ready to elevate the entry-level experience by delivering up to 80% uplift in single-core performance, up to 15% uplift in multi-core performance and 20% uplift in GPU performance compared to the previous generation Kompanio 500 processor.

MediaTek Kompanio powered Chromebooks at BETT 2023 and COSN 2023
It's been a busy beginning of the year for the MediaTek team. We've recently come back from two industry-wide conferences at Bett in London, and CoSN in Austin, TX. Both events provided a chance to meet educators in person and show off just how much school districts can accomplish with devices powered by the latest MediaTek Kompanio processors.

We showcased stress-free learning and teaching experiences through the MediaTek Kompanio line of processors that power Acer, ASUS, HP, and Lenovo Chromebooks, by demonstrating technology that provides superior all-day battery life and powerful multi-tasking, making classroom and remote education more engaging, collaborative, secure, and safe. In addition, MediaTek showcased Chromebooks that were thin, light, silent, fanless and environmentally sustainable. We're grateful to everyone who stopped by and excited to visit these events again next year.
DEVICE SPOTLIGHT: LENOVO 300E YOGA GEN 4
The Lenovo 300e just keeps getting more powerful. The latest version of this standout Chromebook, powered by the MediaTek Kompanio 520, boasts a folding form-factor, impressive durability, powerful multitasking performance and over 15 hours of all-day battery life and much more.
Watch this product tour video to see it in action.
Look out for the new stickers!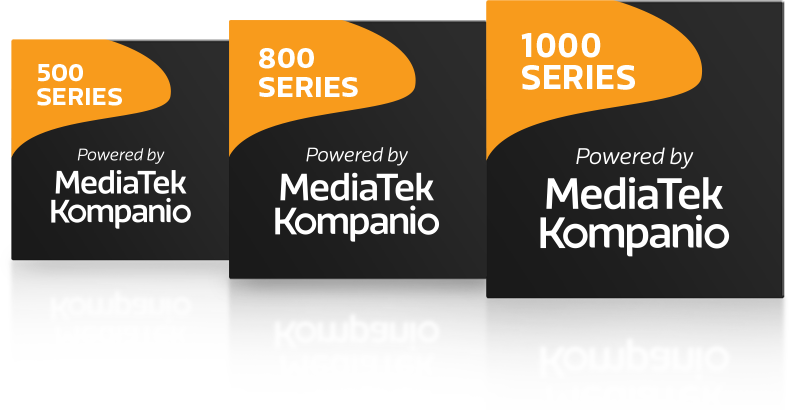 Keep an eye out because you'll be seeing our new Kompanio stickers on MediaTek-powered Chromebooks. The new designs let you see which series chip is inside at a glace, so you'll know the experience to expect even before you switch on your educational companion.

Sign up to our Chromebook for Education Newsletter

Want to keep up with the latest on Chromebooks for the Education? There's a newsletter and a website for that! Sign up here >
The MediaTek Education website is also a great destination to keep you in the loop about powerful tech for educators, students and administrators. There, you can read previous editions of this newsletter, pick the perfect device for your district and more.
Sign up for our monthly newsletter
EXECUTIVE INSIGHTS | LATEST NEWS & EVENTS | PRODUCTS & TECHNOLOGIES