Flipkart MarQ Smart Speaker, powered by MediaTek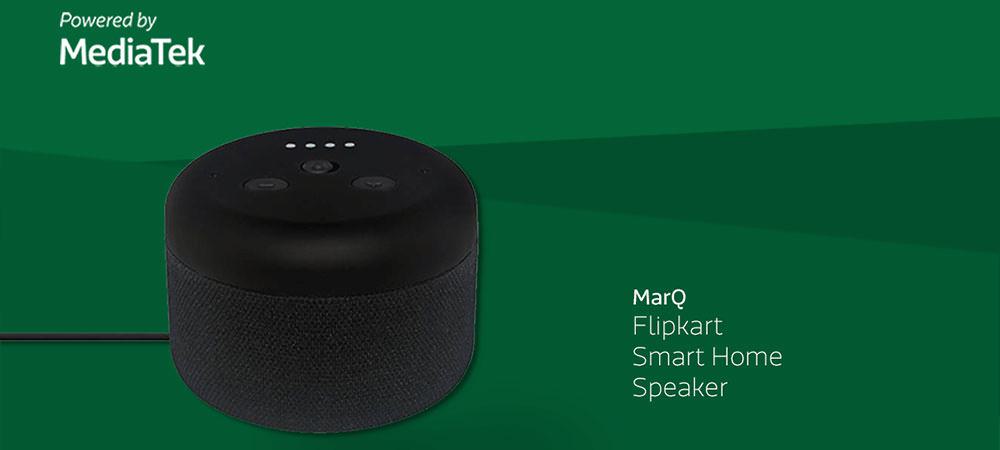 The new Flipkart MarQ Smart Speaker is powered by MediaTek. Developed by VVDN Technologies in India, this product collaboration showcases MediaTek's support for "Designed In India" initiatives.

Based on the popular MT8516 platform designed expressly for voice assistant devices, the MarQ Smart Speaker offers Google Assistant in Hindi, and is compatible with Smart TVs that feature Chromecast built-in. With speakers that are twice as powerful as direct alternatives, the MarQ provides a room-filling experience while streaming music from services such as YouTube Music, Gaana, Spotify and JioSaavn.

Mr. Daniel Lin, Deputy Director for Emerging Markets at MediaTek said, "Content consumption in India has been increasing, aided by smart devices. Our collaboration with Flipkart will enable the roll-out of the new and interactive MarQ Smart Home Speakers equipped with voice assistant services. With enhanced speakers for a rich audio experience and interactive voice command, the MarQ speaker is an excellent addition to a smart home. MediaTek is focused on enabling 'Make in India' initiatives through associations with domestic device makers and we look forward to a long and fruitful relationship with Flipkart."

Mr. Dev Iyer, Vice President – Private Brands at Flipkart, said: "MarQ has continued to bring innovative offerings to the market, with products that are crafted to meet the needs of Indian consumers. With MarQ Smart Speakers, we aim to fulfil the aspirations of Indian consumers who are looking to adopt a smarter living. Besides serving as a high-quality, contemporary music assistant, the Smart Speakers will allow consumers to get updates for almost anything, with the option of managing the device in Hindi, as we see the 'smart trend' move beyond just the metro markets. Made in India for Indian consumers, the MarQ Smart Speakers not only boost local manufacturing capabilities but also address the growing consumer need to lead a smart and technologically advanced lifestyle."


Sign up for our monthly newsletter
EXECUTIVE INSIGHTS | LATEST NEWS & EVENTS | PRODUCTS & TECHNOLOGIES