GEMBO PRECARE EDGE powered by MediaTek IoT platforms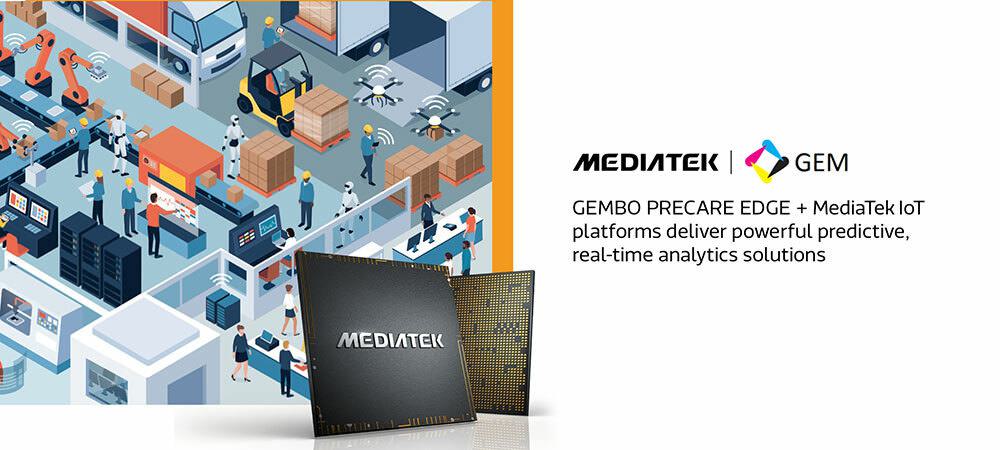 GEMBO and MediaTek create leading IoT solutions through a successful integration of PRECARE EDGE with MediaTek's i300, i350 & i500 IoT platforms. GEMBO is an industry-leading 4.0 IoT predictive and operational analytics SaaS provider, while MediaTek is a global fabless semiconductor company with industry-leading expertise in IoT.

The integration of GEMBO PRECARE EDGE with MediaTek's IoT platforms offers a secure and powerful implementation between edge and cloud providing manufacturers, IoT customers and machine OEMs with advanced and vertically-integrated overall equipment effectiveness (OEE), predictive maintenance, AI/ML and industrial analytics solutions.
Powered by MediaTek, this integration with GEMBO's feature set enables powerful edge processing and innovative business models with the ability to implement this technology as part of new designs or as an upgrade to existing equipment. The collaboration brings industry-leading edge compute platforms equipped with digital twins, predictive analytics solutions to both Consumer IoT applications like smart appliances, and Industrial IoT applications like smart buildings, retail and smart manufacturing. Predictive maintenance can help enhance productivity, lower costs and minimize disruption in a smart home or building when issues are identified and addressed before they become problematic.
"We are excited about this milestone. The integration of PRECARE Edge and MediaTek's IoT platforms will allow us to offer cost-effective, yet powerful SaaS models to Industrial and other segment customers, looking for quality analytics but want a financial subscription model that aligns with their overall business, reduces onboarding and other high fixed costs," said GEMBO President and CEO Gal Garniek.

The collaboration between GEMBO and MediaTek offers a vertically-integrated Industrial IoT analytics platform for multiple applications, such as predictive maintenance and OEE in a fast and cost-effective way. Accessible through any of the pre-integrated ecosystems supported by GEMBO partners, including AWS, Azure, SAP and Software AG, the secure IoT solution uses on premise, hybrid and cloud-based analytics with encrypted communication and bandwidth-saving data persistence controls.

"As the demand for predictive analytics grows in the IoT industry, MediaTek continues to bring leading edge solutions to market through our partnerships with companies like GEMBO," said Victor Tyan, Director of MediaTek's IoT Business Unit. "The integration of our IoT platforms and GEMBO's software - along with existing capabilities like AI and low power - is incredibly beneficial to the platform. MediaTek is powering the next generation in IoT edge computing with the i300, i350 and i500 platforms, all which support GEMBO's predictive analytics and maintenance solutions."

Sign up for our monthly newsletter
EXECUTIVE INSIGHTS | LATEST NEWS & EVENTS | PRODUCTS & TECHNOLOGIES