Global smart speaker shipments grew 187% YoY in Q2 2018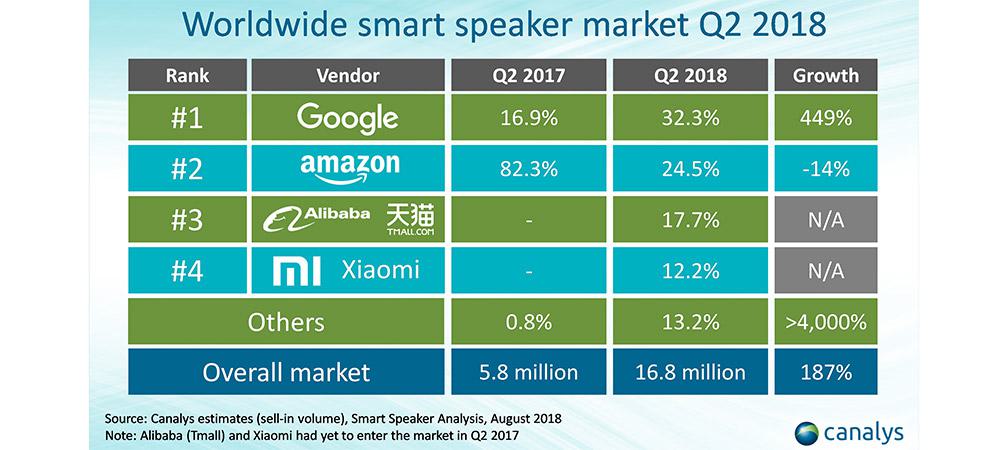 The smart speaker trend is developing beyond the #SmartHome, with technology adoption now observed in hospitality, healthcare, retail and business environments.

In a recent research report by Canalys, the worldwide smart speaker market grew 187% over the last year (to Q2 2018), with global shipments growing three times more than in the first half of 2017 to reach 16.8 million units! This impressive growth is led by Greater China, North America, Western Europe and South Korea.

Google retained the top-spot with Amazon following in second. Both Alibaba TMall and Xiaomi launched their own smart speakers during the latter part of 2017, enabling the Chinese market to now capture 35% of global shipments and 52% of volume growth.

MediaTek is actively working with the largest smart speaker (also called Voice Activated Device – 'VAD') ecosystems from the top-tier players such as Google, Amazon and Alibab TMall. Their devices are frequently powered by the MediaTek MT8516 SoC - an intelligent, yet power-efficient platform with a dedicated design for voice assistant devices. MT8516 is already used by the top-3 leading smart speaker vendors, positioning MediaTek as the number 1 chipset supplier in this segment. Smaller brands - of which there are now 13.2% - can use the adaptable MT8516 SoM (system on module).

Canalys continues, reporting that the smart speaker market is evolving rapidly into new verticals beyond home, such as hotels, retail, hospitals and business environments. To read the full report, head over to Canalys.
Sign up for our monthly newsletter
EXECUTIVE INSIGHTS | LATEST NEWS & EVENTS | PRODUCTS & TECHNOLOGIES