How AI will Revolutionize the Future of Tech: Q&A with MediaTek's Anku Jain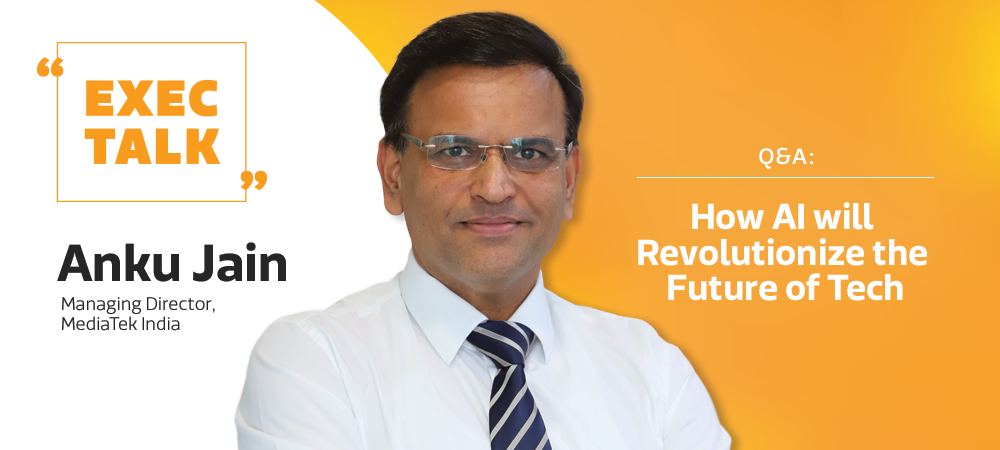 MediaTek is driving forward Artificial Intelligence (AI) innovation with its cutting-edge system-on-chips (SoCs). To understand more about MediaTek's view on AI and its AI-enabled portfolio, we spoke to Anku Jain, Managing Director, MediaTek India.

Why is AI innovation important to MediaTek?
AI is becoming a critical product differentiator across industries. From the smart home to smartphones to connected cars, AI (and edge AI in particular) will create better, smarter consumer experiences. If you look at smartphone manufacturers, for example, it's clear that there's been a shift from the focus on selling technology products to a new emphasis on delivering compelling and personalized experiences for consumers. AI-powered features – enabling better photography, faster gameplay and more – will become a more essential part of manufacturer roadmaps over the next few years.

We have deeply invested in our AI-enabled portfolio, which includes NeuroPilot, an AI ecosystem with efficient and powerful AI-processors for smartphones and other connected devices. These solutions are powered by edge AI, which means the AI processing is done on the device, rather than relying on the cloud. While sending information to the cloud is bandwidth intensive and requires a fast internet connection, edge AI processing is much quicker and works even if a device is offline. Edge AI also keeps information private since data remains on the device.
Last year MediaTek announced its "AI Powerhouse" Helio P90 SoC. What's the progress on that?
The launch of MediaTek's Helio P90 introduced one of the most powerful AI chipsets available for smartphones today. The AI processing unit (APU) 2.0 can generate an incredible 1165GMACs, which is over 50 percent more powerful than high-end competitor devices. One of the most interesting AI-based capabilities enabled by this chipset is the recognition of human poses in real time, which can unlock interesting possibilities like correcting posture during yoga or golfing. Altogether the Helio P90 provides unprecedented potential for device makers and app developers to tap into, and new and innovative smartphone experiences for users. OPPO integrated the MediaTek Helio P90 in its new handset Reno2 Z, and there are many more handsets with the Helio P90 that will be unveiled over the next year.
There's been an explosion of growth in voice assistant devices. What types of solutions are you developing for this market?
Our focus on user experience and automation is enabling device makers to develop smarter products that consumers can interact with seamlessly. AI voice assistant devices (VADs) are becoming extremely popular across segments, particularly home, mobile and automotive. Consumers can control these devices with just their voice to instantly access a world of information. Furthermore, we're seeing that AI is moving beyond voice to vision. In addition to supporting traditional VADs like smart speakers, MediaTek also supports a range smart devices with displays and cameras to bring consumers even more ways to interact with their gadgets.
At CES earlier this year, we launched the MT8518 AI voice platform, powered by edge AI, for battery-powered portable devices like smart speakers. The MT8518 SoC brings VADs low powered voice wakeup and streaming playback, along with powerful edge AI, to deliver 10x longer standby time and 2x longer playback time compared to previous generation solutions – a huge breakthrough for the portable smart speaker market.
Will companies' adoption of AI lead to job losses in India?
AI will certainly disrupt many industries, but it won't directly cause job losses. The Economic Times wrote about a study by Teamlease Services which estimated that 52-69 percent of repetitive and predictive roles in industries like manufacturing and transportation will see some form of automation in the next couple of years. As a result, new types of jobs and opportunities will open up, much of which we can't even imagine today. Backing up that point, a study by EY and Nasscom revealed how the workforce mix could change by 2022. The study predicted that new types of technologies will result in nine percent of the workforce deployed in new jobs that do not exist today and 37 percent of workers in positions where the skillsets have radically changed. These are all reasons to think positively about AI and be prepared to embrace new technologies.
Sign up for our monthly newsletter
EXECUTIVE INSIGHTS | LATEST NEWS & EVENTS | PRODUCTS & TECHNOLOGIES