How MediaTek is Creating a More Sustainable Future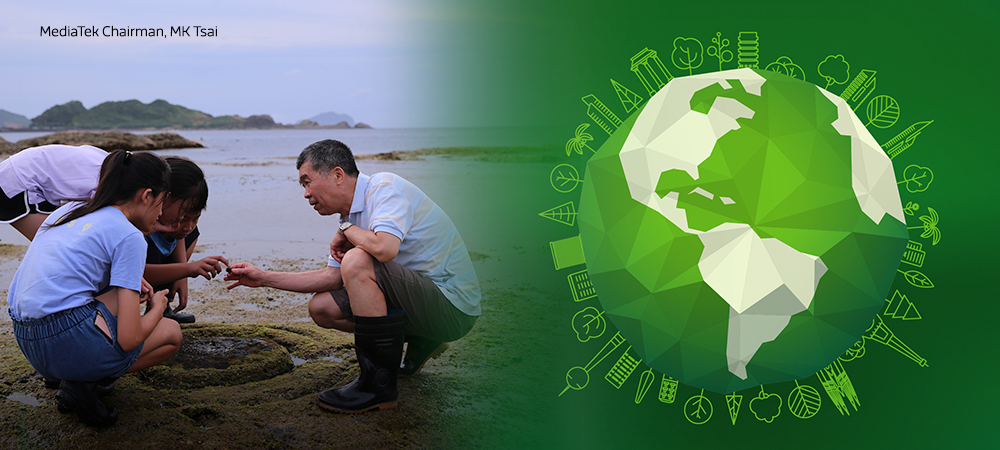 Earth Day is a day to celebrate, give back and learn more about the world around us. It's also a time to evaluate our environmental impact and the ways we can create a more sustainable future. At MediaTek, we are committed to minimizing our impact on the environment and supporting environmental education programs through a number of corporate social responsibility (CSR) initiatives.
One of MediaTek's latest projects was restoring Katamnallur Lake in Bangalore, India after an environmental survey concluded that the body of water was filled with silt and debris and had invasive plants growing in the lake bed. MediaTek funded the project, which was supported by the Communities and Establishments of Greater Whitefield (FORCE-GW) and implemented by United Way Bengaluru, to restore the lake by removing waste, improving water holding capacity, installing silt traps and more. Now birds and other wildlife can thrive in the newly cleaned up habitat.

Katamnallur Lake before its restoration
MediaTek also believes that education is key to promote environmental awareness. Every year the MediaTek Foundation provides funding for elementary school teachers and students to participate in science projects for the National Science Fair hosted by the National Taiwan Science Education Center. In 2019, MediaTek helped 5,000 students and teachers to participate, and 40% of those slots were dedicated for schools in remote and disadvantaged communities. In 2020, MediaTek helped to support a research project with Badou Elementary School, located in northeastern Taiwan, to study the behavior of marine crustaceans in intertidal zones. MediaTek's Chairman MK Tsai visited with the Badou students to see a nearby intertidal zone and learn more about their research. Additionally, MediaTek donated 50 million NTD (around $1.76 million USD) to sponsor the Hsinchu Children's Discovery Center, which is scheduled to open in the second half of 2021. The center will teach kids and their families about a wide range of science topics so they can learn more about the world around them and the importance of protecting the environment.

MediaTek also works hard to reduce our environmental impact through responsible supply chain management. These efforts include:
Energy-efficient solutions: With MediaTek's high-performance, energy-efficient chipsets, devices require less energy to operate which ultimately helps to reduce CO2 emissions. MediaTek-powered devices save an estimated 217 million kWh of electricity per year – as calculated by MediaTek's 2019 shipment volume – which is the equivalent of 114,793 tons of carbon emissions, or the carbon storage capacity of 200,369 acres of forests.
Local procurement: MediaTek's local purchase value exceeds 100 billion NTD (around $3.51B USD). Purchasing the majority of our raw goods and materials locally helps us to cut down on greenhouse gas emissions from transporting goods.
Accountability: In line with the UN's Sustainable Development goals, MediaTek convened a supply chain accountability conference for the first time in 2019 and set an ongoing goal of reducing greenhouse-gas emission by 2% annually. In addition, we established a CSR evaluation system for suppliers and we audit our CSR practices annually.
Energy conservation and carbon abatement: In 2019 MediaTek opened up the largest data center for IC design in Asia and the first private rooftop solar power station in Hsinchu Science Park. Together with the two existing data centers, these facilities will save an estimated 20.5 million kWh of electricity per year. In addition, MediaTek's new Wireless Communication Building is equipped with energy-efficient LED lighting, an electric cross-site shuttle and the meeting rooms are controlled by MediaTek's IoT chipsets which help to conserve energy.
MediaTek truly takes a holistic approach to protecting the environment, from our supply chain management practices to our environmental restoration projects and our education initiatives. Through these efforts, MediaTek is creating a more sustainable world for generations to come.
To learn more about MediaTek's CSR programs, please visit: https://corp.mediatek.com/corporate-social-responsibility.
Sign up for our monthly newsletter
EXECUTIVE INSIGHTS | LATEST NEWS & EVENTS | PRODUCTS & TECHNOLOGIES