Innovate UK awards MediaTek Research up to £1 million funding on Eureka Globalstars.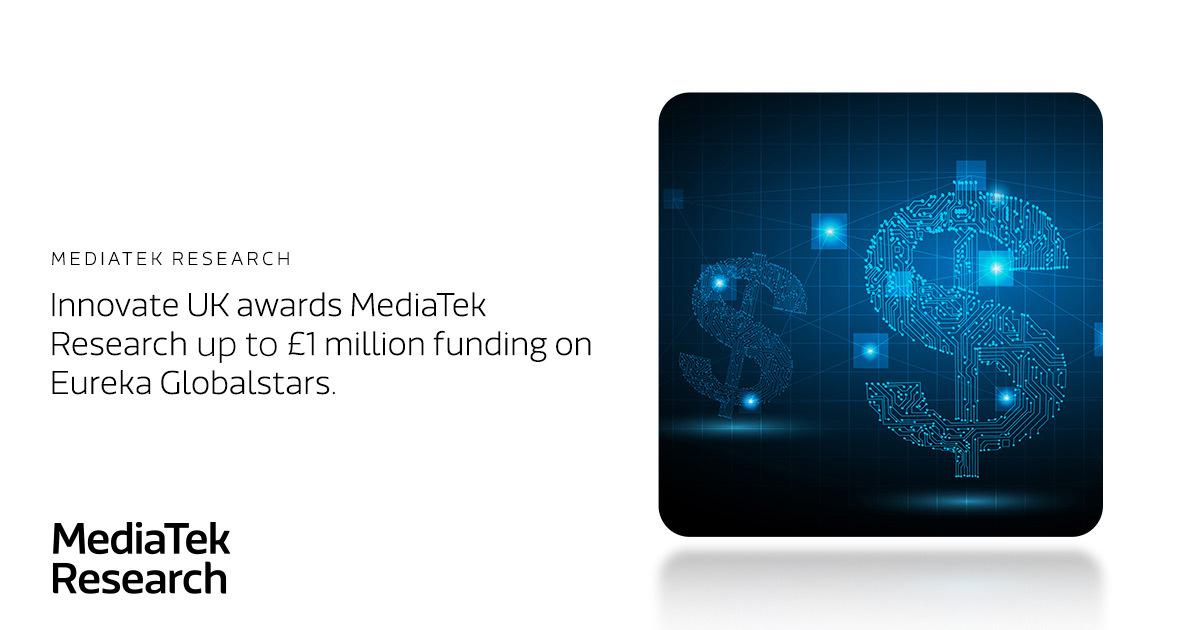 MediaTek Research, a UK venture focused on AI research, has joined the list of competitive businesses which, supported by the UK government business innovation division of UKRI, Innovate UK, have committed to delivering next generation disruptive technologies to the critical sector of semiconductor and integrated circuit (IC) development.
In partnership with Maxeda Technologies, a Taiwanese SME with a similar agenda, the consortium won their bid for co-developing their proposal, dubbed Digital ARC (Digital Automated Test Creator) in a call for international cooperation from the Eureka GlobalStars, which brought together up to £1 million of stakeholder funding.
As the single winning bid, which proposes a pure software solution to enhance the effectiveness of smart manufacturing, Digital ARC automates the creation of regression tests and generates human-readable test source code, frees engineers from time-consuming and mechanical tasks, and has the potential to significantly reduce the time and effort required for verification in the digital hardware design process.
This solution addresses the challenge faced by modern digital hardware design engineers who spend nearly half of their design process time on verification, including creating and curating tests to ensure that digital circuit behavior aligns with design standards. With Digital ARC, engineers can focus on more creative tasks that require human ingenuity while maintaining flexible coverage rates based on business KPIs. By streamlining this process, Digital ARC opens new opportunities for innovation in the hardware industry. This type of workflow is sometimes denoted as "shift-left", which is popular in software development and is expected to be embraced by the hardware community, and thus successfully created a strong business opportunity for their application to stand out.
Innovate UK promotes excellence in the field of technology and entrepreneurship across the entire UK business and academic sector, and, as such, the acquisition of an Innovate UK grant acknowledges a business' leading prospects in innovation and technology in their respective field. Hence, the evaluation process for the Innovate UK grant program is highly rigorous, making it a challenging endeavour to secure funding through this avenue. Regardless, MR's application earned unanimous positive feedback, with the panel recognizing the company's motivation in improving efficiencies in the engineering and design process, the positive impact their project would have on the supply chain and industry, and the potential for wider applications and job creation. Moreover, MR's analysis of the market was praised during the evaluation process, demonstrating the company's solid grasp of the market, by showing in-depth knowledge of describing the addressable market size, and potential markets for a realistic growth projection.
The UK government's strategic position in bolstering the country's AI ecosystem is driving increasing numbers of people working with AI, with a vision to support the diffusion of AI across the whole economy to ensure all regions, nations, businesses and sectors can benefit from it. Collaborations such as the current one between MR, Maxeda Technologies, UKRI, Innovate UK, and DoIT Taiwan, demonstrate the power of partnership and innovation in driving progress and growth in the digital age. This achievement marks a milestone for MR, and serves as a testament to their commitment to advancing the mission of AI-assisted design verification.
Sign up for our monthly newsletter
EXECUTIVE INSIGHTS | LATEST NEWS & EVENTS | PRODUCTS & TECHNOLOGIES