11 reasons you need the MediaTek Helio P60 in your next Android smartphone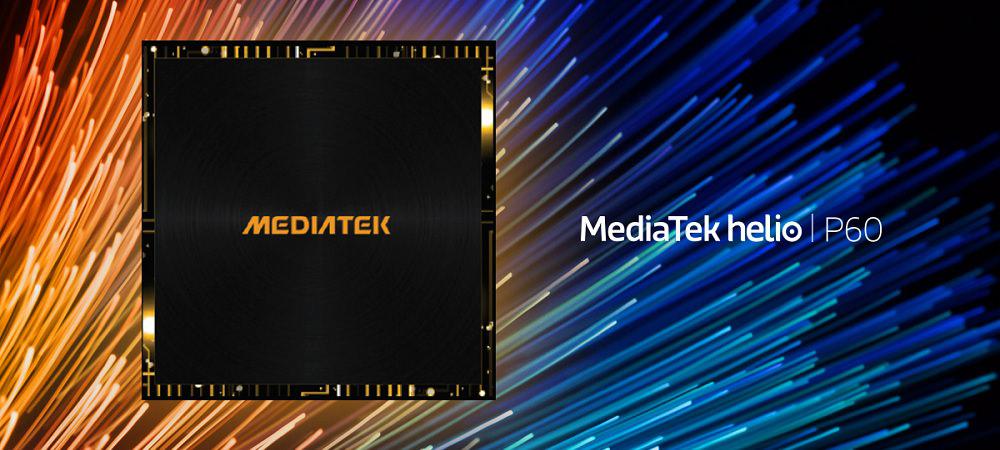 Reason 1: AI in your hand (and a great ecosystem for developers)
The AI revolution is in full stride—with MediaTek's Helio P60 powering the charge for your Android smartphone. The Helio P60 combines state-of-the-art capabilities that combine Central Processing Unit (CPU), Graphics Processing Unit (GPU), and AI Processing Unit (APU) in a heterogeneous AI-computing architecture. That enables you to process AI operations seamlessly at 280GMAC/s, with twice the power efficiency of GPU-based AI processing.
The result? You can create stunning AI-accelerated experiences: deep-learning facial detection (DL-FD); real-time beautification with novel overlays; object and scene identification; and augmented reality/mixed reality (AR/MR) accelerated apps. Build new environments that merge the actual and the virtual, with real-time enhancements and overlays to photography or video. No limits!
Reason 2: Big MegaPixel Cameras, Tiny Power Consumption
Dazzling speed and brilliant quality don't have to strain your budget anymore. MediaTek's Helio P60-powered smartphones can pack a super-sized 20+16MP dual camera or 32MP single camera system. Inside the SoC its tri-core ISP offers power savings of up to 18 percent for high-performance dual-cameras versus the previous generation Helio P series.
The Helio P60 enables those professional-quality Depth of Field (DoF) bokeh effects on both single or dual lens smartphone cameras. Naturally, you can also enjoy capturing huge resolutions at fast speeds too, such as 32MP@30FPS and 16MP@90FPS. Explore these impressive new effects and combine them with those AI-enhancements for fun results.
Reason 3: Big muscle from big Arm cores
Get ready to wield a powerful Arm and expand your expectations as MediaTek's Helio P60 delivers on the power-optimization potential of big.LITTLE processing. Check out the possibilities for the heterogeneous octa-core CPU to drive peak performance—4x Arm Cortex-A73 up to 2.0GHz + 4x Arm Cortex-A53 up to 2.0GHz. The big core (A73) peak-performance advantage is on full display in advanced productivity applications and the most popular games. So the sky's the limit for capturing attention and enjoying a world of apps with these resources at your command.
Reason 4: Glorious gaming with G72 graphics
Push your high-fidelity gaming-on-the-go to the next dimension with the Arm Mali-G72 graphics. Thanks to MediaTek's Helio P60, you can now add next-generation graphics performance to your gaming arsenal. Combined with the upgraded octet of CPU cores, you can expect up to 70 percent better performance than previous generation Helio P series products.
Reason 5: CorePilot 4.0
The MediaTek CorePilot 4.0 is another breakthrough of performance and power management that's now in its fourth generation. Today, you can expect to reach unprecedented performance horizons affordably, while enjoying an unrivaled user experience with your Android smartphone. CorePilot is a whole suite of advances—including UX monitoring, task scheduling, and power-performance optimization. Together, they deliver capabilities that exceed expectations, however you use your versatile phone—from simplified, convenient browsing to scorching competitive mobile gaming. The Helio P60 introduces new ways to entertain yourself, streamline your tasks, and advance your career, using your Android smartphone.
Reason 6: Tiny 12nm fabrication
Just for fun, imagine how tiny 12 nm is—compared to the thickness of a human hair, which is a whopping 7,000nm! That illustrates the sophistication of MediaTek's groundbreaking Helio series. The new Helio P60 is the result of this innovative manufacturing process that delivers up to 9 percent lower power use than previous generation 16nm products and 15 percent below equivalent 14 nm products. Combined with CorePilot 4.0 the new Helio P60 actually beats its popular predecessor, the Helio P23, with up to 25 percent power savings in a heavy-duty gaming situation, and up to 12 percent in power savings overall.
Reason 7: The latest cellular technologies
At MediaTek, we're one of the world's largest producers of cellular modems. We focus on learning your needs: how you want to share, connect, and consume, both at work and at play. Then we closely match those needs with speed, agility, and power efficiency to optimize your mobile experience.
MediaTek's latest generation 4G LTE WorldMode modem merges the power and performance you need in your business and personal life with sought-after cellular features and standards, such as awesome voice and video capabilities like IMS (VoLTE\ViLTE\VoWi-Fi)—now supported by over 100 cellular operators worldwide; and LTE broadcast with global eMBMS; breakthrough High-Performance User Equipment (HPUE); and 600MHz (Band 71) frequency support in North America. All these improve the user experience, with greater connection reliability no matter where you travel, and power-efficiency for better battery life.
Reason 8: Extensive set of camera accelerators baked in
When you use your smartphone camera, you need optimal imaging—even when the lighting around you or the object you're shooting changes rapidly. That calls for the advanced exposure and focusing technology you get with Helio P60. Count on AI-accelerated facial and scene detection for the best 3A performance (AE, AF and AWB). 3A is a package of automatic camera controls that include auto exposure (AE), auto focus (AF), and auto white balance (AWB).
At MediaTek, we put a lot of thought and work into making images as precise and stunning as you can wish for. The Helio P60 employs a sophisticated hardware depth engine for real-time Bokeh preview. There's also a hardware Warping Engine (EIS) for wide-angle panoramic shots with minimal distortion. An Anti-Blooming Engine lets a pixel "bleed off" excess charge before it can saturate and spill over into neighboring image data. Even more amazing technologies work together to ensure your best results—including MEMA 3DNR for picture quality in low light; Multi-Frame Noise reduction; Real-time HDR recording and viewing; Zig-Zag High Dynamic Range (HDR) for live preview, video recording, and single-shot full-resolution of your images; and phase detection auto-focus (PDAF)—a motor that adjusts your cameras lenses as fast as possible to bring your subject into focus, for the best possible image.
Reason 9: Smart Antenna technology (TAS 2.0)
MediaTek's second-generation smart antenna technology (TAS 2.0) automatically detects and chooses the ideal best antenna to use, no matter how or where you hold it, or which direction you face. TAS 2.0 optimizes the signal for quality and connection reliability. With less signal boosting required, you reduce power usage, conserving power and bettering battery life.
Reason 10: Dual 4G VoLTE (Dual SIM)
Highest quality call and live video capabilities are the job of dual 4G SIM slots providing dual VoLTE (HD call) and ViLTE (HD face-to-face live video) capabilities. VoLTE and ViLTE also improve call setup time and noticeably improve sound quality.
But we don't stop there with 4G LTE benefits: the second SIM slot that's 4G capable enables faster connectivity, more reliable coverage, and lower power consumption. It meets the needs of 4G-only operators, and it's future-proof too as 2G/3G networks continue to retire.
Reason 11: All this hardware will reach affordable smartphones
The Helio P60 brings all of this incredible hardware together on your affordable Android smartphone. These features all work smoothly and reliably every time you use your phone, ensuring you optimal efficiency, productivity, and delight. MediaTek Helio P60 technology makes your Android smartphone both fast and power/cost-efficient—simply top value for your investment.
Sign up for our monthly newsletter
EXECUTIVE INSIGHTS | LATEST NEWS & EVENTS | PRODUCTS & TECHNOLOGIES