Lenovo Smart Tab M10 Plus powered by MediaTek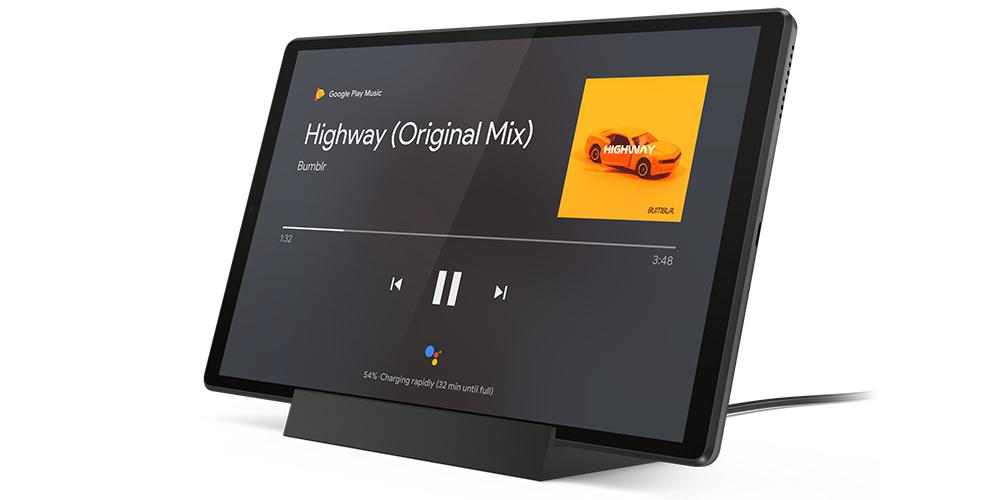 The Lenovo Smart Tab M10 FHD Plus (2nd Gen) is powered by the MediaTek Helio P22T, an octa-core smartphone chip with 2.3GHz peak speeds, provides highly responsive performance and lightning quick Wi-Fi 5 connectivity for great usability wherever you go.

The Smart Tab M10 FHD Plus (2nd Gen) is encased in a strong, full metal body, while the narrow bezels on the display showcase a modern, attractive 87% screen-to-display ratio for the larger than average 10.3-inch display. Pin-sharp FullHD visuals and Dolby Atmos audio provide incredibly crisp visuals and sounds, whether you're streaming a movie, music or playing games.
After setting up the Smart Tab M10 FHD Plus (2nd Gen), it's inbuilt facial recognition technology will be able to recognize your face and log you in instantly.
For the younger ones, Lenovo provides Kid's Mode 4.0. Packed full of fun, child-safe content, it gives parents direct control over what children can see and how long they can use the tablet. It even offers ergonomic features to sense when a child isn't sitting up properly, for healthier tablet use.
Lenovo provides a Smart Charging Station for hassle-free charging; this, combined with the Google Assistant's Ambient Mode* can transform the tablet into a media center for music, movies and videos, digital photo frame, as a management center smart home devices, or for daily updates on morning traffic, news, and weather.
Lenovo Tab M8 FHD
In addition, the MediaTek Helio P22T also powers the Lenovo Tab M8 FHD. With a more portable 8-inch design, this tablet offers sleek metal construction and a remarkable FullHD resolution display, plus high-resolution camera and Dolby Audio™ sound. With up to 18 hours of battery life, and safety features for kids, this tablet will keep the whole family engaged all day.
Lenovo Smart Tab M8 with Google Assistant
This 2-in-1 tablet and dock mixes great portability, entertainment and the convenience of smart home hub come together. The Lenovo Smart Tab M8 is powered by MediaTek Helio A22, providing capable quad-core CPU performance and incredible power efficiency from this 12nm chip. The sleek 8-inch Lenovo tablet boasts a premium design, fast connectivity, and premium multimedia with Dolby Atmos® audio. Connect it to the Smart Charging Station dock and open a world of possibilities with the Google Assistant's Ambient Mode*.
*Google Assistant is not available in certain languages and countries. Availability of services varies by country and language.
Sign up for our monthly newsletter
EXECUTIVE INSIGHTS | LATEST NEWS & EVENTS | PRODUCTS & TECHNOLOGIES