Media love the Lenovo Chromebook Duet, powered by MediaTek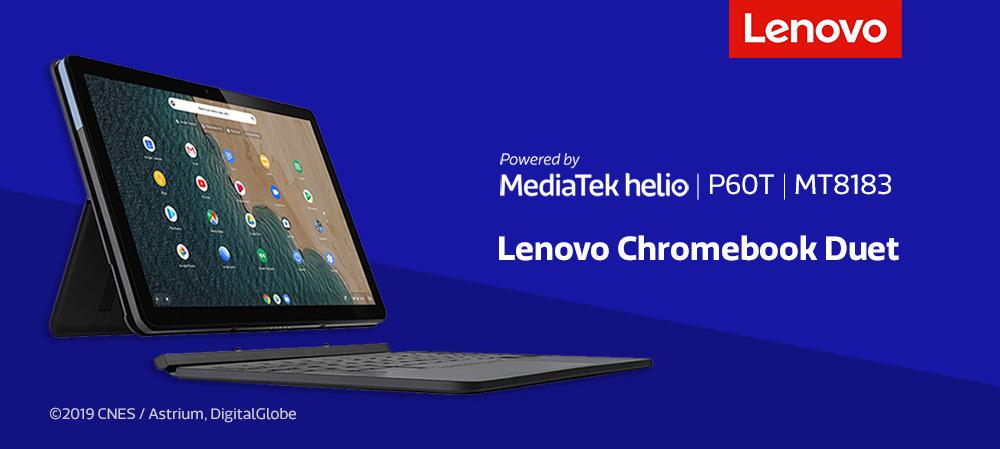 The new Lenovo™ Chromebook Duet is a highly portable 10.1-inch, 2-in-1 detachable laptop running Chrome OS and powered by the highly capable MediaTek Helio P60T / MT8183. Designed specifically for mobile productivity, the Duet includes an ultra thin, detachable laptop-grade keyboard with full trackpad and backstand to help you get meaningful work done on-the-go, wherever you are.
Media reviews of this new Chromebook Duet are consistently positive, highlighting its great capability, quality and surprising affordability, which ultimate creates a highly compelling device that redefines the Chromebook experience and expectation.
---

"Thus far, the world of Chrome OS has only seen two kinds of tablets — premium, high-end devices like the Google Pixel Slate and low-end, education-focused ones like the Acer Chromebook Tab 10. The Lenovo IdeaPad Duet, which goes on sale today, aims to slot somewhere in the middle by bringing a well-rounded mid-tier spec sheet at an affordable price point." -- 9to5Google
"Tablet mode in Chrome OS is finally ready for primetime." -- Android Central
"During my briefing for the product, representatives from Google and Lenovo told me that the Duet was the result of over a year of collaboration with one another, and that many of the tablet-centric changes we've recently seen land in Chrome OS were built with this specific hardware in mind. I'm sure that's partly marketing and hype, but using the tablet, I think there's some truth to it. Chrome OS is a much better experience on a tablet these days, in no small part due to the new gesture navigation system." -- Android Police
"Seriously, this thing feels way better than a $300 tablet (with included keyboard) deserves to feel." -- Chrome Unboxed
"Chrome keeps growing in features and this two-in-one will continue to get updates every six weeks for the next eight years. As your main device, it's performance and size may be a little limiting. But if you're looking for something for pure mobility or as a secondary device, so far this seems to be a smart choice. I can certainly see why Chrome users are excited about it, especially at $300." -- CNET
"The Chromebook Duet will surely be an attractive option for those who are entrenched in Google Classroom during remote learning, as well as a capable alternative to Apple's entry-level iPad." -- CNN
"Really, the appeal of the Chromebook Duet comes from its value for money, not to mention a highly portable design that can last up to 10 hours on a charge, or enough to handle a day of work or school with room for some Android gaming afterward." -- Engadget
"Lenovo claims that the Chromebook Duet can offer up to 10 hours of battery life, but the company may actually be underselling its device's longevity. I just checked in with our lab tester, and the Chromebook Duet hit 12 hours and 46 minutes on our battery test." -- Laptop
"One thing is for sure, Lenovo Chromebook Duet certainly lives up to its name with its book-like appearance. Travelers, commuters -- and anyone else who's on-the-go -- will appreciate this Chromebook's tiny footprint as they hop from A to B without the burden of a heavyweight laptop." -- Laptop Mag

"At those prices, the Lenovo Chromebook Duet is cheaper than an entry-level iPad or Surface Go 2, neither of which comes with a pen included. You could certainly argue that iPadOS and Windows are more useful tablet operating systems (since the iPad supports millions of tablet-friendly apps and the Surface Go supports… Windows apps). But Google's browser-based Chrome OS has been getting more touch-friendly over time and now supports Android and Linux apps as well as native Chrome OS apps." -- Liliputing

Sign up for our monthly newsletter
EXECUTIVE INSIGHTS | LATEST NEWS & EVENTS | PRODUCTS & TECHNOLOGIES