MediaTek collaborates to enable Vodafone's first live Standalone 5G network in UK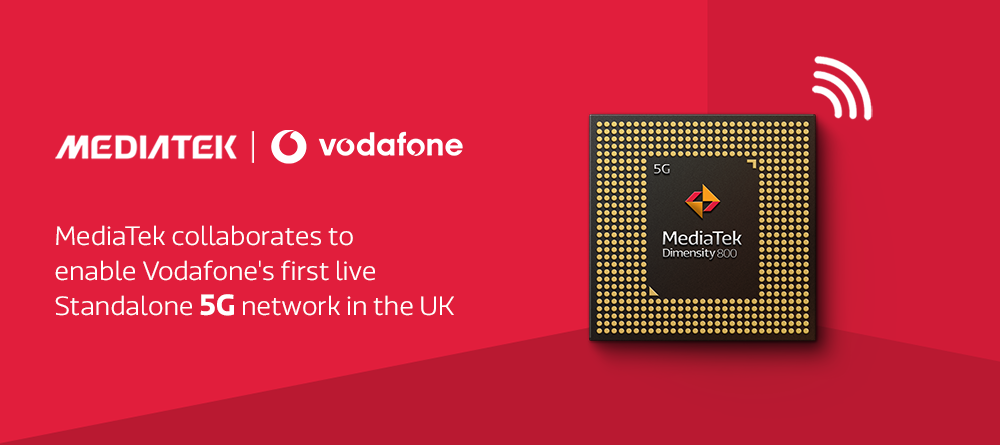 MediaTek recently partnered with Vodafone, Ericsson and OPPO to support the launch of Vodafone's 5G standalone network in the UK. The 5G Standalone network, with Network Slicing, was successfully demonstrated on Vodafone's UK network using an OPPO smartphone featuring MediaTek Dimensity 800 Series 5G-integrated chip and Ericsson 5G infrastructure.
Vodafone's announcement comes one year to the day after it launched commercial 5G in the UK.
The successful test shows again that MediaTek is at the forefront of 5G technology innovations and market readiness. All MediaTek Dimensity 5G-integrated SoC products feature 5G Standalone and Network Slicing support for commercial devices to use today, enabling new services and opening new opportunities to all our customers.
5G Standalone networks are a vital milestone towards enabling the full breadth of 5G connectivity services. Network Slicing builds on 5G Standalone services, allowing multiple virtual networks to be created on top of a common shared physical infrastructure; those virtual networks can then be customized to meet the specific needs of applications, services, devices, customers or operators, maximizing the flexibility of 5G networks and optimizing both the utilization and efficiency of the resources.
Going forward, 5G Standalone with Network Slicing will be a corner stone to enable new products and services that can be brought to market quickly and be easily adapted as demand changes and evolves, leading to increased revenues for operators and more diversified services for end users.
Sign up for our monthly newsletter
EXECUTIVE INSIGHTS | LATEST NEWS & EVENTS | PRODUCTS & TECHNOLOGIES