Here's why Wi-Fi 6 is better for IoT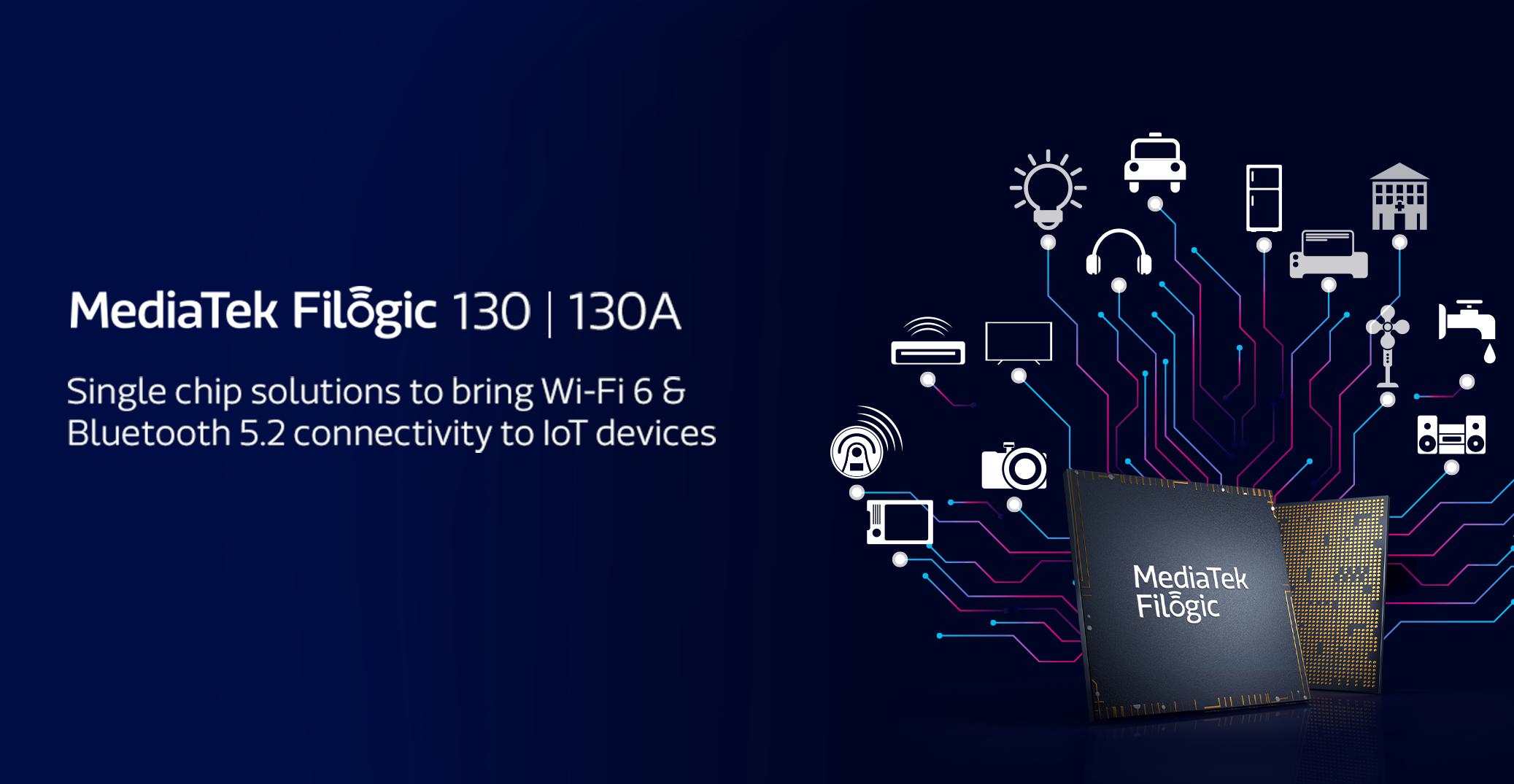 Wi-Fi 6 is best known for bringing new extremes of wireless connectivity performance to devices like laptops, smartphones, smart TVs, VR headsets and much more, but there's also a multitude of benefits in the standard for IoT devices too - which is where the MediaTek Filogic 130 and Filogic 130A come in. Leapfrogging antiquated Wi-Fi 4 used in many IoT devices, these all-in-one Wi-Fi 6 and Bluetooth 5.2 solutions are designed to considerably improve energy efficiency, connection reliability and speeds, all in a small form factor design.

Why is Wi-Fi 6 better for IoT?
MediaTek Filogic 130 series provides 1T1R Wi-Fi 6 connectivity and dual-band (2.4GHz and 5GHz) support, along with advanced Wi-Fi 6 features such as MU-MIMO, MU-OFDMA and QoS that allow it to realiably exist on a network with many other devices. New WPA3 security provides the most modern protection, while power efficiency is improved using the Target Wait Time (TWT) function that specifically tell the device to only access the network in certain intervals, allowing it to sit longer in low power states.

Going further to minimize power use
Inside the chip, the Filogic 130 series includes a dedicated power management unit, Cortex-M33 microcontroller and embedded SRAM. The Filogic 130A also integrates an audio digital signal processor (DSP) that will allow brands to easily add voice assistants into products while retaining an ultra-low power, always ready operation. At the platform level, the Filogic 130 series includes the Front-end Module (iFEM) for LNA and PA functionality, maximizing power-efficiency in the smallest and lowest-power form factor.
Bluetooth in-chip

Bluetooth offers the ability to connect devices directly - either to smartphones or other peripherals, allowing dvice makers to create personal devices that interact in new ways. Bluetooth 5.2 connectivity is available in the Filogic 130 series, and MediaTek also builds in advanced Wi-Fi / Bluetooth coexistence that ensures Wi-Fi connectivity remains reliable even when Bluetooth devices are also in use.
Extensive IO to build out easily
The FIlogic 130 series offers diverse interfaces such as SPI, I2C, I2S, IR input, UART, AUXADC, PWM and GPIO interfaces. In addition, secure boot and hardware crypto engines are included too.
Sign up for our monthly newsletter
EXECUTIVE INSIGHTS | LATEST NEWS & EVENTS | PRODUCTS & TECHNOLOGIES