MediaTek Genio Brings the Snorble Smart Companion for Kids to Life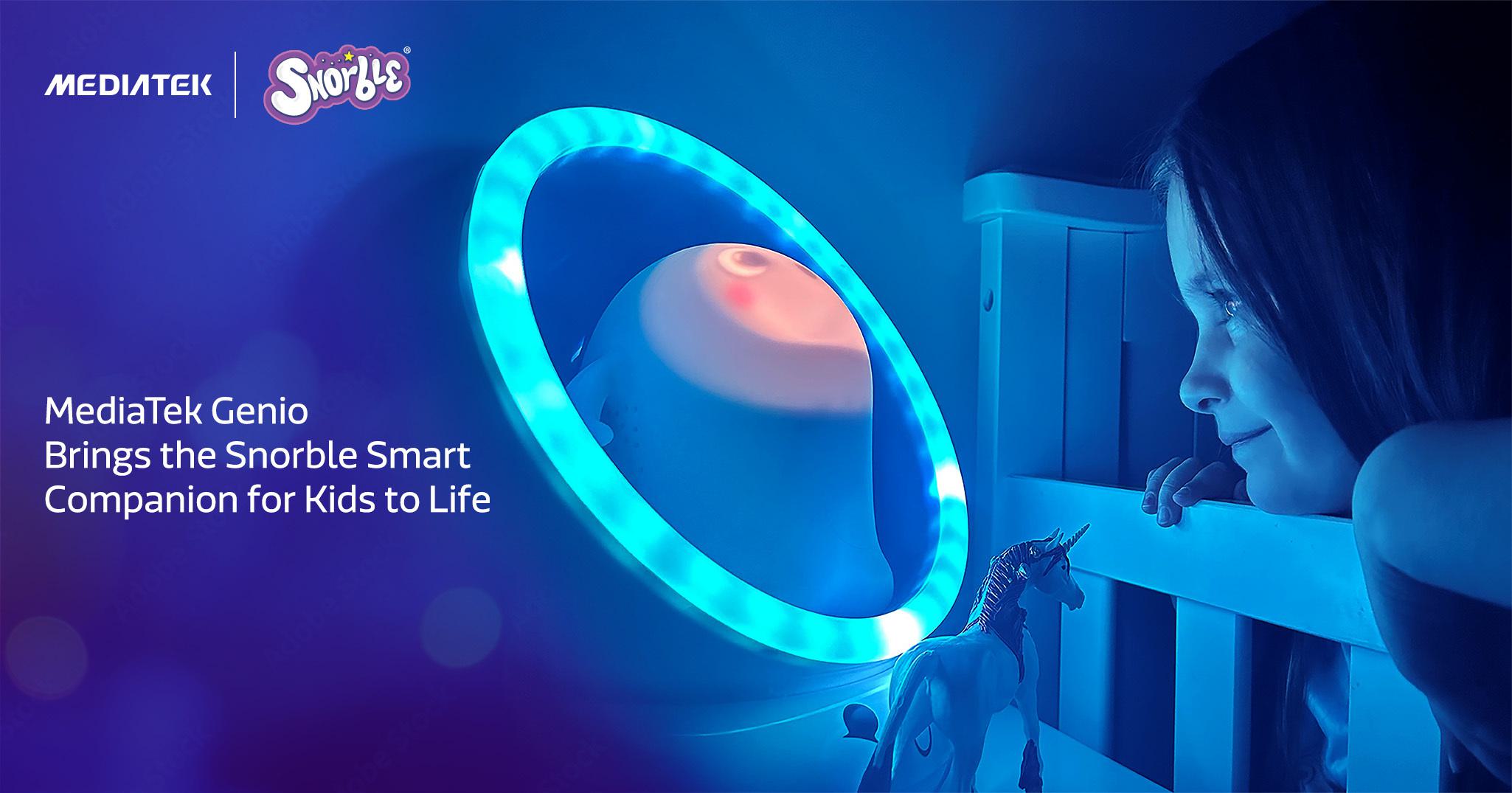 What is Snorble, and why does it need edge AI and other innovations?
Snorble is a revolutionary new smart companion toy, powered by MediaTek Genio. This toy is innovative in the way it interacts with kids and adapts to their sleep and emotional needs as they grow up.

In the form of plush toy with an animated face, Snorble listens, understands, and responds to help kids establish a sleep routine along with other emotionally healthy habits, including mindfulness and positive thinking. To evolve as kids grow and their needs change, Snorble can be updated by parents through a smartphone app.

Along with extensive voice and AI-processing needs, the technology powering this toy must prioritize user privacy and safety, which is where MediaTek Genio excels.

This New Smart Companion for Kids Puts Technology Safety First
To interact and grow with kids, Snorble requires sensors to understand what they are saying and connectivity to support product updates. To address safety concerns, Snorble was designed to be completely camera free, relying instead on audio processing right on the device—not in the cloud. Notably, Snorble does not require Wi-Fi for day-to-day use, eliminating vulnerabilities for hackers and enhancing portability (so you can take it anywhere without worrying about a Wi-Fi connection). Processing at the Edge instead of in the cloud is a key difference between Snorble and other audio assistants. Built-in parental control features give parents additional peace of mind when it comes to exactly how the Snorble interacts with their kids.
The Technology Challenge
Snorble's designers needed an ecosystem that could provide:
Hardware and software platform
CPU power to support AI-voice processing
Edge AI to perform all processing on the device, instead of in the cloud
Advanced audio capabilities, including New Language Process (NLP) to understand voice without a cloud dictionary
OTA (over the air)
The Solution: MediaTek Genio 350
Snorble is powered by MediaTek Genio 350. This highly integrated System on a Chip (SoC) uses a smart Linux application to connect the microphone sensors and run powerful AI algorithms that truly understand kids and respond with what they need. MediaTek 350 also performs Edge AI on the device, including audio and NLP processing to help detect words and sounds, even isolate spoken words from a distance, while removing background noise.
Snorble has committed to continuing to evolve the device, even after parents have purchased it, with new updates, apps and functionalities becoming available to download to enhance its capabilities.
Learn More About MediaTek Genio >
The Result
A first-of-its kind smart companion for kids that is safe and designed to grow and evolve with kids.

Discover Snorble and How to Order >
Sign up for our monthly newsletter
EXECUTIVE INSIGHTS | LATEST NEWS & EVENTS | PRODUCTS & TECHNOLOGIES