MediaTek Helio X23 and X27 launch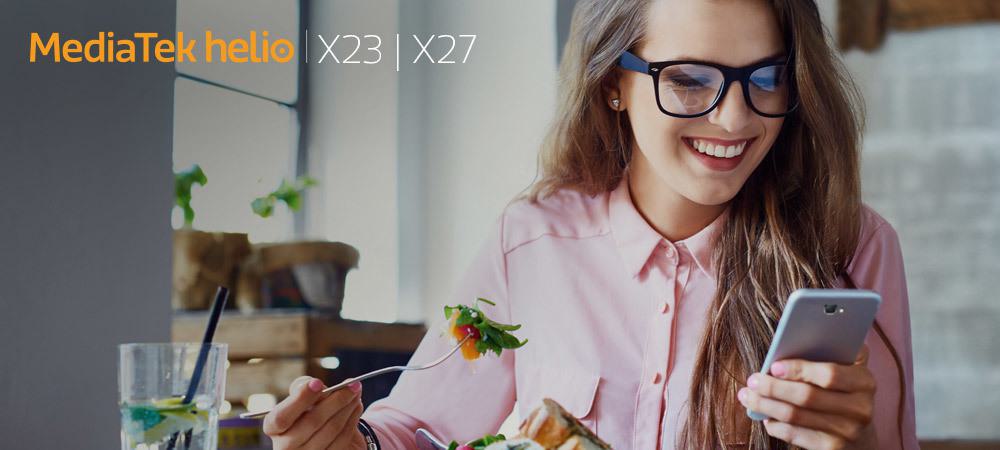 Two new MediaTek Helio processors, the X23 and X27, extend the line-up to four in the X20 family, including X20, X23, X25 and X27. In addition look out for the current P10 and P15 and previous generation X10 Series that complete the Helio line-up.
MediaTek Helio X27
The X27 is a premium clocked product, featuring an industry-leading 2.6GHz ARM Cortex-A72 cluster, as well as a 2.0GHz and 1.65GHz ARM Cortex-A53 quad-core clusters within its unique 10-cored, tri-cluster architecture.
The ARM Mali-T880 MP4 GPU has also been turned up to 875MHz, far beyond the 780MHz in the original X20, to deliver unparalleled graphics performance within a tight power budget.
MiraVision EnergySmart Screen
Both include a new MiraVision feature called EnergySmart Screen, which is exclusive to MediaTek.
It works in conjunction with existing UltraDimming and BluLight Defender to reduce display power consumption up to 25%, depending on the brightness level, without affecting image quality.
This is especially noteworthy since, while battery life will always be a core concern of smartphone users, the high-quality, high resolution LCD or AMOLED displays consume a significant power budget. Yet, any function to save display power must not affect the viewing experience.
When activated for LCDs, power reduction is achieved by adjusting the back-light according content shown, plus, adjusting input content brightness. For AMOLED there is no back-light, so power consumption is proportional to the display output level, so the input data content will be adjusted.
Sign up for our monthly newsletter
EXECUTIVE INSIGHTS | LATEST NEWS & EVENTS | PRODUCTS & TECHNOLOGIES