Deep-dive into the MediaTek Helio X30 technologies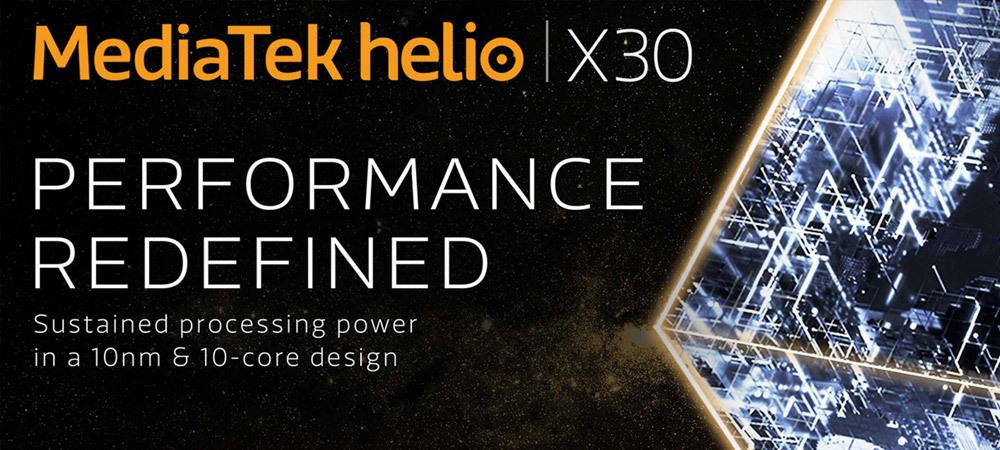 MediaTek's Helio X30 is among the first wave of 10nm smartphone chipsets that will be available to the market, and the only smartphone SoC to use 10 nanometer (nm) fabrication in creation of 10 cored (Deca-core) smartphone. Combined with MediaTek's advanced CorePilot 4.0 its designed to provide ground-breaking performance that is sustained for the long-run, creating a user experience that's always powerful and reliable.
While things like the 10-core/Tri-cluster design is wholly novel to MediaTek, and its powerful ARM Cortex-A73's are a world's first on 10nm, the SoC has dozens of technologies deeply integrated in one of the world's most advanced hetereogenous computing environments.
Performance Redefined
Featuring a unique 10-core design over three clusters:
2x ARM Cortex-A73 up to 2.5GHz;
4x ARM Cortex-A53 up to 2.2GHz;
4x ARM Cortex-A35 up to 1.9GHz;
This design is different from the Helio X20, which had ARM Cortex-A72 and two sets of Cortex-A53's across its three clusters. By embracing three wholly different core types it allows much finer tuning of power-performance, giving access to plentiful resources at any time. The cores can work within their groups, or multi-grouping together to process data. Modern smartphones do a lot of background work in addition to being ever-ready to meet the immediate needs of the user, so having ample, varied resource spare gives options for best matching tasks to the right core types, at the right frequency and voltage. This provides a smooth, sustained user experience at low power use.
But you can't have all this tech without control - that's where CorePilot comes in. As our second-generation Tri-cluster we learnt a lot from the Helio X20 and CorePilot 3.0. CorePilot 4.0 introduces a new centralized, intelligent task scheduling system with thermal management and UX monitoring. Again, the focus is on long-term sustainable performance without user detectable slow-down. So we inbuilt a sophisticated thermal management system that ensures the smartphone is always delivering optimum performance within its available thermal envelope, rather than just hitting a temperature point and culling the performance, ruining the user experience. The System Power Allocator (SPA) intelligently predicts a user's power usage scenario and prioritizes the applications that are most critical to user experience. These have priority to control power consumption and system performance.
10nm Advantage
Whereas MediaTek was often defined as a fast-follower, this generation MediaTek is on the cutting-edge, embracing a leading node 10nm fabrication by TSMC in the very first wave of market-ready devices. The upgrade from 16nm to 10nm production increases performance by up to 22% and saves power by up to 40%. Now our product catalog is more diverse than ever, as we offer a wide range of products from 10nm through to 28nm to meet market and manufacturer needs.
3x Carrier Aggregation, 4G LTE-Advanced WorldMode Modem
Meeting market requirements in 2017, we've included a 450MBit/s 4G LTE WorldMode modem with 3x Carrier Aggregation downstream and 150Mbit/s with 2x Carrier Aggregation upstream that delivers high volume content streaming and reliable connectivity. Bandwidth numbers on the box shouldn't be the only consideration to user experience: connection reliability and low power usage is also a key asset, and we achieve this through a wealth of technologies:
For starters, the focus was to create a highly integrated and efficient RF design that includes a single RF chip to reduce size, power and streamline cost.
This is used in conjunction with a second-generation Envelope Tracking Module (ETM 2.0) that can boost voltage peaks to 5.2V, reducing transmission (TX) current consumption and improving power amplification (PA) efficiency. The ETM 2.0 meets the strict requirements of the North American market.
TAS 2.0 is our second-generation smart antenna technology, which can seamlessly auto-switch between states to retain optimal connectivity and high throughput, without resorting to unnecessarily antenna high power amplification. This improves efficiency and battery life.
Between ETM 2.0 (Envelope Tracking) and TAS 2.0 (Smart Antenna) technologies up to 35% battery power is saved in everyday use, and up to 45% on multimedia specific scenarios.
Other features of the WorldMode modem include support for both LWA (LTE and Wi-Fi) and LTE-U (unlicensed), offering best use of unlicensed bands to improve coverage and performance. An advanced IMS (IP multimedia sub-system) with VoLTE, ViLTE, RCS, WFC 2.0, EVS (enhanced voice services codec and SWB support.
There's also industry leading multi-SIM 4.0 technology with 17 combinations of DSDS (dual SIM dual standby) support including dual 4G SIMs.
Camera: Imagiq 2.0
As multimedia expertise is the very core of MediaTek, we're confident our camera technology delivers an unparalleled experience for the user, and huge potential for manufacturers and developers. Imagiq 2.0 is our brand of bundled camera technologies. Not only does the Helio X30 have two, 14-bit ISPs supporting 16+16MP dual camera functionality, which allows such as wide + telephoto zoom combination lenses, to give real-time depth of field effects, fastest auto exposure, improved real-time denoise in low-light conditions, it is also paired to a VPU (Vision Processing Unit) and CCU (Camera Control Unit). These are both additional hardware items located within the camera sub-system.
When the two ISPs are used as dual-cameras, it offers 2x optical zoom, plus includes our ClearZoom and Temporal Noise Reduction (TNR) technologies that enable a sharp, crisp digital zoom up to 10x magnification. This works for both video and photography.
Vision Processing Unit
The new Vision Processing Unit (VPU) is its own 500MHz processor, paired directly to the Image Signal Processors (ISPs). It provides a dedicated processing asset for numerous camera features. Not only does it free up the CPU and GPU from real-time processing tasks, it does so at 1/10th of the power use. It's programmable and flexible, allowing brands or app developers to provide unique camera functionality, and try new things! It can also be used in conjunction with the CPU and/or GPU as part of a heterogeneous computing sub-system, for advanced and novel multi-functionality within applications.
Camera Control Unit and Instant Auto Exposure
The Camera Control Unit (CCU) now allows us to provide Instant Auto Exposure (AE). If you're shooting photos and lighting conditions change suddenly (by moving from bright sunshine to a shaded area, for example) the reaction time to make this adjustment is instantaneous. You'll never miss a 'spur of the moment' scene again as AE convergence speed is up to twice as fast as competitive auto exposure performance.
Beyond cameras, the Helio X30 now supports 4K HDR video playback. It brings power efficient, hardware-based HDR cinema viewing experience to mobile devices, based on the 4K HDR10 standard offering a dynamic range of up to 10,000 nits. Paired with the latest, premium display technologies and 4K HDR content, it yields a never-seen-before quality and a true-to-life viewing experience.
Miravision EnergySmart Screen
Displays are a large consumption of power within a smartphone, that's why we invested in creating MiraVision™ EnergySmart Screen. It is MediaTek's advanced power saving technology for mobile displays, reducing power consumption (up to 10% of device's total power or up to 25% of panel power, depending on brightness) without affecting the color accuracy. This preserves the viewing experience.
LPDDR4X Memory
All this processing technology needs an ultra-fast, and large memory subsystem to support it. We've included support for up to 8GB LPDDR4X to provide plenty of space for modern smartphone multi-tasking or very large app footprints. 4x16-bit LPDDR4X 1866MHz (3733MT/s effective) memory is up to 50% more power efficient than previous generation LPDDR3, while also delivering up to 50% more performance.
Deep MediaTek-Imagination Co-operation
We've worked very closely with Imagination technologies in the implementation of the PowerVR 7XTP-MP4. It's a customized design for the Helio X30 that has been designed for lowest power usage, while still delivering incredible performance. It saves up to 60% power versus while increasing performance by up to 2.4 times compared to the previous generation Helio X20.
Deep Learning SDK
Developers using the Helio X30 will have access to MediaTek's deep learning SDK, featuring support for Caffe and Google's TensorFlow frameworks, opening up the latest in machine intelligence technologies to this diverse compute platform.
Sign up for our monthly newsletter
EXECUTIVE INSIGHTS | LATEST NEWS & EVENTS | PRODUCTS & TECHNOLOGIES