Helping to establish the 64-bit exclusive mobile ecosystem
Last year, MediaTek launched its Dimensity 9000 5G smartphone chip. It was the first to introduce Arm v9 architecture CPUs, the Arm Cortex-X2 and Arm Cortex-A510, to the market. This was an industry milestone because these processors provided 64-bit exclusive processing for the first time.
The complete transformation to a 64-bit exclusive ecosystem is the inevitable future for Android
In December 2017, Google addressed Android developers, announcing the "Transformation to 64-bit applications". This important milestone marks the beginning of the 64-bit exclusive Android ecosystem. 18 months later, on 1st August 2019, Google Play started requiring all uploaded applications to have a 64-bit version. In August 2021, all Android devices powered by 64-bit capable hardware could no longer download 32-bit applications from Google Play.
Google has been vigorously adopting a 64-bit application ecosystem in reflection of the current application processor market. According to Arm's statistics, shipments of 32-bit exclusive application processors have almost ceased in the mobile device market, and it predicts that by the end of 2022 it may account for less than 1%.
Arm mobile product roadmap solidifies a 64-bit future
While Google oversees Android OS, it is just one part of the hardware and software ecosystem that is actively focused on fully embracing 64-bit. In order to continue pushing mobile innovation and help mobile developers create the most fascinating and immersive applications, last year Arm announced that all its new Cortex series CPU cores (big and small) launched from 2023 onwards will drop 32-bit processing support and will be 64-bit exclusive.
The 64-bit instruction set improves performance (up to 20% increase for certain workloads) and computation functions in the hardware, enabling new mobile experiences that are faster and more power efficient. Compared to 32-bit processors, 64-bit CPUs can address bigger memory pools, satisfying the requirements of new CPU-intensive workloads.
In addition, Arm's 64-bit architecture also instilled enhanced security functions for devices, including branch target identification (BTI), pointer authentication code (PAC) and memory tagging extension (MTE)
64-bit brings significant improvements to mobile device experiences
MediaTek is also leading the momentum, powering new 64-bit mobile devices. We believe transitioning the Android ecosystem to 64-bit is the best way to realize the next generation of CPU-intensive workloads and experiences on mobile devices. The Armv9 architecture focuses exclusively on 64-bit, enabling MediaTek to create more efficient and effective designs for our industry-leading 5G smartphone SoCs. It grants current applications and games significant performance improvements, making smartphones feel faster than ever.
As you can see in the test results table, using a smartphone powered by the MediaTek Dimensity 9000, 64-bit applications offer notable improvements in user experience. The test results show the cold launch speed of 64-bit applications are between 13%-60% faster than compared to the same 32-bit application; this is undoubtedly a difference that users can clearly feel.

App
Cold Launch Time (s)
(32-bit)
Cold Launch Time (s)
(64-bit)
64-bit advantage
Communications Tool
1.547
1.070
30.8%
Video App #1
1.983
0.723
63.5%
Video App #2
0.423
0.367
13.2%
Video App #3
0.527
0.373
29.2%
Music App

0.693
0.530
23.5%
Shopping App
0.320
0.277
13.4%
Information Platform

0.390
0.300
23.1%
Regarding gaming performance, test results from the "Armies" demo, powered by the popular Unity Engine, showed a 16% improvement in frame rate can be achieved when the game is compiled into a 64-bit version.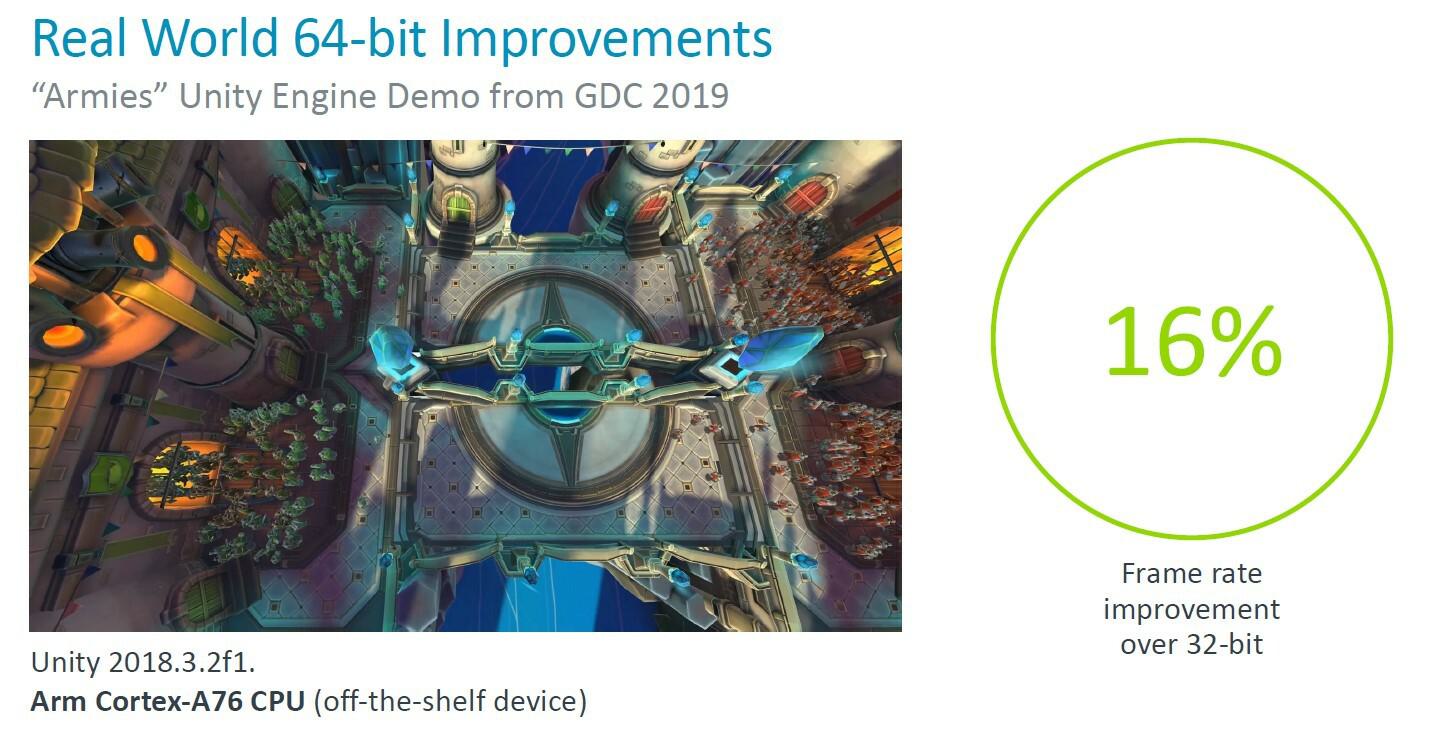 In addition, according to the test results of Arm laboratories, 64-bit computation on smartphones can improve the speed of file compression and decompression by over 90% and almost 80%, compared to 32-bit. Doing common activities like this, faster, means smartphone processors need to spend less time in high performance, high power states, ultimately improving power consumption.
The 64-bit mobile ecosystem is quickly changing in the Chinese market
Beyond the global Google Play store, the Chinese market is also enthusiastic about adopting 64-bit in their Android app stores. In April 2021, popular Android app stores including the Xiaomi app store, OPPO software store, vivo app store, Tencent myapp, and Baidu bdsuite all announced an initiative to upgrade to 64-bit applications in phases.
According to public information, the mainstream app stores in the Chinese market no longer accepted only 32-bit applications since December 2021. Meanwhile, many consumers also noticed that many smartphones launched this year had a "64-bit app section" in their own app stores, and labels were used to provide 64-bit replacement updates for 32-bit apps, actively promoting awareness of the transition.
Game engines are also pushing developers to upgrade. For example, Cocos2d-x, Unreal and Unity are already prepared for 64-bit. Although the adoption of 64-bit apps in the Chinese market started a little later than other major markets, the cooperation from upstream and downstream companies in the industry has allowed it to progress extremely fast. For consumers, there should be no worry about app compatibility issues by 2023.
MediaTek helps promote the 64-bit ecosystem
As early as 2014, when the Android system started developing 64-bit versions, MediaTek had already first launched 64-bit capable chips for smartphones and tablets. The latest MediaTek Dimensity 9000 flagship 5G mobile platform is the culmination of our years of R&D efforts, proving outstanding product performance and power efficiency. It embraces the latest 64-bit exclusive Armv9 architecture CPUs, an industry-leading 4mm-class production process, and our own unique power efficiency and optimization technologies through the chip.
Following in the footsteps of our flagship chip, MediaTek is now promoting the future of 64-bit mobile SoCs to help with the rapid popularization of advanced technologies and continued improvement to mobile device experiences.
Sign up for our monthly newsletter
EXECUTIVE INSIGHTS | LATEST NEWS & EVENTS | PRODUCTS & TECHNOLOGIES