MediaTek & Intel partner to create 5G-enabled PCs and laptops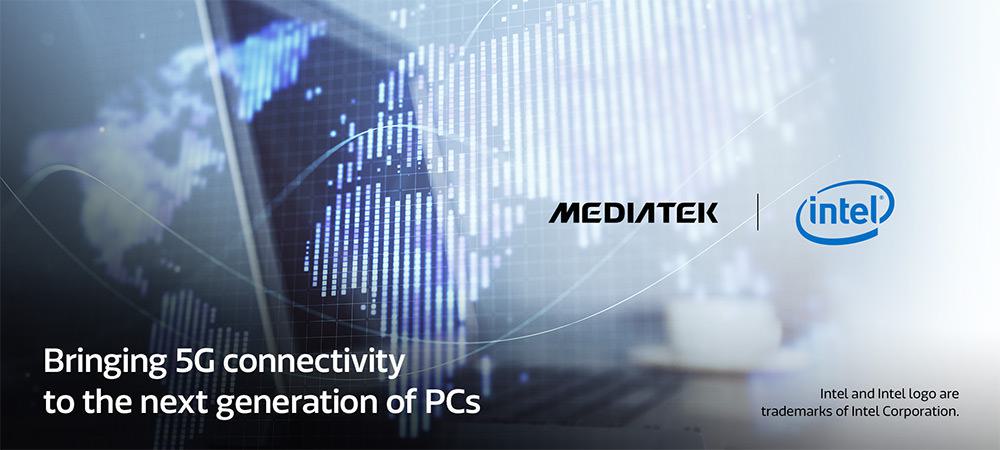 MediaTek and Intel are working together to create 5G connected notebooks in key consumer and commercial segments that need ultra-fast, everywhere connectivity. Merging the new capabilities of MediaTek's fast and efficient 5G connectivity with Intel's leading x86-based notebook platforms brings new capabilities to essential softwares. This partnership will introduce a new era of anywhere productivity, enable creators more freedom, enhance online PC gaming and streaming, and even potentially unlock ideas, apps and markets.
Intel is defining its new high performance platform specification, while MediaTek is developing a highly capable and ultra-efficient 5G modem that will be integrated via M.2 card (built by Fibocom). Large global PC and notebook vendors are backing the project, which is due in early 2021.
The collaboration with Intel shows MediaTek's continuing leadership role in driving the rollout of 5G to the mass market across mobile, home and automotive markets. MediaTek has already unveiled its 5G system-on chip (SoC) for the first wave of flagship 5G smartphones, which uses technologies developed in the Helio M70 modem chip. The new modem is being designed specifically to meet Intel's PC platform specifications, and its development for this collaboration will be based on an ongoing evolution of MediaTek's 5G technologies. Features include, but are not limited to, full multimode 2G-to-5G connectivity, support for 5G NR with both standalone (SA) and non-standalone (NSA) network architectures and, essential technologies such as high power user equipment (HPUE) for better range. MediaTek has been extensively proactive in the development of 5G technologies, participating in the standardization of the full 5G feature set, and collaborating with industry leaders to establish a 5G industry ecosystem.

Joe Chen, MediaTek President:

"Our 5G module for PCs, developed in partnership with Intel, is integral to making 5G accessible and available across home and mobile platforms. 5G will usher in the next era of personal computing experiences. Consumers will browse, stream and game faster on their PCs, but we expect them to innovate with 5G in ways we have not yet imagined."
Gregory Bryant, Intel Executive Vice President and General Manager of the Client Computing Group:
"5G is poised to unleash a new level of computing and connectivity that will transform the way we interact with the world. Intel's partnership with MediaTek brings together industry leaders with deep engineering, system integration and connectivity expertise to deliver 5G experiences on the next generation of the world's best PCs."
Sign up for our monthly newsletter
EXECUTIVE INSIGHTS | LATEST NEWS & EVENTS | PRODUCTS & TECHNOLOGIES