MediaTek Kompanio 500: Powering Incredible Education Experiences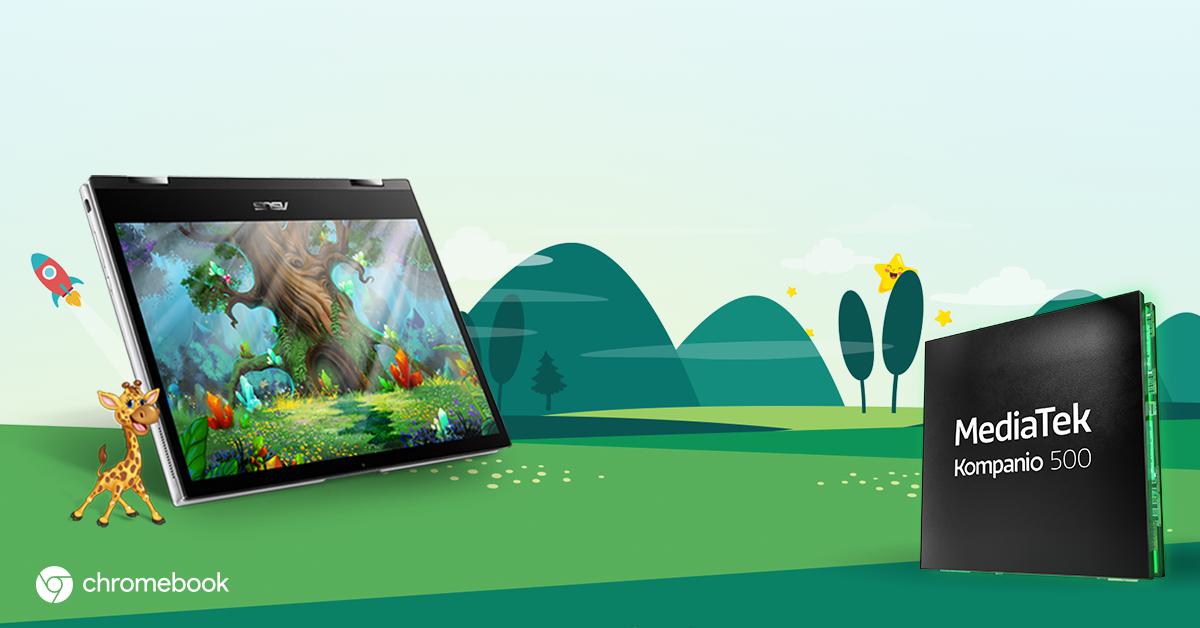 Staying connected has never been more important than it is today. With our Kompanio chips powering many of the Chromebooks that students and teachers love, MediaTek has played a pivotal role in keeping everyone connected whether education is in-person or remote.
MediaTek Kompanio-powered Chromebooks offer a balance of power and performance. They serve as an ideal companion device for everyday challenges, ideas, and experiences. Kompanio chipsets give way to faster multitasking and more efficient collaboration, whether you are video conferencing, streaming videos, coding or using popular STEM apps like Tinkercad and Minecraft Education Edition.
Our Kompanio 500 chipset powers slim and stylish education Chromebooks from Acer, ASUS, HP, and Lenovo. Kompanio 500 seamlessly balances performance and power efficiency, outpacing the competition in battery life, document loading times and multitasking between apps. Chromebooks have found their reliable companion in the Kompanio 500, empowering educators to teach and students to learn from wherever they need to be, whether that's at school, in lectures, coffee shops or at home.
High Performance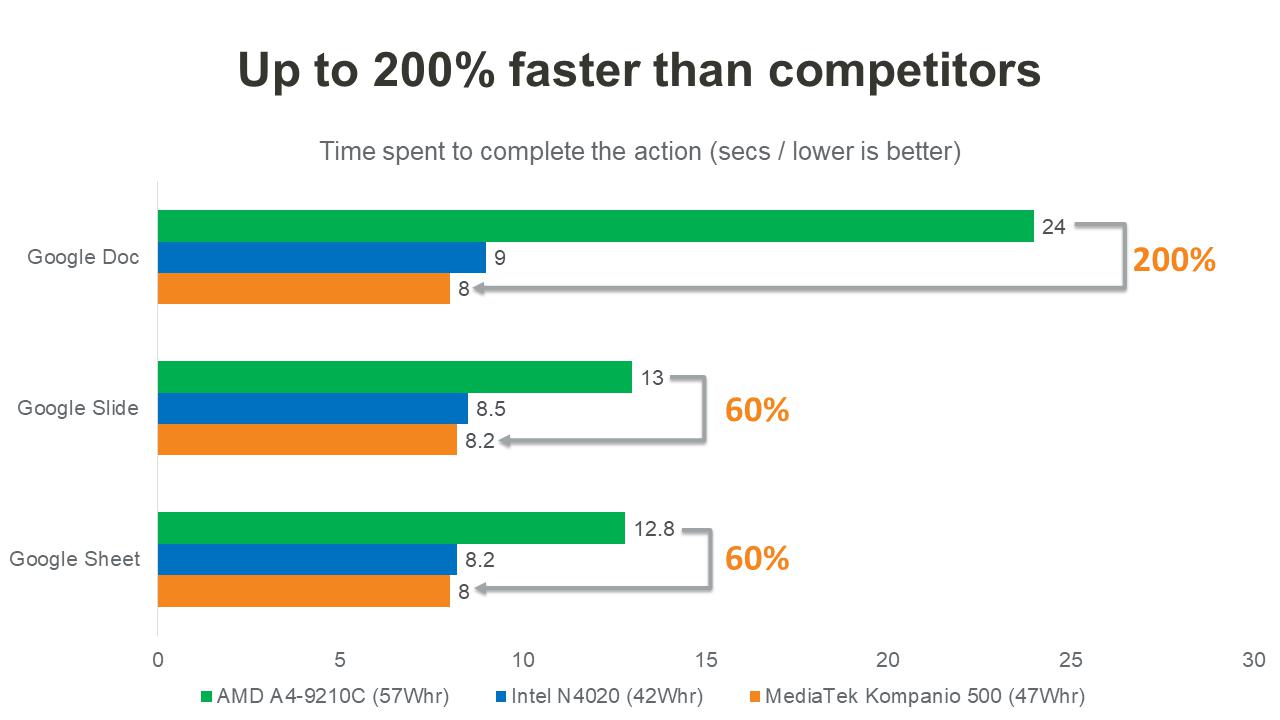 MediaTek Kompanio 500 powers high performing Chromebooks without sacrificing accessible features. Great for multitasking with its octa-core CPU that includes four powerful Arm Cortex-A73 performance cores, the Kompanio 500 makes it easy for students and teachers to tackle multiple things at once. And thanks to Kompanio's Arm architecture, users experience better performance with native support for everyday apps.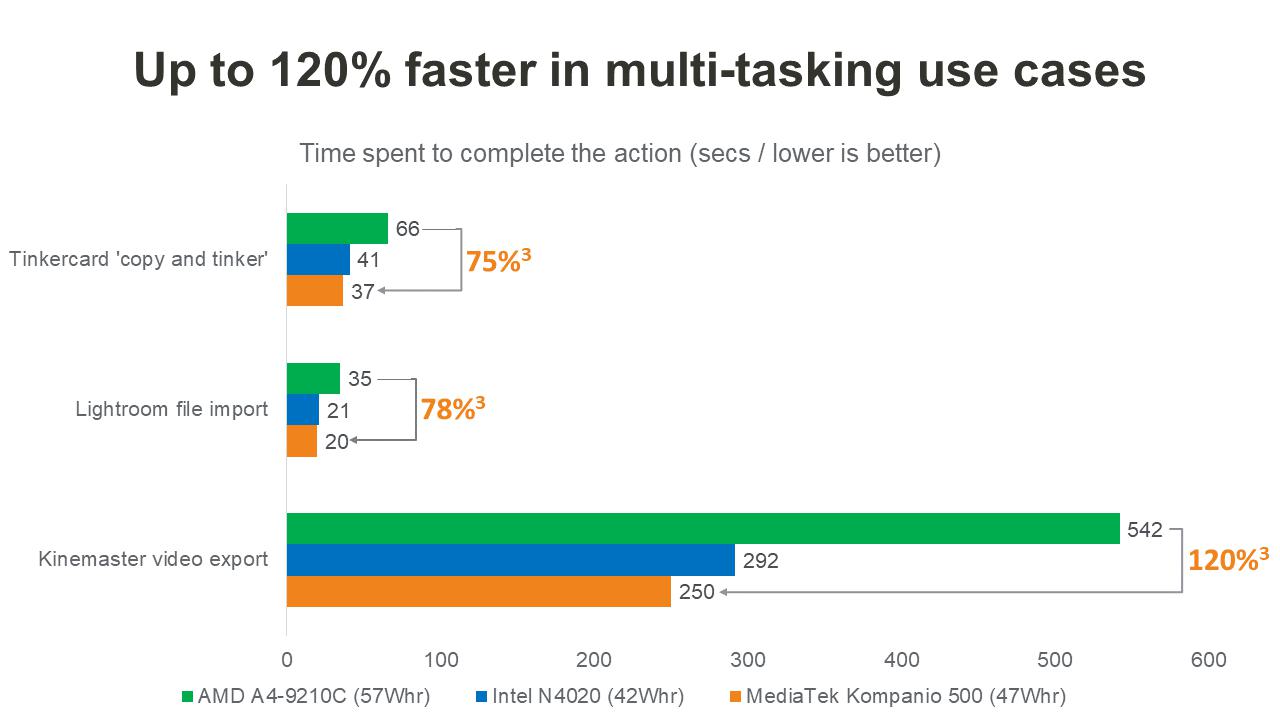 Long-Lasting Battery Life
MediaTek Kompanio 500 is made to perform while only sipping on battery. This chipset powers Chromebooks that deliver 2.3X longer battery life than competitors in popular applications like Google Meet. Its power-efficient design ensures users can focus on what matters for longer, without having to reach for a charger.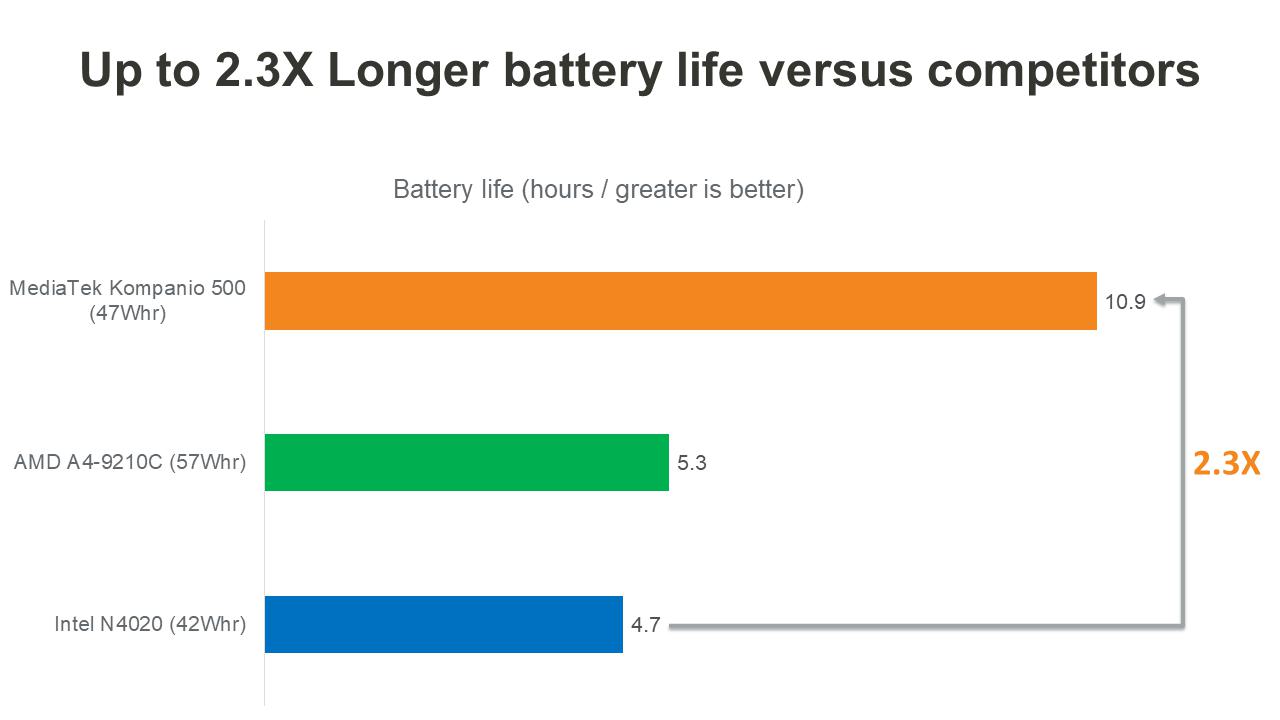 High Quality Displays
Supporting up to Full HD+ displays and with the ability to connect to external TVs or in-class projectors, the Kompanio 500 provides sharp and vivid visuals. Students and teachers can see their Chromebook screen come alive with superb color, clarity, and picture quality.
Impressive Designs
MediaTek Kompanio 500 chips are super compact and efficient, meaning devices can be slimmer, lighter, and more stylish. These ultraportable, compact Chromebooks are easy to carry around, making them perfect for teachers and students of all ages who are on the go.
With impressive multitasking performance, extra-long battery life and slim and lightweight designs, Kompanio-powered Chromebooks offer a stress-free laptop experience. Students and teachers alike can focus on learning while Kompanio-powered Chromebooks take care of the rest.
Supplementary Notes
*Battery life may vary based on device configuration, usage and other conditions.
Graph 1: DUTs load the same file via the application (web version) while running Google Meet (web version) group video call with a10 attendees and a virtual background enabled.

Graph 2: DUTs load the same file via the web applicaiton while running Google Meet (web version) group video call with 10 attendees and a virtual background enabled.

Graph 3: DUTs are set to 80-nits and fully charged. DUTs ran Google Meet (web version) group video call with 12 attendees and a virtual background.

Sign up for our monthly newsletter
EXECUTIVE INSIGHTS | LATEST NEWS & EVENTS | PRODUCTS & TECHNOLOGIES