MediaTek launches 5G modem with mmWave and sub-6 GHz 5G technologies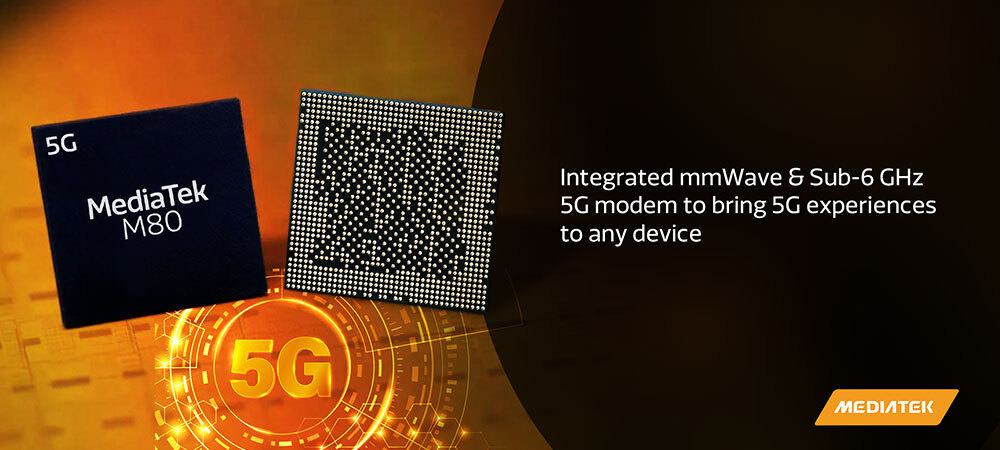 The new MediaTek M80 5G modem combines mmWave and sub-6 GHz 5G technologies onto a single chip. The M80 has been tested against industry standards and is expected to sample with customers later in 2021. These new 5G technologies will feature in a wide range of future MediaTek products, across mobile, home, automotive and IoT/Enterprise.
Essential specs:

3GPP Release 16 standard
Sub-6 GHz and mmWave dual connectivity and carrier aggregation
Up to 7.67 Gbps downlink and 3.76 Gbps uplink
5G NR (FR1) with more than two carrier aggregation
5G mmWave (FR2) up to 8CC
5G carrier aggregation with Mixed Duplex (TDD + FDD)
Dynamic spectrum sharing (DSS) ready
Standalone and non-standalone 5G network architectures
Ready for global cellular markets

MediaTek works closely with operators and partners around the world to bring consumers faster and more reliable 5G experiences. As a result, our 5G technologies have been validated by operators in more than 100 global markets.

End-to-End industry collaboration that accelerates product development

MediaTek is a founding member of the OpenRF Association, which was founded to help to speed up time-to-market for 5G device manufacturers with interoperable 5G RF Front-End (RFFE) solutions.

Sign up for our monthly newsletter
EXECUTIVE INSIGHTS | LATEST NEWS & EVENTS | PRODUCTS & TECHNOLOGIES