MediaTek MT8192 and MT8195 for Chromebooks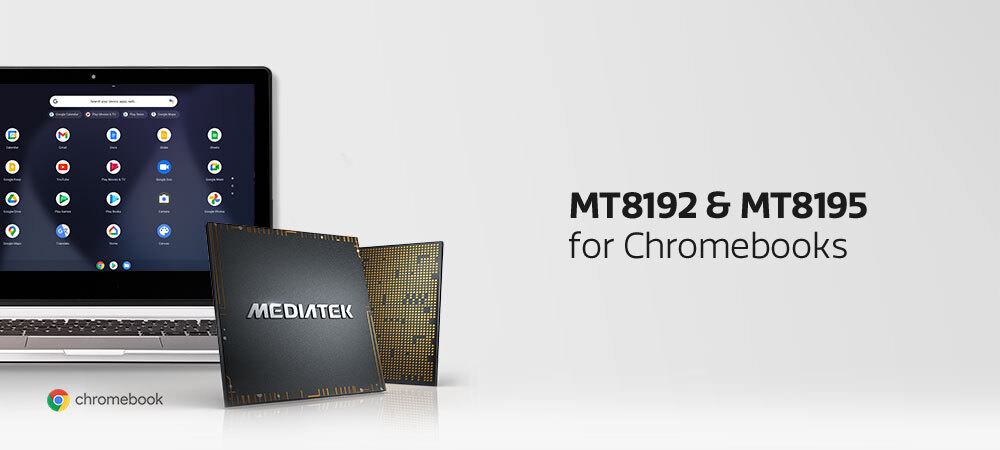 At the MediaTek Executive Summit in early November 2020, the MT8192 and MT8195 were announced for next generation Chromebooks. These chips are designed to make laptops, convertibles, tablets or 2-in-1s that are powerful, sleek and lightweight: ideal for productivity, video conferencing, remote education, gaming or entertainment streaming.
Compared to existing Arm-powered Chromebooks, expect significantly boosts in performance as both chips use octa-core CPUs: with the MT8192 opting for high performance Arm Cortex-A76 CPUs, while the MT8195 uses the very latest Arm Cortex-A78 CPUs.
Both the MT8192 and MT8195 integrate a high performance AI processing unit (APU) to accelerate a wide range of voice and vision-based applications in real-time, as well as a dedicated digital signal processor (DSP) for audio to enable ultra-low power voice wakeup (VoW) for digital assistants.
With the growth of remote learning and working, reliable video conferencing is more important than ever. Brands can add two, high resolution cameras that provide sharp details. By tapping the integrated depth sensing engine and powerful AI processor, software can apply accurate depth of field effects or background segmentation to each person on camera in real-time, and with low power usage.
For entertainment, both chips support Dolby Vision, 7.1 surround sound and integrate 4K HDR video decoding, including AV1 hardware decoding, to provide cinema-quality experiences for streaming movies and TV shows from the most popular online services. Brands can use high resolution displays up to 4K or alternatively opt for FullHD+ with fast 120Hz refresh rates, tailoring different experiences for different product designs. The MT8195 goes even further to support up to three simultaneous displays so users can enjoy maximum screen real estate for better productivity and multitasking.
To ensure excellent power efficiency both chips are built using leading production processes: the MT8192 uses an advanced 7nm production process while the MT8195 will use the very latest 6nm process. These cutting edge production processes are designed to minimize power consumption, boosting battery life for all-day use MT8192 powered devices are due to hit the market in Q2 2021, with the more powerful MT8195 following at a later date.
Sign up for our monthly newsletter
EXECUTIVE INSIGHTS | LATEST NEWS & EVENTS | PRODUCTS & TECHNOLOGIES