MediaTek MT8516 supports Amazon Common Software for Devices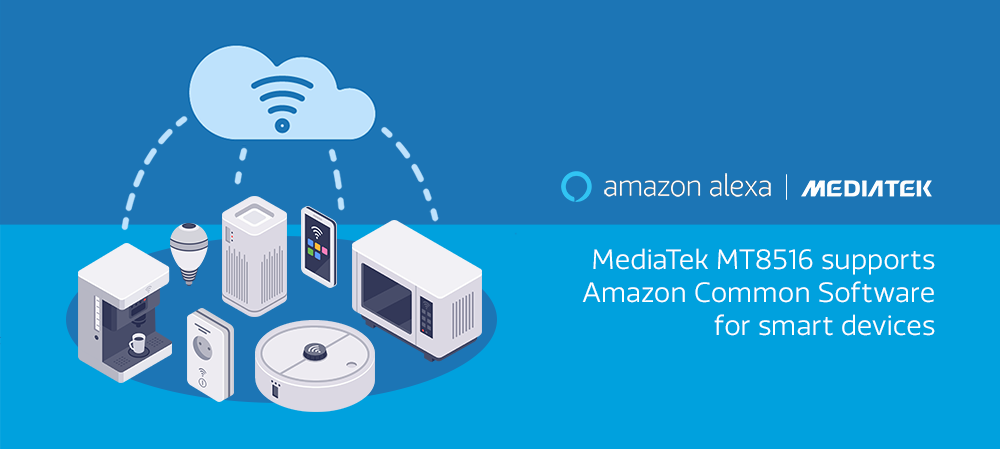 What is Amazon ACS?
Amazon Common Software (ACS) for Devices (preview) is software that makes it faster to integrate Amazon Device SDKs on smart devices. The ACS preview includes support for its Frustration-Free Setup (FFS) and AWS IoT Device SDKs, with Amazon indicating support for its Alexa Voice Service (AVS) Device SDK will arrive later in 2020.
MediaTek MT8516 supports Amazon ACS
MediaTek has worked with Amazon to ensure its MT8516 platform supports Amazon's Common Software (ACS) and its Frustration Free Setup (FFS).

MediaTek MT8516 Developer Kit for Alexa built-in devices

The MT8516 2-Mic Developer Kit for Amazon AVS alleviates the engineering work required to bring an Alexa-enabled devices to market, allowing brands to focus their efforts on developing novel features and functions for speakers, soundbars and other home appliances. The development kit features MediaTek's advanced Far-Field algorithm that enables it to listen clearly even in noisy or echoing environments. The platform enhances the local sensing of vocal triggers and provides a directional 'beam-of-speech' in reply.
Further Information:

Sign up for our monthly newsletter
EXECUTIVE INSIGHTS | LATEST NEWS & EVENTS | PRODUCTS & TECHNOLOGIES