The future of immersive audio for Smart TV with Dolby Atmos FlexConnect, powered by MediaTek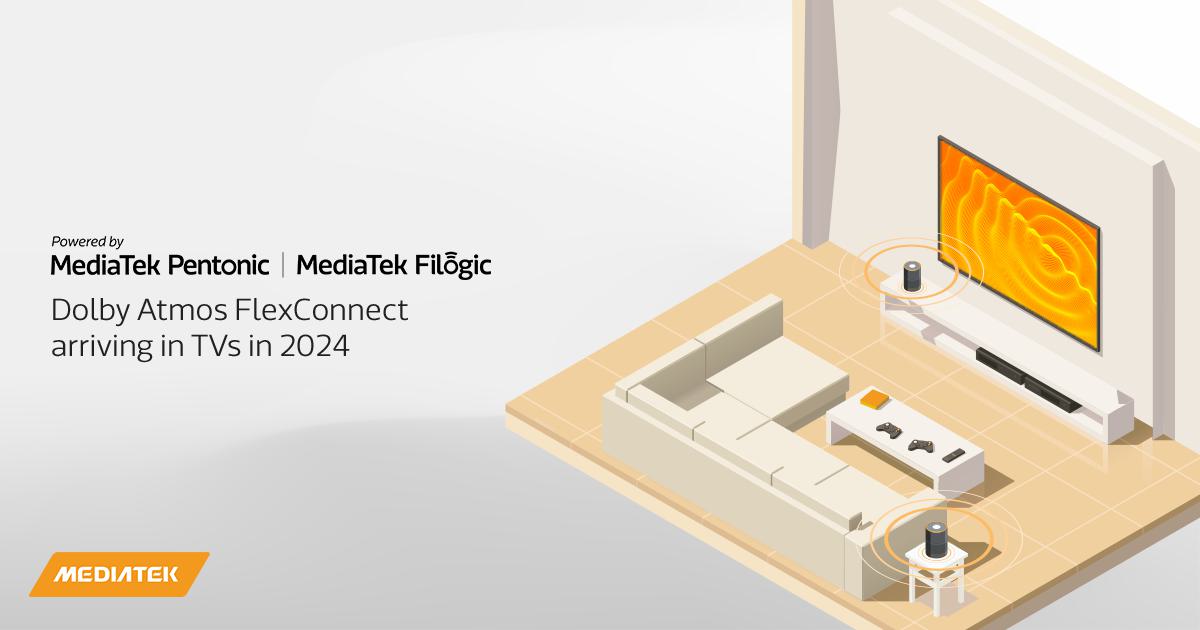 At IFA 2023, Dolby unveiled Dolby Atmos FlexConnect, the company's latest innovation in immersive audio. Supported by MediaTek Pentonic and Filogic chipsets, Dolby Atmos FlexConnect utilizes our latest smart TV offerings that provide brands with an exceptional platform of performance and reliability that is critical when enabling wireless audio experiences.
Smart TVs powered by MediaTek Pentonic are designed to deliver stunning audio and video quality through a range of fully-integrated SoC technologies such as best-in-class audio and video with Dolby Atmos® and Dolby Vision®, AI visual enhancements, AI super resolution upscaling, up to 144Hz with Variable Refresh Rate (VRR), 120Hz Motion Compensation (MEMC) engine, and MediaTek Intelligent View technology that perfects large-format, multi-window viewing experiences. MediaTek Filogic Wi-Fi provides the high-speed, smooth and stable multi-gigabit wireless connectivity.
This complete MediaTek Pentonic smart TV and MediaTek Filogic Wi-Fi solution helps global brands seamlessly implement cutting edge innovations, like Dolby Atmos FlexConnect, so that they can deliver the ultimate entertainment experiences.
MediaTek technologies serve a critical role in enabling wireless multi-speaker systems for smart TVs
MediaTek's longstanding commitment to R&D has resulted in the development of technologies that ensures reliable connections and essential synchronicity with the video component. Specifically, these key technologies include:
MediaTek Wireless Multi-Channel Audio Technology: Wi-Fi Direct, Easy Pairing and "One-Touch" configuration technologies are included in the MediaTek Pentonic/Filogic Smart TV platform. Combined, they are designed to make it easier for smart TV owners to enjoy a truly immersive, theater-like entertainment experience.
Ultra-low Latency: Sub 40ms wireless audio transmission.
Precise Time Sync: Sub 150μs multi-devices audio synchronization.
Packet Loss Concealment (PLC): MediaTek's exclusive PLC algorithm that ensures wireless audio quality.
Easy Pairing: Adopts the Wi-Fi Alliance Wi-Fi Direct protocol that uses the 5GHz band for high speed and interference mitigation.
MediaTek also meets Dolby's ultra-low latency and precise time sync requirement standards that ensure TVs powered by MediaTek's latest smart TV platform with Dolby Atmos FlexConnect offer consumers an incredible Dolby Atmos experience.
Combined, these solutions serve a critical role in enabling manufacturers to unlock the full benefits of Dolby Atmos FlexConnect in their upcoming products. This includes:
Elevate an already immersive Dolby Atmos experience – Dolby Atmos takes entertainment to the next level, immersing audiences in astonishing, multi-dimensional sound. With Dolby Atmos FlexConnect, consumers can unlock the ability to add accessory wireless speakers to their Dolby Atmos-enabled TV to elevate their system's audio performance one step further.
Incredible audio with any speaker placement – Gain the flexibility to place speakers anywhere it's convenient and make the best use of room dimensions, power outlet locations, and furniture arrangements as desired without compromising audio quality.​
Simple setup – Setup is simple and fast, requiring no additional equipment or cables. Dolby acoustic mapping leverages microphones in the TV to locate each wireless speaker in the room, calibrating the system automatically to ensure optimal audio performance.​​
Dynamic audio balancing​ – Audio is intelligently spread from the TV speakers to each wireless speakers, dynamically optimizing the sound signal based on the capabilities and location of all available speakers. This allows the sound image to be adjusted to ensure listeners are always enjoying best-in-class performance.
With 25 years of experience in powering entertainment products, as well as 20 years as the largest global digital TV chipset supplier, MediaTek continues to lead the industry through enabling cutting-edge technologies in the modern smart home.
Related Articles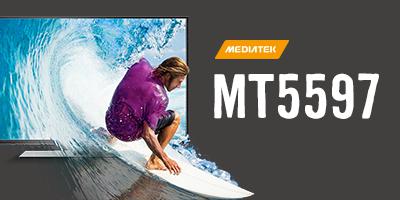 MT5597 4K UltraHD Smart TV platform with Dolby HDR technology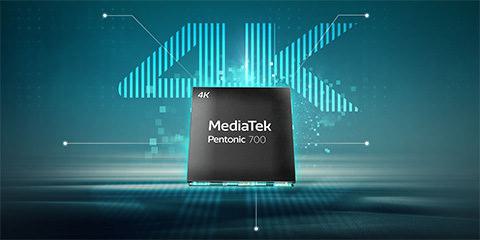 Top 5 features of the Pentonic 700 for premium 4K smart TVs
Sign up for our monthly newsletter
EXECUTIVE INSIGHTS | LATEST NEWS & EVENTS | PRODUCTS & TECHNOLOGIES