MediaTek's Summer of AI at CVPR 2021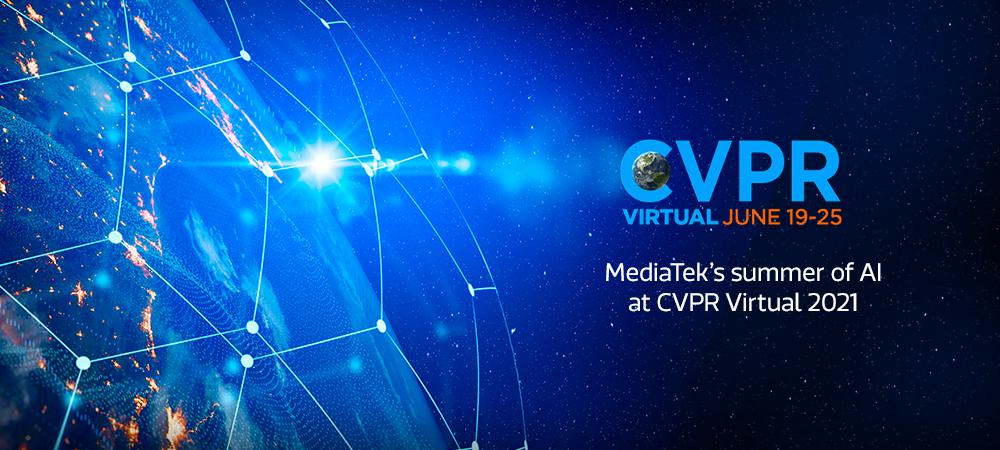 The CVPR (IEEE Conference on Computer Vision and Pattern Recognition) conference is the premier annual AI event attended by the world's foremost technology companies in the fields of Computer Vision, Machine Learning and AI, as well as associated academics, researchers, and students. CVPR is taking place from June 19th to June 25th 2021, with presentations available to watch online.
Click here for the full programs of events >
If you're an AI expert looking for new opportunities, consider a career with MediaTek.
Following the success of last year's attendance, papers and workshops, several papers authored by MediaTek teams have been accepted at conferences including CVPR 2021:
[CVPR'21] CLCC: Contrastive Learning for Color Constancy [Link]
"Edge AI Technology – from Development to Deployment", at CVPR-MAI workshop
During the event, Dr. Allen Lu, Senior Director of Computing and Artificial intelligence Technology Group at MediaTek is presenting "Edge AI Technology – from Development to Deployment".
The speech addresses how the post-epidemic era is accelerating the digital shift with activities such as distance learning, working from home, and online shopping. However, many are facing frustrating experiences: for example, poor video or audio quality, long wait times because of high latency, and privacy concerns compared with the real life alternatives. 5G and edge AI can play an important role in solving some of these critical issues. The presentation will share MediaTek's experience in 5G and edge AI technology development and deployment throughout its product lines.
Mobile AI 2021 Learned Smartphone ISP Challenge
In the run-up to CVPR this year, from January 1st to March 21st 2021, MediaTek and ETH Zurich issued an online challenge "Designing deep learning based learned camera ISP for mobile devices". We are delighted to announce this year's CVPR-MAI challenge has seen a record number of participants join!
Sign up for our monthly newsletter
EXECUTIVE INSIGHTS | LATEST NEWS & EVENTS | PRODUCTS & TECHNOLOGIES