Mi TV LUX OLED Transparent Edition, powered by MediaTek MT9650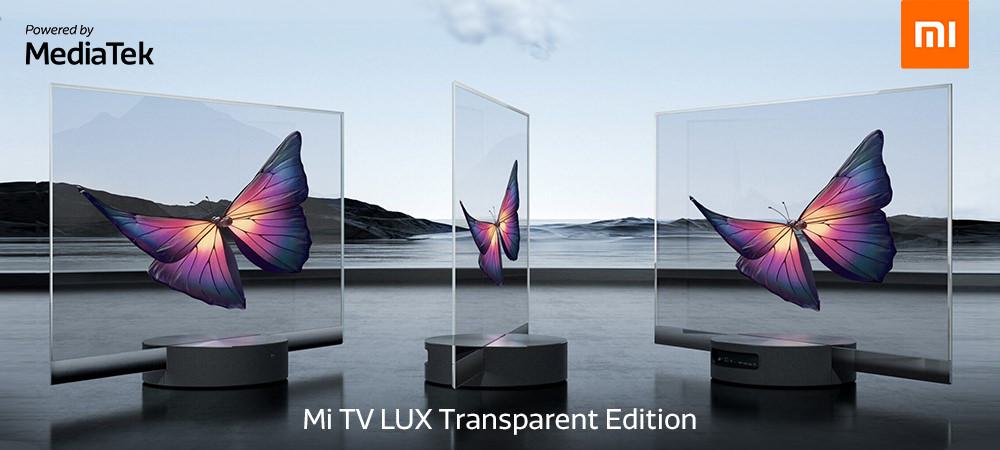 In standby, the Mi TV Lux OLED Transparent Edition appears simply as a clear piece of glass, sitting innocuously on a side table. Yet when it's turned on, images appear to float in thin air. The Mi TV LUX Transparent Edition is the world's first mass-produced transparent TV, creating an entirely new way to experience streaming and video entertainment.

Powered by a customized MediaTek MT9650 SoC, it features over 20 optimization algorithms and dedicated optimization for five major use scenarios, where the TV intelligently refines the graphic resolution to create vibrant images. In addition to its stunning visuals, the Mi TV LUX Transparent Edition also supports a unique AI Master for Audio that allows the device to intelligently detect the type of content playing and choose an audio mode that best fits.

This 55-inch OLED 4KTV features an ultra-fast 120Hz refresh rate, 120Hz MEMC technology, and an ultra-fast 1ms response time. The 10-bit HDR display is capable of reproducing over a billion colors, offering a super-wide 93% DCI-P3 color space that produces awe-inspiring colors to bring images to life.

Unlike traditional TVs that use a back panel, the Mi TV LUX Transparent Edition creatively embeds all the processing units - including the main MediaTek MT9650 chip - in its base stand, creating this unique design.

For more information, read Xiaomi's full press release.
For purchase information in China, click here.
Sign up for our monthly newsletter
EXECUTIVE INSIGHTS | LATEST NEWS & EVENTS | PRODUCTS & TECHNOLOGIES