MT2621 - Industry first NB-IoT and GSM/GPRS dual-mode IoT platform with innovative SSDS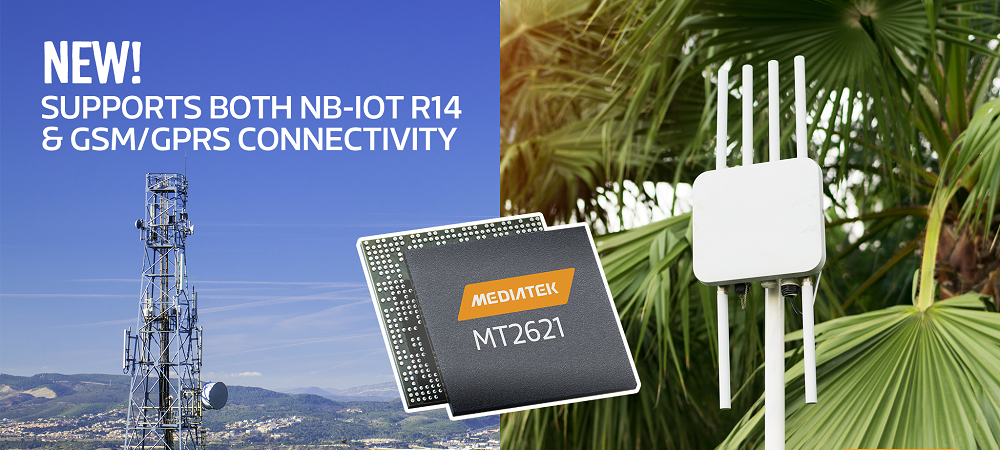 The MT2621 is an SoC designed for a wide-range of IoT devices that require stand-alone cellular connections, rather than tethering to a local network such as smart trackers, wearables, IoT security, smart metering and industrial applications. In an industry first, the MT2621 offers a single platform design that is capable of connecting to both NB-IoT (R14) and GSM/GPRS networks simultaneously. This enables extended coverage, cross-market application with network transition function and even phone call capability.
The benefits for highly mobile products like personal trackers and wearables are obvious: taking your device from a GSM/GPRS network country into one with NB-IoT means the device still works seamlessly.
For security, metering and industrial applications where the install period is often long (10-years) and requires minimal adjustment, this MT2621 is also perfect. As its expected many GSM/GPRS networks will be retired in the medium-term in favor of 3GPP-backed NB-IoT, designing an connected IoT product with a 10 year install-life is difficult unless it covers both the existing and future networks. Using the MT2621 means that a single product design can accommodate this cellular change-over, without having to adjust the device in-situ; giving confidence to products designers and company purchasing managers.
The MT2621 includes a modem with wideband front-end module that is designed to support all ultra-low/low/mid bands defined by the 3GPP Rel-14, including up to quad-band operation, allowing a single design to be used anywhere worldwide.

And the innovations don't stop there, let's go deeper!
MediaTek engineers have designed the MT2621 to use a single antenna, single UICC and mobile number when accessing both networks. And both networks can operate simultaneously in single SIM dual standby (SSDS). This saves PCB space and simplifies design; minimizing cost and speeding time-to-market for product designers.
Apart from the ingenious modem and antenna design, inside the MT2621 there's a highly power efficient Armv7 MCU with internal Flash and PSRAM that keeps package size and component count to a minimum. LCM, camera and audio AMP interfaces give additional peripheral support for sight and sound devices, and Bluetooth 4.2 enables connectivity to local wireless peripherals.

It's clear we're at the forefront of NB-IoT products and technologies, and if you want to learn more about our industry leadership, be sure to see both our MT2621 and MT2625.
Sign up for our monthly newsletter
EXECUTIVE INSIGHTS | LATEST NEWS & EVENTS | PRODUCTS & TECHNOLOGIES