The MT5670 delivers AI-enhanced UltraHD smart TVs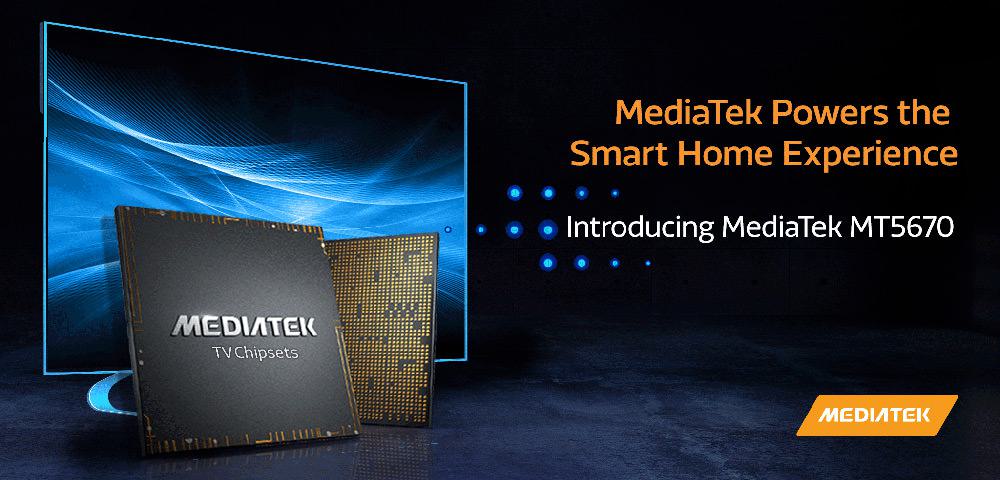 The new MT5670 smart TV platform is ideal for TV brands looking to create incredible 4K UltraHD SmartTVs with new AI-enhanced capabilities. We've added our novel AI PQ technologies inside, which can analyze the live-stream or video for facial and scene recognition, then automatically fine-tune a wealth of picture quality settings to provide true studio-quality visuals.

With its powerful quad-core processor the MT5670 also enables brands to integrate voice capabilities to give consumers even more control over their user experience. The platform also includes mature technologies such as MediaTek MiraVision display enhancements and MediaTek MDDi™ de-interlace solution, for smooth playback.

You'll find MediaTek TV and multimedia technologies or chips inside 70% of digital and smart TVs globally, and in 90% of all branded Smart TVs. In context of the market size, MediaTek currently powers more than two billion TVs globally making us the global home entertainment market leader with our technologies inside more than 20 percent of homes globally.
In addition to its exciting AI credentials, the MT5670 packs in a ton of tech for brands to make great global smart TVs that are affordable and feature-rich.

Key elements of the new MT5670 include:
Powerful quad-core Arm Cortex-A53 processor operating up to 1.5GHz
Fast & Efficient Arm Mali-G51-class GPU with support for OpenGL ES 1.1-3.2
Worldwide multi-standard TV demodulator (ATSC/DVB-T/DVB-C/ISDB-T and more)
Direct drive UltraHD 60Hz display
A transport de-multiplexer
A many-standard video decoder and h.264 encoder
Rich format audio codec with dedicated Arm Cortex audio engine
HDMI 2.0 receiver plus rich connectivity and interfaces
Sign up for our monthly newsletter
EXECUTIVE INSIGHTS | LATEST NEWS & EVENTS | PRODUCTS & TECHNOLOGIES