Q&A with MediaTek General Manager Rituparna Mandal: Advice for Women in Tech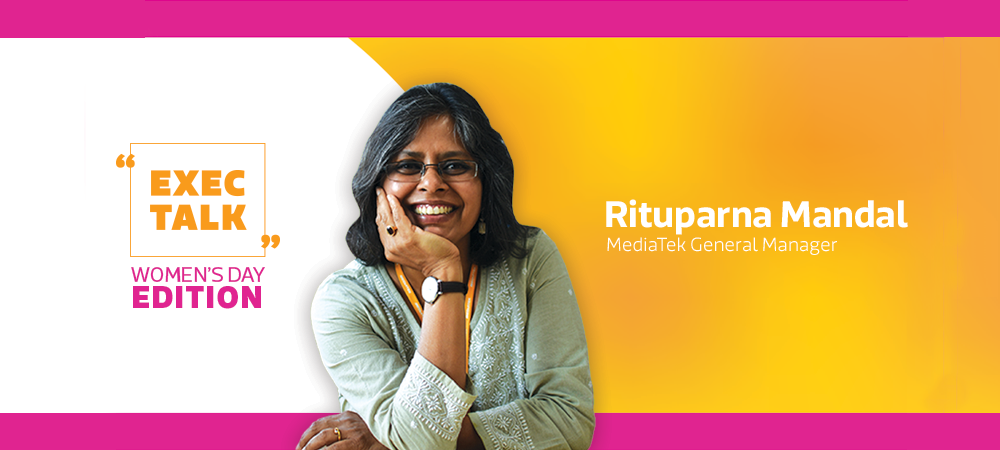 Innovation is worth celebrating, and so are the people who make everything happen behind the scenes. During Women's History Month, the industry is abuzz discussing some of the incredible women who have played an integral role in developing the tech landscape we depend on. In addition to celebrating tech pioneers like Ada Lovelace and Grace Hopper, we also think it's important to highlight women who are driving the industry forward today, including our very own Rituparna Mandal, General Manager at MediaTek.
Rituparna began her journey with MediaTek in 2015 as Director of Advanced CPU and Foundation IP Technology. She has more than 22 years of experience in the deep tech space, having held a number of roles at Texas Instruments and in addition to her own entrepreneurial endeavors, including creating her own semiconductor technology firm before joining the MediaTek team.
We sat down with Rituparna to learn about her journey, and what being a successful woman in today's tech industry means to her:
What sparked your interest in technology?
I have enjoyed studying mathematics and science since I was a child. Math and physics were always my favorite subjects throughout my years at school, and I found genuine joy in solving a complex mathematical equation or a physics problem. Additionally, my parents come from very humble backgrounds, as they were both first-generation graduates. My father was the first engineering graduate from his village, and it was all uphill from there. I think my inspiration to pursue a career in technology was drawn from him, as well as my mother's desire to see her daughter become the first woman engineer in the family. That, combined with my own interest in science and math, is what drove me and helped me choose electronic engineering as a field I would build my career on.
What obstacles have you faced as a woman in your field?
I have been fortunate to have not faced the stereotypical biases one would usually be forced to deal with as a woman in a male-dominated field. Again, I attribute a lot of credit to my parents for the way they raised me – never teaching me to believe that I was any different or any less capable because I was a woman. It is this mindset that built my self-confidence to the point where I could conquer anything that I set my mind to, and what helped me through several difficult phases in my career. The support that I received from different managers and organizations throughout my career also provided many opportunities to foster my growth. These personal and professional connections carried me throughout my career, as I could always lean on them for support when I did encounter difficult scenarios.
What brought you to MediaTek?
Prior to MediaTek I founded an IP company, Immensa Semiconductors, along with two other co-founders. MediaTek saw what we had built and proposed an acquisition, which we accepted. Given the fact that MediaTek was opening its doors in Bangalore at that time, it seemed like a great opportunity to become part of a growing new location for an outstanding company. At the time, MediaTek was a fairly small company that was already having a huge impact on leading edge technology and giving many of its competitors a run for their money. Those combined factors drew me to accept this offer and take on a new challenge.
What would you consider to be your biggest career achievement at MediaTek so far?
I feel proud of the nearly five years I have spent with MediaTek. Specifically, I am proud of the fact I am leading the teams that deliver best-in-class cores for the company's Helio P60 and GT90 products, and how my teams have worked together to meet ambitious benchmark turnaround cycle times. Meeting aggressive power, performance and area (PPA) goals, as well as the tight silicon development period for GT90 to meet customer timelines, has been a challenging but rewarding experience.
Taking on responsibility of leading the Bangalore site has also been a great experience. I've been able to drive impact at a grassroots level through several creative approaches, including initiating improved transparency and better communication at all levels, and spearheading the first-ever MediaTek internal technical conference (MTB TechCon) and Bring Your Kids to Work Day. All of these initiatives have helped improve the MediaTek Bangalore work environment overall, and have personally been very satisfying.
What advice would you give to other women interested in pursuing a career in technology?
After spending nearly 23 years growing my career in the semiconductor industry, while also nurturing my life at home as a mother of two boys, as a wife, and as an owner of a number of beloved pets, my journey has been quite eventful to say the least. When I think back, there are things I could have done better, and there are things I am very proud of. From my experience, I have "ten commandments" for women interested in taking a similar path in technology:
1. Never stop learning
2. Invest in friendships and build connections
3. Don't be afraid to ask questions
4. Forget about work-life balance, and choose your priorities
5. Find your own groove, and just be yourself
6. Don't be afraid to step out of your comfort zone
7. Be sure to save, you may need it for a rainy day
8. Work hard, but also play hard
9. Be grateful
10. Stay motivated by continuously rediscovering excitement in your career
Recognize that there will be days you want to settle for less, or quit altogether. Never forget the spark of passion that made you want to go into a tech career in the first place, and keep your eye on the bigger picture. At the end of your journey, you will look back and be proud of how you built a name for yourself and contributed to this exciting world of innovation.
Sign up for our monthly newsletter
EXECUTIVE INSIGHTS | LATEST NEWS & EVENTS | PRODUCTS & TECHNOLOGIES