Q&A with David Ku, CFO & Corporate Executive Vice President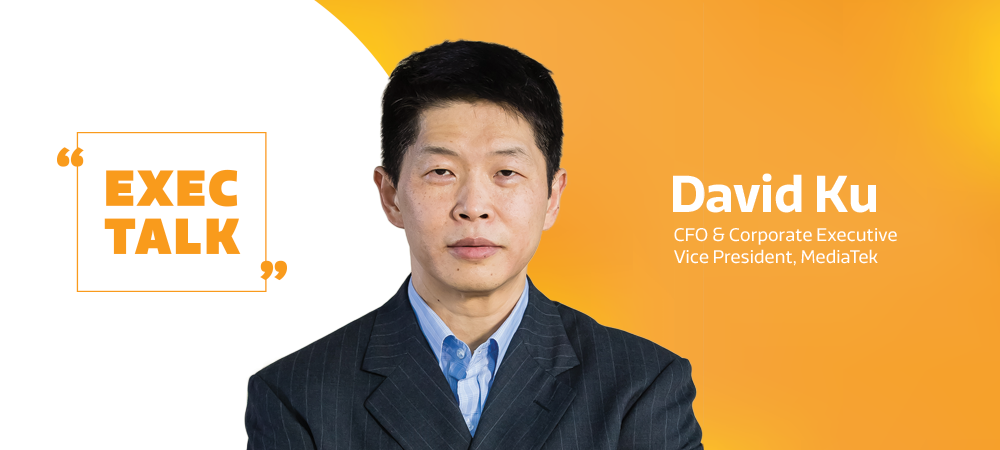 We sat down with David Ku, CFO & Corporate Executive Vice President, to talk about MediaTek's diverse and growing portfolio. We discussed what lies ahead for MediaTek in terms of innovation, priority markets and how the company is driving the 5G landscape.

MediaTek is known for powering smartphones with its system-on-chips, or SoCs. Now, we're seeing more MediaTek-powered devices across other verticals like smart homes, automotive, wearables, connectivity, and more. Can you tell us about the breadth of MediaTek's product portfolio?
MediaTek's diverse line of products and its ability to work across platforms have allowed us to lead the market in all the verticals you mentioned. Our work in the mobile industry does drive about one third of our overall business, but we're also a key player when it comes to IoT, Analog and ASIC in a variety of other market segments.
We're delivering high-end features – such as power-efficiency, multimedia support and AI – and we tailor our chipsets for various applications and devices. For one example, look at MediaTek's IoT platform: it provides companies like Tonal with both the software package and hardware reference design to power AI vision, high clarity display and a seamless connection to smart accessories via Bluetooth and Wi-Fi. Our advancement in these core technologies enables our customers like Tonal to expand and innovate their products and take the end-user experience to the next level.

What are the main advancements we will see in future devices powered by MediaTek?
When it comes to future devices, 5G will clearly be one of the biggest drivers of growth for the tech industry. The lightning fast connection will support more powerful technology, with devices becoming more incorporated with AI and human intelligence. AI is an important piece for the success of 5G. We call it the need for smart and fast (AI and 5G) across markets including smartphones, smart home, IoT and smart cars. 5G will drive change and growth in smart devices and we're excited to help power these incredible advancements.
We're also very focused on AI which is being enabled through cutting-edge technologies like edge computing. More and more computing power is needed on the device – the edge – as well as in the cloud. There is a ton of potential for growth and innovation in AI. For instance, MediaTek's Helio P90 chip supports "contextual awareness," or real-time object recognition, to automatically identify a product in a photo and provide users with information like pricing and customer reviews.
The other area where we're seeing an opportunity to grow is in the ASICs market. As companies try to meet the rising performance demands for the latest technologies – including in areas like data switching where massive amounts of information are being processed – they will need customized integrated circuits. The MediaTek ASICs platform provides unique and specific solutions that most companies no longer provide or have ASIC experience to produce.
How would you describe MediaTek's current position in the 5G market?
MediaTek is ahead of the curve when it comes to 5G technology. Our SoC's – like the Dimensity 1000 series and Dimensity 800 series – will power a new level of connectivity, in everything from smart homes to smartphones, wearables and vehicles.
The MediaTek Dimensity 5G family is our smartphone series with an integrated modem, meaning we have single chip solutions for 5G that are more power efficient and take up less space so device makers have more room to innovate. The Dimensity 800 series for mid-range devices will help to bring 5G capabilities to everyone. All of our 5G SoC's come with additional technologies MediaTek is known for, including advanced gaming features, like our MediaTek HyperEngine Gaming Technology, as well as imaging and multimedia advancements. We also work with Intel to create 5G connected notebooks, and our Dimensity 1000 SoC powers the new Oppo Reno 3 smartphone. Our presence in 5G-enabled devices will only continue to grow in the coming years.

How is MediaTek incorporating AI into IoT and supporting the current trend that is expanding that market?
MediaTek's broad expertise allows us to deliver next-gen AI enhancements through our chipsets, resulting in sharper displays, faster object recognition, and voice recognition in IoT devices. Through MediaTek's IoT program, we help companies of all sizes incorporate exciting AI features and capabilities in a wide range of IoT devices. This includes products like the Amazon Fire TV Stick and Fire TV, along with the Amazon Echo and Ecobee Smart Thermostat with voice control. We're also creating AI platforms for smart connected health and fitness wearables, smart home devices and machine-to-machine products.
To enable manufacturers to design secure IoT devices, our IoT chipsets have Arm's TrustZone security built-in and come with long term support for operating system updates and security patches. Additionally, MediaTek developed a MT3620 microcontroller unit (MCU) chip in collaboration with Microsoft for direct integration of Microsoft Azure Sphere security solution. With the MT3620, manufacturers can develop secure IoT devices connected to Microsoft Azure Cloud services.
We have seen a lot of news surrounding smart cars and developments in the automotive industry. Could you provide any details around MediaTek's experience and future plans in this market?
Our Autus program is designed for automakers and their suppliers. The Autus hardware and software features best-in-class technologies that will be the foundation for autonomous vehicles. For instance, our Autus R10 chip is used for multiple applications including blind spot detection and automatic parking assistance. And the Autus I20 SoC supports applications across in-car entertainment systems and displays by enabling devices and applications to more easily connect to the built-in car display monitor.
As cars become even more complex, demand for automotive semiconductors will also increase and will continue to be a major long-term growth engine for MediaTek.
Sign up for our monthly newsletter
EXECUTIVE INSIGHTS | LATEST NEWS & EVENTS | PRODUCTS & TECHNOLOGIES