realme Buds Air powered by MediaTek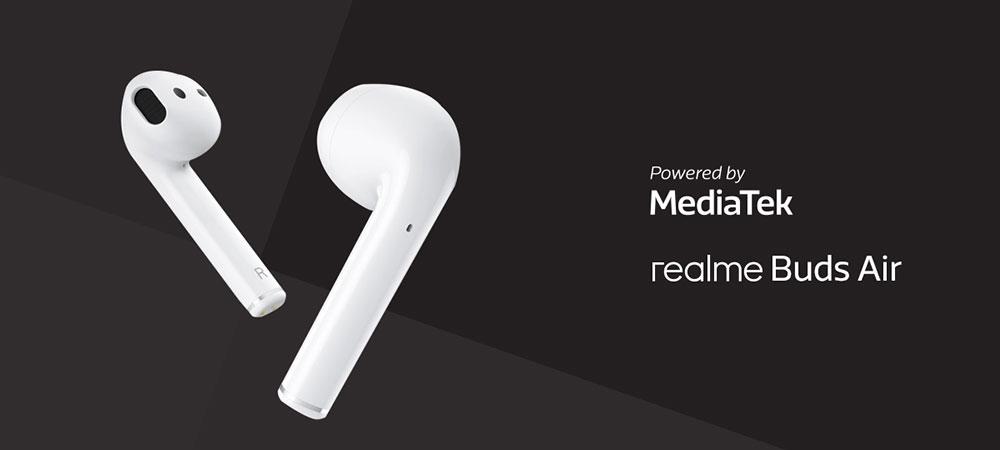 The realme Buds Air are now available in India. Inside the buds is the realme R1 chip, designed by realme in collaboration with MediaTek. The Buds Air delivers seamless connectivity using a dual-channel connection with super-low latency. A long press on both sides of the earbuds enters an optimized Gaming Mode that's up to 51% lower latency than other wireless headphones.

Despite their small size, the Buds Air are tuned with a dynamic bass boost driver to produce a superb sound quality. They feature an optical sensor for wear detection that can auto-play/pausing music, plus intelligent touch controls so you don't need to reach for your phone.
The Buds charge when stored in their case, and the case itself can charge wirelessly so you can simply drop it on the Qi charging mat instead of digging around for cables. The Buds Air provides up to 3 hours (typical) of playback with 17 hours of recharges available from the case itself. Two built-in microphones provide environmental noise cancellation, which is ideal for making calls.

Available in black, white and yellow, the realme Buds Air are available now.

Sign up for our monthly newsletter
EXECUTIVE INSIGHTS | LATEST NEWS & EVENTS | PRODUCTS & TECHNOLOGIES